The Vampire Knitting Club by Nancy Warren
on Tour October 15 – November 16, 2018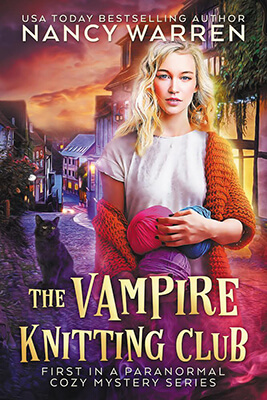 Genre: Paranormal Cozy Mystery
Published by: Ambleside Publishing
Publication Date: September 2018
Number of Pages: 250
ISBN:13 9781981498970
ASIN: B07HDBQ7BB
Series: The Vampire
Knitting Club #1
Purchase Links: Amazon Goodreads
At a crossroads between a cringe-worthy past (Todd the Toad) and an uncertain future (she's not exactly homeless, but it's close), Lucy Swift travels to Oxford to visit her grandmother. With Gran's undying love to count on and Cardinal Woolsey's, Gran's knitting shop, to keep her busy, Lucy can catch her breath and figure out what she's going to do.
Except it turns out that Gran is the undying. Or at least, the undead. But there's a death certificate. And a will, leaving the knitting shop to Lucy. And a lot of people going in and out who never use the door—including Gran, who is just as loving as ever, and prone to knitting sweaters at warp speed, late at night. What exactly is going on?
When Lucy discovers that Gran did not die peacefully in her sleep, but was murdered, she has to bring the killer to justice without tipping off the law that there's no body in the grave. Between a hot 800-year-old vampire and a dishy detective inspector, both of whom always seem to be there for her, Lucy finds her life getting more complicated than a triple cable cardigan. The only one who seems to know what's going on is her cat … or is it … her familiar?
First in a new series of paranormal cozy mysteries!
Interview with Nancy Warren
Hello Nancy and welcome to the Cafe!
Could you tell us about yourself?
NW: Hi, and thanks for having me! I'm a Canadian, though I've been living mainly in the UK for the last three years. I started out writing for Harlequin and loved writing romance. Then, I got divorced and after that killing people seemed more interesting to me than romance! I'm over my divorce now, but I still love killing people J In fiction, obviously.
Wow! You've been very successful with over 60 novels written. How do you fit writing into your life? 
NW: Thank you! There's no magic secret, unfortunately. It's mostly sitting at the keyboard every day and working full time. However, I firmly believe that you have to have balance. If we don't get out and experience the world then we have nothing to write about. I love to hike, I read, and I travel far too much (but I love it too much to quit.) I try to write first. Every day. I set targets when I'm working on a book of so many words a day and I'm pretty good at sticking to deadlines. My first job was in a newspaper and it really teaches you the importance of deadlines. When my words are done, and any marketing or admin work, then I'm free for the day. A friend of mine who helped me schedule my next year made me put in my holidays first. I thought that was such a good idea.
Not only are you a USA Today bestselling author but you've won quite a few awards. What does that mean to you and has it impacted your writing?
NW: That's a very interesting question. I think, honestly, awards are just an important pat on the back. It's readers and other writers saying, 'Hey, you write a great story. Well done.' And then you feel more encouraged to go out and do it again. USA Today is about sales, so that's awesome. Again, it's readers voting for you with their hard earned money and I never forget that. I am grateful every time someone parts with their money to read a story I wrote. If you're reading this right now and you've bought some of my books, then Thank You!!!
Who are some authors in your genre that inspire you?
NW: OMG, so many. I love Janet Evanovich and the Stephanie Plum books. I love Patricia McLinn's cable TV set mysteries. I love the Colin Dexter Morse novels and the TV series. Also the new Endeavour series. Here's a secret. DI Ian Chisholm in the novels is based on Endeavour. I have a bit of a crush on that actor. I love Midsomer Murders, and the classic mysteries: Agatha Christie, Dorothy L Sayers and so on. I read my friend Shelley Adina's steampunk cozy mysteries, and I enjoy HY Hanna's cozies, also set in Oxford. Then there are all the witch cozy writers. I'm partial to Angela Pepper's Wisteria Witches and Amanda M Lee's witch books. And that was off the top of my head. There are a ton more, I know. Phew! It's a lot.
What's the most difficult part of your writing process?
NW: The editing. I adore writing the first draft. I love the characters, I love it when scenes take off and characters surprise me. Figuring out the twists and turns is a puzzle. Then? I have to edit the raw draft and turn it into a polished book. It's torture!!! I do four drafts and two is the worst. Three is a bit better and by four I'm in love again. But that middle part really sucks.
Can you tell us more about your upcoming release The Vampire Knitting Club?
NW: I'd be happy to J Lucy, who is 27, from Boston, and not sure what she wants to do with her life, inherits a knitting shop in Oxford after her grandmother passes away, supposedly in her sleep and of natural causes. But something's not right and Lucy begins to realize some very strange things are going on in the shop. And below it. I guess the title gives a lot of it away. There are vampires living underneath Cardinal Woolsey's knitting shop and they belong to a knitting circle, The Vampire Knitting Club. Lucy finds out that her beloved grandmother was murdered and is determined to bring her killer to justice. Fortunately, Gran isn't gone, she's just undead and wants to help solve the mystery, as do the rest of the vampires. Meanwhile, Lucy discovers she's a witch, and that's a pretty big shock, though it does explain some of the strange things that have gone on in her life. A small black cat adopts her. Nyx, the cat, is my favourite character in the book. It's a fun, light read, but I hope there's a solid mystery, too.
With all the vampire books out there how do you think this will stand out to your readers?
NW: The Vampire Knitting Club isn't one of those dark, sexy vamp books. It's a cozy mystery. I think the book will appeal to readers who love cozy mysteries with crafts, enjoy paranormal cozies, and like a little light romance thrown in. Oh, and it's set in Oxford which is one of my favourite cities in the world. I was lucky enough to live there for two years, which is when I came up with this idea. But one thing I've learned is that once the book goes into the marketplace it doesn't belong to me anymore. It belongs to the readers. All I can do is write the best book I can and send it out into the world.
What's your favorite part of this book?
NW: Gran is an insomniac. She was in life and she is in death. But, as a vampire, she's not supposed to show herself in the day. However, she keeps wandering into the shop half asleep in the middle of the day, which is, of course, very stressful for poor Lucy. Gran's a fun character. I also love Nyx, the black cat familiar who is smart and adorable.
If you could describe the main character Lucy in 3 words what would they be?
NW: Loyal, funny, curious
What question do wish someone would ask about you or your book, but nobody has? (then answer it 😉 )
Did you write a knitting mystery because you love to knit?
Answer: Hahahahaha. I started learning to knit as research. I am pretty hopeless, and luckily, so is Lucy. I've given her some of my own goof-ups, like mixing my knit rows and my purl rows and getting half way through knitting a row and then purling the rest. It's a fun hobby, though, and I'm determined to get better. I've been to three knitting circles in Oxford and people are so nice about helping a knitting newbie!
Thank you so much for taking the time to swing by!  Wish you all the luck with your new book!
Tour Participants
Visit these other great hosts on this tour for more great reviews, interviews, guest posts, and giveaways!



Enter To Win
This is a rafflecopter giveaway hosted by Partners in Crime Virtual Book Tours for Nancy Warren. There will be one (1) winner of one (1) Amazon.com Gift Card. The giveaway begins on October 15, 2018 and runs through November 17, 2018. Void where prohibited.