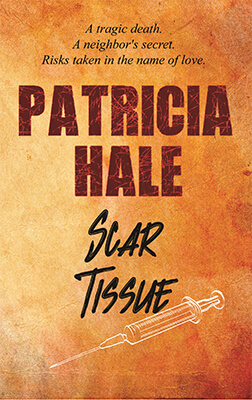 Scar Tissue
by
Patricia Hale
Series:
Cole and Callahan #3
Published by
Intrigue Publishing
on September 1, 2018
Genres:
Thriller
Pages:
194
Goodreads
Track star, Ashley Lambert, has just been accepted into the prestigious Johns Hopkins University, so when she jumps eighteen stories to her death her parents hire the PI team of Griff Cole and Britt Callahan to find out why. The investigation exposes a deeply disturbed family hiding behind a façade of perfection and follows Ashley's descent into performance enhancing drugs and blackmail. Ashley's coaches, peers and even her parents come into question. The disturbing truth behind Ashley's death is testimony to lines crossed and allegiances sworn…. in the name of love.

Meanwhile, things don't add up next door. Britt's working overtime researching their new neighbors whose one-year-old son disappeared four years ago. Rhea McKenzie, has a secret and bruises aren't the only thing she's trying to hide. When an off-hand comment discloses a connection to Ashley Lambert the two cases become entwined, setting off an unstoppable chain of events. Britt is sucked into an alliance with Rhea and driven to make decisions that challenge her ethics, threaten her relationship and in the end, push her over a line she never thought she'd cross.
Amazon | Barnes & Noble | Goodreads
Interview with Patricia Hale
Welcome to Crack A Book Cafe and answering some questions and sharing some info about your new release with us!
What does a day in the life of Patricia Hale look like?
Patricia: My alarm goes off every morning at 5 o'clock. I do a half hour of yoga and get the coffee brewing. If it's summer, I'm walking my dogs by 6:30, before it gets too hot. If it's cool outside, I write for an hour and walk the dogs after work. It's tricky to find writing time on weekdays, because I work full time. But I try to do at least some writing every day so the work stays fresh in my mind. Weekdays I set aside for revision since my time is short and new writing is done on the weekends. I start around 8 in the morning and write until about two o'clock both Saturday and Sunday. My creativity wanes as the day unfolds so I've pretty much run dry by mid-afternoon. Then it's on to a walk in the woods, a glass of wine and dinner with my husband and sometimes with my kids and grandkids as well.
Where did your love of books/storytelling/reading/writing/ come from?
Patricia: I grew up in a family of 6 kids and we were always read to at bedtime. I think that's where my love of books began. My dad sometimes traveled for work and he always brought me a new book. He also read mysteries constantly. I remember him sitting in his Lazyboy at night watching television. He'd have a book in his hand and his eyes would travel back and forth from the tv to the book. My mom took us to the library every other week and that was a favorite outing for me. I loved biographies and worked my way through the section alphabetically. It was at the library that I remember thinking, someday I would write a book. It was a goal I never gave up on. Books were a big part of my childhood and reading was a way of life. I never realized until I was much older that some people don't read books. I still find it hard to believe.
Who are some authors in your genre that inspire you?
Patricia: Stephen King is my all-time inspiration. His book, On Writing, is one of my favorites and has a permanent place on my desk. I'm not a huge Sci-Fi or Horror fan, but what I love about his work is his conversational writing style. He's unpretentious and straight forward and speaks directly to the reader. Reading him is like sitting with a friend and listening to him tell you a good story. Greg Iles is another favorite. His Natchez Burning series is well worth the thousands of pages. It looks daunting, but it moves so fast you forget the size of the book you're holding. His characters are rich and real and people you won't soon forget.
What's the most difficult part of your writing process?
Patricia: I think time is the most difficult part of writing, for me. With working full time and having children and grandchildren around, sitting down to write is always challenging. I'm very self-disciplined so I make it happen, but it's always at the expense of something else. I don't care if there are dishes in the sink or puffs of dog hair floating across the wooden floor. I can overlook those things, but I can't overlook my grandkids' basketball games or Little League or a day at the lake. I do notice however, if I neglect writing for more than a day or two, I start feeling edgy. It's something I have to do.
How do you manage your time between working full-time and writing?
Patricia: As I said earlier, I'm a morning person, so I get up very early and write/revise a little before I leave for work. Sometimes, I'll work on something after work too, but I'm not very creative late in the day and by then I'm usually sipping a glass of wine so I'll probably have to revise anything I write. Weekend mornings are my most serious writing time. I try to schedule all errands and activities for the afternoon and keep mornings exclusively for writing.
Can you tell us more about Scar Tissue; the newest book in your Cole and Callahan series?
Patricia: Scar Tissue is slightly different from the first two, in that its more character driven than plot driven. It is still a fast-paced read like the others, but the story digs into the lives of the characters rather than expanding on plot. Here's a short blurb:
When eighteen-year-old Ashley Lambert jumps eighteen stories, it's a clear-cut suicide, but her parents want to know why. Drugs, blackmail and family loyalty litter a trail that spirals into devastating consequences and a life-changing decision for Britt. 
What are some of the defining features of the dynamic between your main characters Cole and Callahan?
Patricia: Where Griff Cole is stable and methodical, Britt Callahan is impulsive and tends to leap before she looks. Griff is in his late forties, divorced with a teen-age daughter while Britt is mid-thirties and rates marriage right up there with getting Shingles. Children? That's a big no although unknown to Griff, she's softening around the edges. They've just bought a house together, a huge step for Britt who swore based on her parents' marriage, that she'd never be fool enough to commit. Britt and Griff off-set each other, what one lacks the other provides. Their relationship is not without conflict, but it's a win-win and they both know it.
What do you think your readers will like most about this book?
Patricia: I think they'll like the twists the book takes and the questions posed by the characters' truths. Like, how far should a parent go to insure the success of their child? When is a child held responsible for their own actions? Does a parent's responsibility ever end? How far do you go to protect someone you love? And when is an eye for an eye the right choice? All of these questions are at the root of Scar Tissue. I think they will give the reader cause to stop and think and maybe some will continue to ponder these issues after finishing the book.
Where do you see this series going?
Patricia: I think we'll see Britt and Griff's relationship move forward and we'll see lots more investigative work. I'd like to continue with character driven story lines. With Britt's nature of jumping into things too fast, I think we'll see her getting involved where she shouldn't. That will also provide ground for developing layered villains and richly woven characters within the story. I also think we'll see more of their friend, Detective John Stark.
What question do you wish someone would ask about you and/or your book, but nobody has?
Patricia: Can we turn it into a Netflix series?
LOL!!  Hopefully we'll see it soon!
Tour Participants
Visit these other great hosts on this tour for more great reviews, interviews, guest posts, and giveaways!



Enter To Win
This is a rafflecopter giveaway hosted by Partners in Crime Virtual Book Tours for Patricia Hale. There will be 1 winner of one (1) Amazon.com Gift Card. The giveaway begins on October 1, 2018 and runs through November 1, 2018. Void where prohibited.