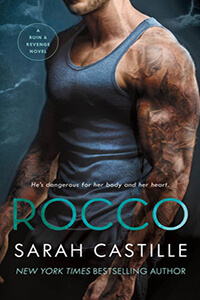 Rocco
by
Sarah Castille
Series:
Ruin & Revenge #3
Published by
St. Martin's Press
on January 2, 2018
Genres:
Contemporary
,
Romantic Suspense
Source:
Publisher
Pages:
375

Buy on Amazon
Goodreads
Mafia enforcer, Rocco De Lucchi is the best in the business.

Cold, hard and utterly ruthless, Rocco is the most dangerous of men. Feelings are a luxury he cannot afford—until a chance encounter brings him face to face with the only woman who found her way into his heart and touched his soul.

Grace Mantini has spent her whole life running from the mob. Daughter of the boss's right hand man, she is both a prize and a target. When Rocco walks back into her life, she wants nothing to do with the man who betrayed her and broke her heart. But only Rocco can protect her from the dangerous forces that seek to destroy her family. Can they escape the hands of fate closing around them? Or will love be the kiss of death for them both?
Told from multiple POV's, Rocco is book 3 in the Ruin & Revenge Series by Sarah Castille and can be read as standalone.  First Nico, then Lucas and now Rocco,  Sarah Castille doesn't sugar coat the violent world of the mafia in this enjoyable series.  She balances the dark with that hint of sweet that are our MC's, who in Book 3 are Rocco and Grace.
Unlike the other two books in the series the relationship between Grace and Rocco was relatively low angst.  Rocco and Grace met when she was 10 years old after her father hired Rocco as her driver.  When she becomes older they end up falling in love and were together for 6 happy years.  But in one heartbreaking twist their paths part.
Fast forward…  Rocco sees Grace again when her father needs Rocco's "services".  It's clear these two haven't fully gotten over each other.
"Once upon a time those eyes had looked into her soul, and those lips had touched every part of her body.  Once upon a time all that beauty had belonged to her, and then the mob had stolen it away."
But they work through their issues relatively quickly and become a solid pair in a sea of crazy mafia action that characterizes the rest of this book.
Rocco was amazing and my heart ached for him.  His life as an enforcer molded him into the lethal person he becomes and it's been harrowing. Even so he struggles with who he is and never forgets about Grace and the dream he once had for them. But this time around he refuses to let anything get in the way of their HEA.  Grace serves as his beacon in the dark.
"His girl was in his arms and there was nowhere else he would rather be."
Grace is equally committed to hers and Rocco's happiness no matter the cost.  I thought she showed the most growth throughout the story. Grace is tough and she becomes more confident and mature.  I really enjoyed her ability to face her fears and build on that as the story progresses.
Ultimately, I was treated to not only a lovely second chance romance but a solid mafia story that kept me on the edge between violence and deep abiding love.  Well done and highly recommended!
I received an eARC from the publisher via NetGalley in exchange for my honest and voluntary review.
Check out Book 1 and 2 in the Ruin & Revenge Series by Sarah Castille