Blog tour runs from 

October 16 to October 23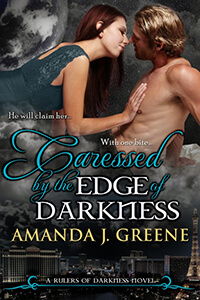 Title: Caressed by the Edge of Darkness (Rulers of Darkness #5)
Author: Amanda J. Greene
Genre: Paranormal Romance
Hardened by centuries of torture, former blood slave, Gabriel Erhard, is driven by an insatiable need to destroy his enemies. Violence darkens his battered soul, leaving no place for mercy in his world. Gabriel's only desire is vengeance—until he finds her.

Seized by vampires, bound as a slave, and placed on the auction block, Jordan Culver is instantly entranced by the dangerous male who claims her. Jordan's new captor vows to set her free, but his haunted gaze burns with savage desire and his wicked kiss makes her crave his touch and…complete surrender.

While Gabriel battles his enemies, he will break every sacred law to achieve his ultimate goal—uniting the Outcast Society and creating a new vampire Clan. But the distracting human with mesmerizing violet eyes jeopardizes his plans. With very soft whisper she evokes his tormented memories, testing his sanity and challenging his every boundary. Can Jordan help him overcome the miseries of his past and find a future with her?
Title: Getting to know the Author
Hello everyone!
I hope you're all having a wonderful day. Thank you for stopping by and participating in the Caressed by the Edge of Darkness (Rulers of Darkness #5)'s book tour!
This should be fun – Getting to Know the Author – 7 Random Facts.
When I was in elementary school my dream was a 1965-67 Corvette and I wanted it to be painted like the American flag. I don't know where I came up with that or why.
I grew up around dirt bike racing and had a huge crush on Travis Pastrana back in the day. (I still think he's a cutie.)
My husband and I named our first dog after a car commercial. We just brought her home. He was sitting with her in the living room and I was in the kitchen cooking. He was flipping through TV channels and "Kelly!" was shouted out. I came rushing into the room and we both said "Kelly," at the same time. So, our little cocker spaniel is Ms. Kelly. She's been my shadow and my writing partner the last almost 10 years. Love that dog. (We hadn't set out to get a dog that day; we were actually looking for a cat.)
I wrote my first book in middle school, which was the original draft for Caressed by Moonlight (Rulers of Darkness #1).
I feel in love with paranormal romance after reading Vivian Vande Velde's Companions of the Night – Highly recommend!!!
Donuts are my biggest weakness. I try to stay as far away from them as I can. But, if any of you visit San Diego, you must check out the Donut Bar. Their donuts are huge and they have some many options it's nearly impossible to just pick one.
A nickname I went by when I was young, A.J. There were just too many Amandas to keep track, especially when three of us were on one basketball team.
Thank you all again for stopping by the site and for your interest in Caressed by the Edge of Darkness (Rulers of Darkness #5). I wish you all happy reading!