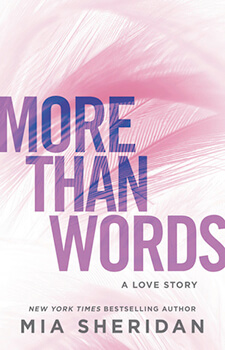 More Than Words
by
Mia Sheridan
Published by
Forever (Grand Central Publishing)
on June 12 2018
Genres:
Contemporary
,
New Adult
,
Romance
Format:
eARC
Source:
NetGalley
Pages:
336

Buy on Amazon
Goodreads
No one lays open the heart and soul quite like New York Times bestselling author Mia Sheridan.

The moment she met Callen Hayes, eleven-year-old Jessica Creswell knew he was a broken prince. Her prince. They became each other's refuge, a safe and magical place far from their troubled lives. Until the day Callen kissed her--Jessica's first real, dreamy kiss—and then disappeared from her life without a word.

Years later, everyone knows who Callen Hayes is. Famous composer. Infamous bad boy. What no one knows is that Callen's music is now locked deep inside, trapped behind his own inner demons. It's only when he withdraws to France to drink his way through the darkness that Callen stumbles into the one person who makes the music return. Jessica. His Jessie. And she still tastes of fresh, sweet innocence . . . even as she sets his blood on fire.

But they don't belong in each other's worlds anymore. There are too many mistakes. Too many secrets. Too many lies. All they have is that instinctive longing, that need—and something that looks dangerously like love.
Get ready to laugh, cry, rage and experience all kinds of feels! This standalone friends to lover's romance, by Mia Sheridan, will leave you emotionally spent and satisfied by the time the last page is turned!
Callen and Jessica meet as children and for the next year they remain close friends.  He was her prince.  Someone she could trust in a life with a deceiving father.  And she was his lifeline of sorts. A temporary reprieve from his emotionally abusive father.  Then they had a moment that led to the magic of their first ever kiss.  The next day Callen was gone and never came back.
It's now 10 years later.   Jessica has finished her history degree and is living in Paris. While looking for work in her field she's paying her way working at a bar. Callen has become a successful musician who is struggling with his demons.  As fortune would have it, they bump into each other in the bar where Jessica works. She knows exactly who he is…
Callen is inexplicably drawn to her and kisses her. But one minute he's kissing her and the next he's leaving with the girl he arrived with at the bar.   She's so disappointed.  The prince she once knew wasn't a prince at all.  He was a dog and a manwhore.  What stings the most is he didn't even recognize her.  What was once a beautiful childhood memory is now replaced with a not so nice reality.
And why should I be heartbroken? He owed me nothing. I had known him for only a brief span of time so long ago, when we were both children. So he had grown up to be a conceited, womanizing manwhore–a wildly successful, crazy talented, conceited, womanizing manwhore.
Growing up being mentally abused by his father has left Callen utterly damaged.  Full of self-doubt and hatred, he is about ready to self-destruct. To save his career and write the music score he's promised a studio, he goes on a retreat with his best friend in France.
When Jessica is offered a job translating old french documents she jumps at the opportunity.  It's a dream come true and off she goes to her new job site. She's intent on putting the past behind her and focus on her future.
But fate has again thrown Callen and Jessica together.  Thus, starts a journey of self discovery, growth, forgiveness and the complexities of love.
Jessica was a wonderful character. She was kind, understanding and just an all-around wonderful person.  I felt she had depth and a well-developed character.  Callen on the other hand I had a bit more difficulty with.  He was so dramatically dark and broody.  I know and appreciate where the author was going with it. I just didn't always find it completely authentic. That being said, Jessica and Callen as a couple were a great fit and had incredible chemistry.
I loved the prologue! Boy meets girl, childhood friends, love's first kiss and then first love lost. How could you not be drawn in?! Unfortunately, as the story progressed I became a bit frustrated.
First let me emphasize.  Mia Sheridan is one of my favorite go to authors when I'm in need of a heart-felt romance with all kinds of feels.  She writes beautifully constructed narratives with refreshing takes on contemporary romance. So I suppose it's with that in mind that I didn't quite get what I expected.  It just didn't have that little bit of extra something I've come to expect from her books.  I keep wracking my brain but I can't quite put my finger on why!?  I hate it when that happens!
But don't let that deter you! This really is an amazing book. And though not my favorite of the books I've read by her, it's a beautiful story I'd highly recommend.
I received an eARC of this book from the publisher via Netgalley. This review is voluntary and all opinions and thoughts are my own.
If your interested in other books by Mia Sheridan check out one of my favorite contemporary romance's of all time; Archer's Voice (my review).