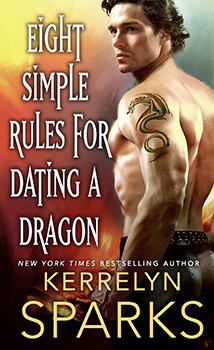 Eight Simple Rules for Dating A Dragon
by
Kerrelyn Sparks
Series:
The Embraced #3
Published by
St. Martin's Press
on March 27, 2018
Genres:
Paranormal
,
Romance
Format:
eARC
Source:
NetGalley
Pages:
435

Buy on Amazon
Goodreads
Gwennore has a talent. An Elf able to track down the cause of an illness and heal it, she's a valuable asset to her people. When the kidnapping of a young girl thrusts Gwennore into the very heart of the realm of the dragons, she discovers not only a place of power and magic, but also a haunted land, plagued by an ancient curse that all but ensures extinction to the royal family. But when she meets the smoldering General Silas Dravenko, they strike a bargain—save the country from its cursed illness, and he will return the kidnapped girl. She's been raised never to trust a dragon, but never did making a deal with the devil feel so good…

Silas has no way of curing the family he's loyally served for years. But when a beautiful elf, long considered the enemy of the dragons, comes bursting into his world, Silas is awakened to passion and desire in a way he's never felt before. But can he trust a sworn enemy to save the very existence he holds dear? And can their love survive those that threaten to tear them apart?
What a gem!  Take one sweet heroine, a charming flirtatious alpha hero, a unique paranormal world and a dash of intrigue (with some dragon dating rules on the side LOL) and you've got the fantastic Book 3 in The Embraced series!  I was a bit worried because it was apparent right away that there was quite a bit of back story with the first 2 books.  But Kerrelyn Sparks does an amazing job summing it up so you're not left feeling lost.  So, this can definitely be read as a standalone and is from alternate POV.
Gwen is a self-conscious elf with low self esteem due to past prejudices. Even so, she has an inner strength that, as the story progresses, helps her build confidence.  Which definitely comes in handy because she has a lot on her plate.
Having medicinal skills and healing powers make Gwen uniquely suited to help a desperate Silas find answers to a family curse. On top of that, it's apparent that the people are suffering from some ailment that could mean the demise of a people. Gwen can't ignore the problems if she can help in any way.  So between navigating her new surroundings as the only elf in a foreign kingdom and striving to find answers to a mysterious curse, she's a busy gal!  But she's determined…and of course drooling all over the gorgeous general Silas doesn't help. LOL
While Gwen is completely endearing, Silas, in my opinion, really makes the story shine.  He's a protective mischievous alpha male who's quick to playfully tease and smile.
"The man's smile was a weapon… and he knew how to use it."
But he's not all games.  He's strong, thoughtful and willing to put himself on the line to do the right thing for his family and the kingdom.  I was constantly looking forward to Silas's POV.  His charisma drew me in and held me fast from start to finish!
Gwen and Silas were made for each other.  They had some serious chemistry and as time passed they slowly come to the realization that they can't be apart. The two characters played off each other beautifully and kept me invested in them as a couple.
I was also impressed with the world building.  There is a romance but it doesn't overshadow the plot either.  This balance left room for the secondary characters to thrive and gain depth. I adored the secondary characters! There were a couple of slightly cheesy scenes that seemed a bit out of place and random; but not terrible.  It's the only reason I brought the rating down half a star.
Ultimately this was a truly fun read that I'd recommend to any and all paranormal romance junkies!  I for one have now added Books 1 and 2 to my leaning tower of TBR list.
I received an eARC of this book from the publisher via Netgalley. This review was voluntary and all opinions and thoughts are my own.