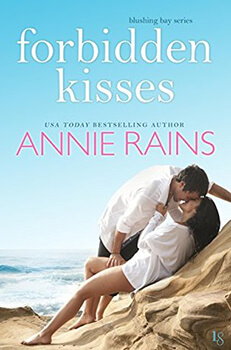 Forbidden Kisses
by
Annie Rains
Series:
Blushing Bay #1
Published by
Loveswept
on April 11, 2017
Genres:
Contemporary
,
Romance
Format:
eARC
Source:
NetGalley
Pages:
234

Goodreads
For years, Jack Sawyer's family has been running their upscale seafood business like a finely tuned machine. But every machine breaks down eventually, and suddenly Jack needs a new office manager, a new kayak launch, and a new lease on life. Then Grace Donner shows up again. She's smart, motivated, and perfect for the manager position, but if she's anything like her mom, she can't be trusted. And Jack has never been able to trust himself around Grace.

Grace hasn't seen her former stepbrothers since their parents' messy divorce, but she never forgot them—especially Jack. She misses being part of the big rambunctious Sawyer clan, and if there's an opportunity to set things right, she means to do it. But she can't ignore Jack's irresistibly kissable lips, or the searing way he looks at her when he thinks she's not looking. Their chemistry is more explosive than ever. And if the Sawyers can forgive and forget, anything is possible.
If you like small town, second chance romances this is the book for you! It's sweet with characters you can't help but root for.  This is the first book in the Blushing Bay Series by Annie Rains told from alternate POVs and the first book I've read by this author.  It follows the Sawyer family consisting of three fabulous brothers that you can't help but love. Their interactions and boisterous personalities are hilarious.
Jack Sawyer in particular is a sweet and forgiving soul. He's about to take a chance on a girl, Grace, who was his step-sister until he lost her 15 years prior due to divorce when her mother did something horrible to the Sawyer family.
Years later Grace is saddled with an ill mother and no job. Her prospects are grim until she's sitting in a café and overhears someone giving an interview.  Desperate for a job Grace decides to take the initiative to present her qualifications in hopes she might be considered.
To her horror, after avoiding the Sawyer family for years, she's faced with Jack, the potential employer. Furthermore, not only is he one of the Sawyer brothers but her first crush.
She's mortified because she believes she's hated by the entire family and ashamed of what her mother did to them. Unfortunately she has to swallow her pride as she's desperate for a job that'll keep a roof over he and her ill mothers head. Jack is shocked but can't seem to resist the girl he once knew so well.  So he ultimately gives her the job.
The chemistry between these two is palpable…as in HOT! There is no doubt about the feelings Grace and Jack have for each other and they fit well as a couple.  The story was fun with a bit of angst and a heap of forgiveness.
I only had minor issues with Grace's character. It felt almost like she was being too pushy in her treatment and judgments of Jack.  Jack went through a horrible experience and I didn't feel like Grace showed enough empathy.  It felt like she was almost disregarding how much Jake was impacted, especially given who she is and the havoc her mother wreaked on the Sawyer family.
Either way it wasn't enough to mar the story. It was well written, entertaining and sweetly romantic.  I'd recommend it to anyone.  I for one will definitely be reading more from this author in the future!  I can't wait to see more of the other two Sawyer brothers, Noah and Sam.
I voluntarily read and gave honest review of an advanced copy of this book.
Buy Links:  AMAZON | B & N | GOOGLE | ITUNES | KOBO
Excerpt
Jack reached for a folded blanket beside the cooler and laid it down on the open floor of the boat. "I know it's not the most comfortable surface for lying back, but I thought we could look at the stars. It's a favorite pastime of fishermen, you know."
"Oh yeah?"
He reached for her hand to help her lower to the floor. She held on to his tightly, surprised at how off balanced she felt. Then they lay back together, close enough that they touched. The soft hair on Jack's arm resting against hers aroused her senses.
Were they really just going to look at the stars?
Yes, it was all very romantic, but so was doing other things under the stars. Things she'd been thinking about since stepping aboard.
Jack pointed up at the sky and started to speak. Grace was tired of talking, though. Tired of resisting what she wanted, and right now all she wanted was Jack.
Unable to help herself, uninhibited by the wine and the romantic environment, she rolled on top of him and crushed her mouth over his.
Judging by the stiff protrusion that met her inner thigh, he wanted her just as much.
"Well, hello there," he said, smiling against her mouth.
"I'm sorry," she said, even though she didn't mean it.
His hand slid down her back and settled on her bottom, pulling her snug against him. "I'm not. I'd decided tonight was for romance only, but I can't think of anything more romantic than making love to you on this boat."
White-hot heat tore through her. She was so hot that maybe it was time to start stripping.
As if reading her mind, Jack tugged the hem of her shirt up on her back and then over her head. The rest of her clothes fell away in the wake of his needy hands until she was tipsy and naked on the floor of his pontoon boat—on a boat ride to nowhere in particular, except his body was promising to shoot her to the low-hanging full moon.