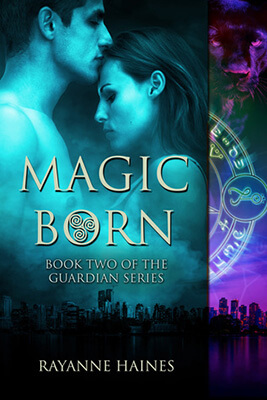 Magic Born
by
Rayanne Haines
Published by
Soul Mate Publishing
on June 6, 2018
Genres:
Paranormal Romance
Format:
eBook
Pages:
258

Buy on Amazon
Goodreads
Maria Del Voscova is a powerful witch with a past. When she's asked to become a member of the elite Guardians she knows she can't risk sharing the truth about her messed-up family. But we don't always get what we want. Sometimes, we don't always know what we want.

Though Mar absolutely knows she doesn't want Neeren, King of the Parthen. She alone sees the darkness in him and it reminds her too much of the past. She knows better than to fall for his stoic, tortured soul façade.

She's training to be a Guardian, a shadow; tasked with keeping the balance between good and evil in the world. It's what she wants — to be better than her family was.

But the past has a way of catching up to Mar and the future has a morbid sense of humor. On her first mission, she's kidnapped by the enemy she's been running from her entire life. Thankfully the guardians look after their own. As it turns out, so does Neeren.

As Mar finds herself caught between the past and the future; between blood and bond; between the light and the dark, she realizes her only chance at surviving may be in trusting a man who is the most dangerous of them all.
Magic Born is the second book in the Guardian series written from multiple POV's. Each story tells the tale of a couple.  This book focuses on the crazy awesome witch Mar and her somewhat broody King Neeren.
Mar has been asked to become a Guardian which is a huge honor. But she has a sketchy past.  One she doesn't want anyone to know about. I thought Mar was a delight!  She was crazy (in a good way), flamboyant, funny and tough as nails.  But just when she agrees to join the Guardians she's kidnapped!  Of course, Neeren will be the one to save her.
Neeren is the sexy, kickass king of the Parthen.  He's also very powerful, somewhat broody and long-suffering.  Only Mar can bring him around!  I loved the difference in personalities.  It was fun watching Mar and Neeren interact.  There was no way Neeren could resist Mar and he is totally dedicated to her.
Now this story is packed full of action. With all the magic, plotting and romance you certainly couldn't call it a slow read.  It was well paced and so fast in parts it was hard to take my eyes off the pages. Furthermore, the banter and interactions between the various characters was engaging.
Now this is likely because I haven't read the first book Fire Born; but I was a little overwhelmed.  There were a lot of characters that were obviously introduced in the first book.  And I was a little foggy in spots because I didn't know all the history.  That doesn't mean that the story is bad.  Only that it became evident to me that while some say it can be read as standalone I would disagree.  I think that to get the most out of the series you should read Fire Born first. Which I will be reading!
Overall this was a well written and fun book.  I'd encourage all paranormal romance fans to try this series out. You won't be disappointed!
Author Bio:
Rayanne Haines grew up on a small horse ranch in Alberta. She spent most of her youth re-enacting scenes from Anne of Green Gables to attentive audiences that included pygmy goats and roan stallions. The horses were thrilled. Her father could never figure out why it took her three hours to clean the barn.
Her mother is an avid reader and instilled a love of literature in her at a young age. She has always been fascinated with learning people's stories.
She has a fondness for mountains and rivers and all the creatures that live within them.
She believes in magic and the search for great love. She loves to write about strong women who will accept nothing less.
Website / Goodreads / Facebook / Twitter