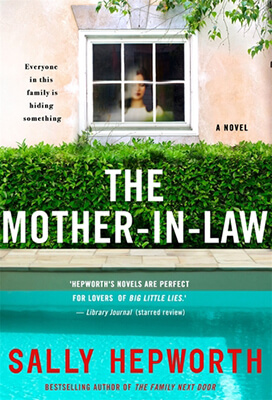 The Mother-in-Law
by
Sally Hepworth
Published by
St. Martin's Press
on April 23, 2019
Genres:
Mystery
,
Thriller
Format:
eARC
Source:
NetGalley
Pages:
352

Buy on Amazon
Goodreads
Someone once told me that you have two families in your life - the one you are born into and the one you choose. Yes, you may get to choose your partner, but you don't choose your mother-in-law. The cackling mercenaries of fate determine it all.

From the moment Lucy met Diana, she was kept at arm's length. Diana is exquisitely polite, but Lucy knows, even after marrying Oliver, that they'll never have the closeness she'd been hoping for.

But who could fault Diana? She was a pillar of the community, an advocate for social justice, the matriarch of a loving family. Lucy had wanted so much to please her new mother-in-law.

That was ten years ago. Now, Diana has been found dead, leaving a suicide note. But the autopsy reveals evidence of suffocation. And everyone in the family is hiding something...

From the bestselling author of The Family Next Door comes a new page-turner about that trickiest of relationships.
What an absolutely captivating novel! The Mother-in-Law beautifully navigates the complex relationship between a woman and her Mother-in-Law.  Told in first person, alternating primarily between Diana and Lucy, we are able to see into the heart and soul of these women.
Diana Goodwin is the classic family matriarch. She's the picture of strength, poise and unyielding resolve.  Lucy is kind, loving and desperately wants to be accepted by her future Mother-in-Law.  She has always dreamed of having a mother-in-law she could be close to and would care for her in turn. What she got however, was a cold woman who appears to loath her. Lucy's devastated.
From the day they meet, to Lucy's marriage to Ollie, her first child, death of Diana's husband and following depression culminating in Diana's suspected suicide; the reader bears witness to all that Lucy and Diana are. How they feel, their perceptions of each other, and often times misunderstandings.
"…when I look at her, all I see are our differences."
There was something lovely and raw about Lucy and Diana's rocky 10 year journey. At the core, Diana is a cold, strong vulnerable woman who can't communicate her feelings.  Lucy's empathy, openness and quiet acceptance of those around her lend a strength of its own. The juxtaposition between these two women was perfect and lent honesty to the story. It made those moments of true understanding more believable.
"…for the first time, I really see Lucy. Not a girl who was handed everything. A girl who knew what she wanted. A family."

"It's the closest I've ever come to a proper conversation with Diana and for a second, I get a glimpse of who she is.'
Then there's the rest of the family.  Ollie, the ever-friendly son, and Diana's daughter Nettie who is obsessed with being a mother. All of whom, like Lucy, have a strained relationship with their often cold and apparently uncaring mother.   Readers get to see into their psyches as well, illustrating a family dynamic full of struggle, heartbreak, hate, love and tragedy.
Of course, don't forget about the mystery!
As the family struggles to come to terms with Diana's death, the stakes rise higher when evidence comes to light pointing to possible murder.  The death and resulting mystery was interesting and full of twists.  I truly enjoyed it but I felt at the heart of this novel is the need for acceptance, understanding and how precarious family can be.
Hepworth's writing was excellent with smooth transitions between characters both past and present. However, I felt the story dragged a bit. But that's just me! If you're a lover of mystery thriller's and family drama this one's for you!
I received an eARC of this book from the publisher via Netgalley. This review is voluntary and all opinions and thoughts are my own.