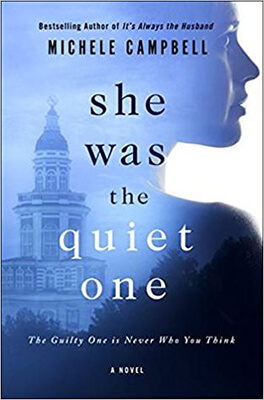 She Was the Quiet One
by
Michele Campbell
Published by
St. Martin's Press
on July 31, 2018
Genres:
Suspense
,
Thriller
Format:
eARC
Source:
NetGalley
Pages:
352

Goodreads
From the author of It's Always the Husband comes a riveting new suspense novel about privilege, power, and what happens when we let ambition take control.

For Rose Enright, enrolling in a prestigious New England boarding school is the opportunity of a lifetime. But for Rose's vulnerable twin sister Bel, Odell Academy is a place of temptation and danger. When Bel falls in with a crowd of wild rich kids who pressure her into hazing Rose, the sisters' relationship is shattered. Rose turns to her dorm mother, Sarah Donovan, for advice. But Bel turns to Sarah's husband Heath, a charismatic and ambitious teacher. Is Heath trying to help Bel or take advantage of her? In a world of privilege, seduction, and manipulation, only one sister will live to tell the truth.

In a novel full of twists, turns, and dark secrets, Michele Campbell once again proves her skill at crafting intricately spun and completely compelling plots.
She Was the Quiet One is a well written psychological thriller by Michele Campbell bound to appeal to those who enjoy twisted thrillers.
While I found this an enjoyable read, it didn't blow me away. We have twin sisters who are complete opposites. Put them into a similar environment, in this case college, and the stage is set for the beginnings of a twisted decent into sister rivalry; pitting the "good" twin against the "unstable".
That Thing. Her Sister. Her Twin.
Through a series of events and misunderstandings we are led down a path bound for disaster. It's just a matter of what form that will take. Generally I enjoy these types of stories. It keeps me on edge wondering what the "train wreck" will look like. For me the extreme over the top angst was a bit much but could definitely appeal to others.
Please keep in mind that I read a lot of these tropes so my expectations could be a tad high. I'd recommend this for those looking for a very well written psychological-thriller. Without a doubt Michele Campbell is a talented writer and I eagerly await her next book!
I received an eARC of this book from the publisher via Netgalley. This review is voluntary and all opinions and thoughts are my own.