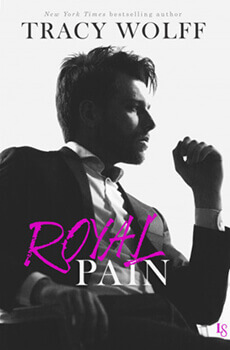 Royal Pain
by
Tracy Wolff
Series:
His Royal Hotness #1
Published by
Loveswept
on September 26, 2017
Genres:
Contemporary
,
Romance
Format:
eARC
Source:
NetGalley
Pages:
213

Buy on Amazon
Goodreads
He's a womanizer. He's cocky. He's not exactly a prince. Only he technically is. Meet your new royal obsession in this addictive novel from New York Times bestselling author Tracy Wolff.

Being rich opens a lot of doors. When you're rich and royal, those doors lead to a new bedroom every night. I should know. The tabloids call me His Royal Hotness, Prince Kian of Wildemar. Women across the world see me as a naughty fairy tale, an image I'm happy to indulge. As the spare to the heir, I'm the prince with none of the power . . . and all of the perks.

Then my twin brother is kidnapped, and suddenly I'm the one who could be king. The crown chasers start circling—and yet it's a luscious waitress who catches my eye. With a smart mouth and the curves to back it up, Savannah Breslin is as brazen as I'd expect an American commoner to be.

But Savvy's not interested in playing Cinderella. As sexy as she is, she's no stranger to heartbreak. Besides, a nice guy wouldn't drag her into all the drama that comes along with royalty. Lucky I'm not a nice guy. And, as it turns out, I might not even be her first prince. . . .
Told from alternate points of view. Royal Pain is the first book in the new His Royal Hotness series by Tracy Wolff.
I'm a big fan of Tracy Wolff but sadly this book fell a bit flat for me. While it was well written, as you'd expect from this author, I felt the plot wasn't as solid as it could have been, nor was I able to connect with the characters.
Prince Kian is the quintessential playboy prince. He's irresponsible, immature and basks in his status as second in line. He's just as happy to let all the royal responsibilities fall squarely on his older brother Garrett's shoulders. Then his brother goes missing.
Suddenly Kian is expected to fill his brother's shoes until he's found. Time for Kian to grow up! But between his new royal duties, fear for his brother's life and trying to handle all the politics he's becoming overwhelmed. Then he meets our sassy heroine Savvy.
Savvy is waitressing at a royal event and when she see's Kian in an uncomfortable position she can't help but come to the rescue. Kian is intrigued by the beautiful Savvy and the chase is on! Unfortunately, it's a chase I just couldn't get into.
Their relationship left me feeling annoyed at times and indifferent at others. Savvy was an ok character but when it came to Kian she seemed hot and cold all the time. In addition, I couldn't become invested in the the two as a couple because of the relationship Savvy had in the past with someone Kian is close to. You'll know what I mean when you get to that part. I don't want to ruin it for you. For me anyway, it just didn't feel right.
With that said there were some interesting twists and Tracy Wolff has a real talent for setting her readers on fire it was so hot! Though not my favorite of her many awesome works I still thought is was an enjoyable read! I'd recommend it to anyone looking for a quick escape and some serious steam.
I received an eARC from the publisher via NetGalley in exchange for my honest and voluntary review.