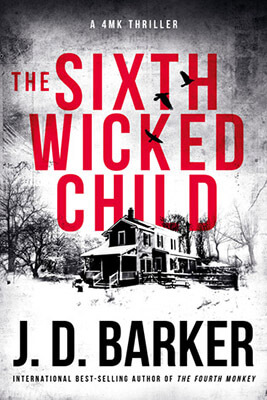 The Sixth Wicked Child
by
J.D. Barker
Series:
4MK Thriller #3
Published by
Hampton Creek Press
on August 27, 2019
Genres:
Crime
,
Mystery
,
Suspense
,
Thriller
Format:
eARC
Source:
NetGalley
Also in this series:
The Fourth Monkey
Pages:
626

Buy on Amazon
Goodreads
In the riveting conclusion of the 4MK trilogy, Barker takes the thriller to an entirely new level. Don't miss a single word of the series James Patterson called "ingenious."

Hear No Evil

For Detective Sam Porter, the words "Father, forgive me" conjure memories long forgotten; a past intentionally buried. For Anson Bishop, these three words connect a childhood to the present as he unleashes a truth concealed for decades.

See No Evil

Found written on cardboard near each body, these words link multiple victims to a single killer—discovered within minutes of each other in both Chicago and South Carolina—clearly connected yet separated by impossible miles.

Speak No Evil

Chicago Metro and the FBI find themselves caught in chaos—a hospital on lockdown, a rogue officer, and corruption at the highest levels. When Anson Bishop, the prime suspect in the notorious 4MK serial murders turns himself in, he reveals a story completely unexpected, one that not only upends the current investigation, but one that will change the lives of all involved.

Do No Evil

With unrelenting tension and pulse-pounding suspense, the past unravels at breakneck speed as the truth behind the Four Monkey Killer's motive is finally revealed in this masterfully crafted finale.
Hear no evil, See no evil, Speak no evil, Do no evil. – A fitting proverb for a series rife with darkly disturbing themes and the resulting effect on these character's psyches.
J.D. Barker's third book in the 4MK series takes the reader down a twisted path where the past and present collide into a jaw-dropping finale.  The books are meant to be read in order.  If you haven't read the first two, turn back now and pick up The Fourth Monkey (review) and The Fifth to Die (review).
Detective Sam Porter's fate is uncertain.  Previous events have led to a growing sense of uncertainty in the roles both Porter and killer Anson Bishop play in the 4MK murders.  But Porter is more obsessed than ever. He's willing to give up everything to track Anson down and bring him to justice. As he continues to read the diaries and pursue his nemesis, Porter's motives and sanity are further brought into question as unexpected revelations about himself come to light. Who was he before losing large chunks of his memory?
Anson has a very carefully laid out plan to drag Porter deeper down the rabbit hole. There's an apparent vendetta, but what's the reason? Shockingly, Bishop turns himself in and tells the police the story of his past. Elements seem to align with what Porter has learned, while other details imply that maybe Porter isn't who he says he is. What was believed to be reality becomes dark and murky. Who was thought to be a killer may actually be someone else.
While Anson and Porter face-off, Sam's partner Nash, along with FBI agent Frank Poole, is trying to find the truth amid more 4MK like murders and the spread of a deadly virus. I felt Poole was the perfect secondary character who brought a certain level of objectivity needed to help keep the reader guessing.
This book is much more personal and convoluted. Untangling reality from a very dark past locks these two dynamic characters in a battle of good vs evil OR more accurately a lot of gray. The plot was like a spider web; so many twisted threads coming together in a perfectly twisted conclusion. I was blown away!
Unfortunately, while I loved the book, I can't give it a full 5 stars. The book was unnecessarily long. It wasn't until half-way through that I was 100% sucked in. Regardless, the series was skillfully crafted with a completely unexpected ending.  It's one of the best mystery thriller series I've ever read.
I received an eARC of this book from the publisher via Netgalley. This review is voluntary, and all opinions and thoughts are my own.
Check out my Interview with fantastic author J.D. Barker!