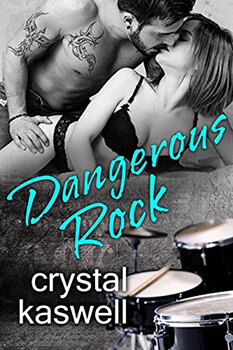 Dangerous Rock
by
Crystal Kaswell
Series:
Dangerous Noise #3
on March 30, 2017
Genres:
New Adult
,
Romance
Format:
eARC
Pages:
396

Buy on Amazon
Goodreads
I'm married to a rock star.
And I don't even know his last name.

Bella
There's a tall, tattooed man in my bed.
Not any tall, tattooed man.
He's a rock star.
A sex god.
And now he's my husband.
Last night, I married Joel.
It's ridiculous. I'm a good girl. I don't get into trouble. I don't look twice at bad boys.
I can't stay married to a rock star.
But there's something about Joel. Not just the way his green eyes light up when he smiles, or the way he makes me laugh, or the way he makes me shake with pleasure–
I'm not sure I can walk away.

Joel
Bella Chase is a challenge.
With the tight bun and the cute cardigan, she's as prim and proper as they come.
My only plan for the night is getting her under me, screaming my name.
Filling her with so much pleasure she begs me to stop.
I didn't plan on marrying her.
But now that she's my wife, I'm not about to let her go.
A sweet, funny and simply amazing read by Crystal Kaswell. The Dangerous Noise Series is a gem of a rocker romance series!  This 3rd installment does not disappoint! We're treated to the drummer Joel and a sweet yet uptight Bella.
I have to admit at first I was a little leery of the "getting married in Vegas on a drunkin' whim" storyline.   I mean really, how many times has it been done?  But there was no reason to doubt this authors ability to create a light hearted romance that was engaging, affectionate and oh so sexy!
Bella and Joel meet at a bar. Joel is looking for a good time but is disenchanted with how people treat him.  They only choose to see the rocker and don't' see and accept the real him.  He's in for a surprise!
Bella is out on the town trying to get out of her own head. She needs to force herself out of that uptight shell and let go… at least for one night.  When she meets Joel fireworks go off!  Joel is immediately smitten and boy is he more than happy to be the guy to give her a good time!  It doesn't take Bella long to realize that she is more than willing to take Joel up on his offer J  Little do they know how far that good time will take them both as people and in life…
So begins a fantastic love story between two flawed but incredibly accepting people. Joel's good humor and charming personality create a perfect fit for the prim and proper Bella.  Their banter kept me thoroughly entertained and the chemistry was off the charts HOT!  I loved these two individually and as a couple.
The story is well paced and flowed beautifully. My cheeks hurt I was smiling so much.  Trust me; you won't want to put this book down as you'll be high on the awesomeness that is Joel and Bella.
I voluntarily read and gave honest review of an advanced copy of this book