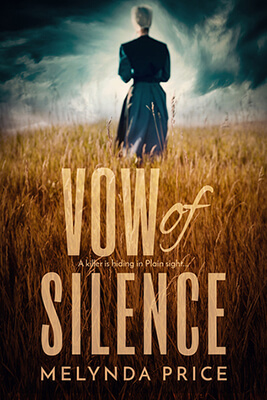 Vow of Silence
by
Melynda Price
Published by
Entangled: Amara
on May 27, 2019
Genres:
Crime
,
Romance
,
Romantic Suspense
,
Suspense
Format:
eARC
Source:
NetGalley
Pages:
330

Buy on Amazon
Goodreads
A killer is hiding in plain sight…

The last thing Homicide Detective Josiah Troyer wants is to return to Lancaster, Pennsylvania, and his Amish roots. But a madman is killing young girls and Josiah's expertise with the tight-knit community is very much needed by the FBI. Unfortunately, going home means dealing with his past and the woman he left behind.

Hannah is desperately trying to rebuild her life after the death of her Amish husband, and now, the murder of her sister. Protecting her young son from the violence is her only goal––and then she runs into the last man she expected to see, her ex Josiah. He left her eight years ago to work with the Englishers and forgiving him hasn't been easy.

But the killer has Hannah in his crosshairs, and she and Josiah will have to work together if she's going to survive.
Young Amish girls are showing up dead. A serial killer is on the loose, and to catch the killer, a homicide detective must face his past and the love he thought he'd never see again. Vow of Silence is an engaging romantic suspense by Melynda Price.  
Homicide Detective Josiah (Joe) left his Amish roots behind to carve himself a new path in the outside world. But it comes at a cost; his family, friends and the women he'll never forget. When a serial killer begins preying upon young Amish girls, Joe, with his Amish background, is assigned to the case. Suddenly Joe is thrown back into a community he never thought he'd see again.
Joe is committed to making a difference. Hannah is committed to her community and being the best mother she can be to her young son. Both struggle with the lives they've chosen, but even the passage of time can't stop the feelings that never entirely left. But Joe knows he needs to focus on the case and can't afford to get sidetracked by the past. He'll face the biggest challenge of his life; going head to head with a psychotic serial killer and coming to terms with his past.
Joe and Hannah both had depth and were genuinely good people with a deep sense of right and wrong. They were compassionate, sweet, and the love between them was unmistakable. While I didn't agree with Hannah's perspective at times, I still connected with her. With that said, I felt Joe's character was more complex, which shown through during the investigation and his dogged pursuit of the killer.
Price treats us to the killers POV. I love it when an author does that. It was definitely cringe-worthy, and boy did it add to the suspense. Trying to figure out who he is kept me on my toes, and it wasn't easy.
There are flashbacks in this book, and while I'm not always a fan of this style, Price pulled it off well. While slow to start, Price's cleverly written story allows for the perfect balance between suspense and romance.  
I received an eARC of this book from the publisher via Netgalley. This review is voluntary, and all opinions and thoughts are my own.
If you love romantic suspense check out these Reviews