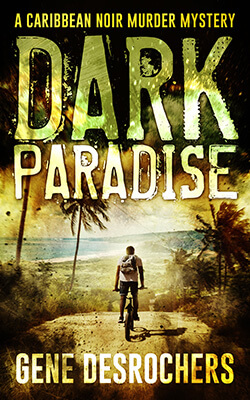 Dark Paradise
by: Gene Desrochers
Genre: Mystery (Caribbean Noir)
Published by: Acorn Publishing
Publication Date: June 25, 2018
Number of Pages: 336
ISBN: 1947392166 (ISBN13: 9781947392168)
Series: Boise #1
Purchase Links: Amazon | Barnes & Noble | Kobo | Goodreads
Boise Montague's life in Los Angeles has fallen apart. After his wife dies, he returns to the tiny island where he grew up. Unfortunately, coming home doesn't bring him the peace he's looking for. Things have changed drastically since his last visit. The island has moved on and so have the people he once knew. When Boise tries to find the one friend he thinks he can count on to be there for him, he's confronted with another death. A murder. A murder that the police did not think important enough to investigate thoroughly. Boise wants answers. He enlists a local reporter named Dana, who has theories of her own, to help him dig deeper. With not much left to lose, a bone to pick with the justice system, and a relentless partner, Boise sets out to do what the police would not: solve the murder of Roger Black. The island of St. Thomas is a gleaming tropical paradise. Welcome to the Caribbean, where murder is as common as sunshine.

What Publishing My First Book Meant to Me
By Gene Desrochers
The realization that I could write a novel was completely novel to me. Short stories came easily. I'd been writing them in one form or another for years. They felt like the verbal vignettes I recounted to high school friends in each afternoon on the bleachers in gym class.
Our fat physical education "coach" would come in and say we could do whatever we wanted (I think we actually went out to play golf with golf whiffle balls twice the whole semester), so Joel (who was in the track class and didn't do anything either), Spyros, I and perhaps others I cannot recall would gather around. My home life was super dysfunctional, so telling my friends the things that happened at my dinner table the night before had to suffice as some form of therapy. I learned to spin a yarn as both entertainment and a means of expressing my unhappiness in a productive way. It was a win-win. They got a good story and I released some anger while confirming with my sane friends that this was not normal and I was right to think all the craziness in my household was indeed crazy.
When I started writing short stories in my twenties, they amounted to more of the same, only in written form. I wrote many and got some published by small presses or online sites. Eventually, I submitted three stories I'd written to a spoken word short story monthly show in North Hollywood called The New Short Fiction Series. Two of the stories were about a bumbling sleuth in the Virgin Islands named Boise Montague. Both had been published, but that was okay with Sally, the person who ran and still runs The Series.
Sally was praiseworthy of my pieces about Boise and said I should write a novel about this character. To that point I'd dreamed of writing a novel, but the massive page-counts seemed so daunting that I'd never seriously made the attempt. For whatever reason, this suggestion rattled around in my head like a pebble in a shoe for the next year. I attended the LA Times Festival of Books and asked two authors from a crime fiction panel how many words they had written to qualify as a proper novel. One said one-hundred-thousand and the other said anything over eighty-thousand.
Armed with the kernel of an idea and a character I already knew pretty well, I decided to write Boise's origin story as my debut novel. A year later, with what I thought was a clean draft, I approached Acorn Publishing at a writer's conference and they accepted me. After a lot of editing, revising, and formatting, the book came out on June 25, 2018.
The first time I held a proof of the book, tears welled in my eyes. Physical evidence of my creativity. I loved the cover and the feel of the dry pulp lined with ink. Lined with a world I created and brought to fruition. Joyous. Ecstatic. Scared. All of these words described my jumbled emotions in that moment. It made me realize that persistence is ultimately the only thing than counts when trying to do something as big as a novel. You persist through the ugly moments and birth creativity from a place you weren't sure existed.
Read an excerpt
Behind me, the door I'd entered through opened. A very tan redhead showing signs of aging from many days spent in the sun entered carrying a laptop bag and shouldering a camera. A red Carnegie Mellon University baseball cap that looked like it had been run over by a garbage truck covered part of her tough, but beautiful face. She looked me over like I was a mongrel who'd wandered in begging for table scraps.
"You need something?" She dropped her stuff down on the cushioned chair next to the counter.
"Uh, yes, I wondered if I could get some clippings or microfilm or copies or whatever it is newspapers give for issues two to eight years old. Are they digitized yet?" I stammered.
"Seriously, what do you want?" She pulled her Ray-Bans off and the gray-blue of her eyes stunned me for a moment. Using her sunglasses, she tapped my shoulder. "Hello?"
The faint odor of cigarette smoke assaulted me when she got close.
"Clippings, you know, news from the past," I said.
As she slipped the glasses into a case from her purse she said, "Yes, but you implied that something here was digitized." She pursed her thin lips. "This newspaper went online three years ago, so, the last three years are available online in the archives section if you buy a subscription. You a subscriber?"
"I don't have a subscription," I said defensively.
"Figures. This is why my job is constantly in danger. Everyone expects news for free." Her fine hair moved in a blur as she shook her head derisively while she rummaged for something in her bag.
"Hey, I'm happy to buy a subscription. I support journalism," I said. It sounded lame.
We both flinched as a thunderous banging rang through the room as something or someone hit the other side of a door to my left.
She threw her hands up, exclaiming, "Not again!"
"What? What's that?" I said.
"Calling the cops," she sang out. "They said they're gonna start charging us if this happened again," she whispered.
Another, more urgent banging erupted through the room. The reporter had her cell out.
"Wait," I said. "Is it really that dangerous?"
"No, just annoying." She pressed a button on her phone. "You believe this? Now I'm on hold. I could probably walk over to the police station faster. He'll probably take a dump on the floor by the time we get back."
***
Excerpt from Dark Paradise by Gene Desrochers. Copyright © 2018 by Gene Desrochers. Reproduced with permission from Gene Desrochers. All rights reserved.
Tour Participants
Visit these other great hosts on this tour for more great reviews, interviews, guest posts, and giveaways!

Enter To Win!:
This is a rafflecopter giveaway hosted by Partners in Crime Virtual Book Tours for Gene Desrochers. There will be 2 winners of one (1) Amazon.com Gift Card each. The giveaway begins on January 1, 2019 and runs through February 1, 2019. Void where prohibited.
Get More Great Reads at Partners In Crime Virtual Book Tours