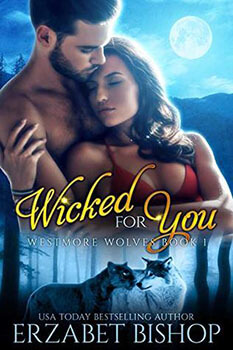 Wicked for You
by
Erzabet Bishop
Series:
Westmore Wolves
Published by
All Romance E-books
on February 1, 2016
Genres:
Paranormal
Format:
eBook
Pages:
52

Goodreads
True love awaits. Passion burns bright…

Carrick is an Alpha werewolf preparing for the annual Pack Gathering. Pack law dictates he must have a mate by his thirty-sixth year or forfeit his rule. But what if he's already found her and lost her in a swirl of cinnamon-scented dreams? Can this Alpha brave a sea of single wolfy females to find the one woman who enchanted his heart?

She's a kitty girl, in a wolfy world…

Sage is the curvy owner of the Hot Whips Café. Bound by pack law, even as an adopted cat, she must attend the Gathering for the Alpha to select a new mate. Heading to a wolf ball isn't high on her list of fun activities, but damned if she can't get the image of a certain amber-eyed wolf out of her head.
Wow Wicked for You is awesome! Werewolves, love, some smexy, fights and a sweet HEA. The author has crafted a lovely gem of a short story that warmed my heart… At least after the blood and fur flew bahahaha This is the first book in the Westmore Wolves series and is told from alternate POV's.
The hero Carrick became alpha after he overthrew and killed the previous Alpha who experimented and imprisoned his wolves. Carrick thinks he met his mate when he was rescuing his sister and the other women locked up but after the fight and due to the ensuing chaos he lost her. But he's stubborn and he is determined to find her!
Fast forward six years and Carrick is in real trouble! If he wants to remain Alpha he has to find a mate! No pressure right!? LOL So a wolf gathering is to be held where all the woman have to attend.
After going through hell, Sage has managed to rebuild her life and runs the local coffee shop with her friends. Sage is a feisty, sweet and kind hell cat! I just loved her! The whisker that pops out when she's nervous was pretty cute too. Like all the other shifters she has to go to the gathering. She doesn't want to go but has no choice.
Little does Carrick and Sage know that there past and future are about to collide.
"Then she glanced up and the light hit her face and Carrick's world tumbled out from underneath him."
This was a really sweet story. Being a short story, I was so impressed with the amount of feeling, action and solid story line the author was able to convey. I think the heroine described this story best.
"Wow," she mused. "It sounds like wolf man Cinderella."
Author provided this story in exchange for an honest review.
Author Buy Links
Amazon / Barnes & Noble / Kobo / iBooks / All Romance