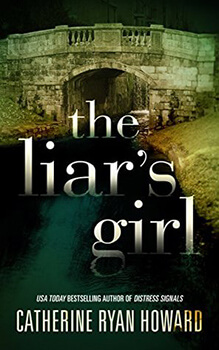 The Liar's Girl
by
Catherine Ryan Howard
Published by
Blackstone Publishing
on February 27, 2018
Genres:
Mystery
,
Thriller
Format:
eARC
Source:
NetGalley
Pages:
336

Buy on Amazon
Goodreads
Will Hurley was an attractive, charming, and impressive student at Dublin's elite St. John's College-and Ireland's most prolific serial killer. Having stalked his four young victims, he drowned them in the muddy waters of the Grand Canal. Sentenced to life imprisonment when he was just nineteen, Will is locked away in the city's Central Psychiatric Hospital.

Freshman Alison Smith moved to the Big Smoke to enrol in St. John's and soon fell hard for Will Hurley. Her world bloomed ... and then imploded when Liz, her best friend, became the latest victim of the Canal Killer-and the Canal Killer turned out to be the boy who'd been sleeping in her bed. Alison fled to the Netherlands and, in ten years, has never once looked back.

When a young woman's body is found in the Grand Canal, Garda detectives visit Will to see if he can assist them in solving what looks like a copycat killing. Instead, Will tells them he has something new to confess-but there's only one person he's prepared to confess it to. The last thing Alison wants is to be pulled back into the past she's worked so hard to leave behind. Reluctantly, she returns to the city she hasn't set foot in for more than a decade to face the man who murdered the woman she was supposed to become.

Only to discover that, until now, Will has left out the worst part of all ...
Psychological thriller, Liar's Girl, is a stand alone novel by talented author Catherine Ryan Howard.  The book alternates between past and present of our heroine, Allison's, life and the events that haunt her.  I was engaged and found myself eager to switch back and forth to figure out "who dunnit".
Allison was a freshman student at Dublin University, who ended up getting caught up in a series of events leaving her destroyed.  She thought Will was the love of her live while he confesses to murdering a series of women. He became known as the Canal Killer and she became known as the naïve girlfriend of a serial killer.  Devastated and humiliated she flees from her home, the media and public to start a new life.
But when two Garda (police officers) show up on her doorstep her past and future collide.  A new series of murders are happening back home and are, suspiciously, exactly like those Will confessed to years ago.  The police want information from Will but he won't speak to anyone but Allison.
I liked Allison.  She's vulnerable, tenacious and faced her inner fears.  I also liked the majority of secondary characters, though Will fell a bit flat for me.  I guess I was expecting more excitement from their interactions during the visits to the mental hospital.  But it still worked out. 🙂
While I definitely enjoyed this book I wasn't blown away.  There was a slow build up and there were a couple of times that I was just a teeny bit close to putting the book down.  But it definitely picked up and I was pulled in.  So, stick with it! I do want to mention for those of you that don't like flashback style of stories… I have to give the author big thumbs up here.  It can be difficult to pull off smooth transitions, while maintaining context, but the author did this beautifully!  It kept me interested and eager.  That's what pushed it up to 4 stars for me!
While the theme is a bit redone and story started off slow this did end up being an enjoyable read.  I'll be looking for more from Catherine Ryan Howard!
I received an eARC from the publisher via NetGalley in exchange for my honest and voluntary review.
Click HERE to learn more about Catherine Ryan Howard