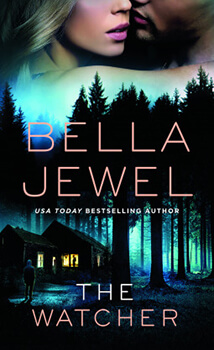 The Watcher
by
Bella Jewel
Published by
St. Martin's Press
on May 30, 2017
Genres:
Romantic Suspense
Format:
eARC
Source:
NetGalley
,
Publisher
Pages:
321

Buy on Amazon
Goodreads
NOW YOU SEE HER . . .
Seven years ago, Marlie Jacobson was kidnapped by a serial killer and lived to tell about it. But it was actually her mother who told the story, in a bestselling book that made Marlie famous. Today, she s known as the girl who slayed a killer. The one who got away. Now, there s just one thing Marlie wants to get away from: her past. But when her little sister disappears, her worst fears comes rushing back with a vengeance

NOW SHE S GONE.
Kenai Michelson is a world-renowned investigator. Dark, brooding, and dangerously good-looking, he s the kind of man Marlie would normally avoid at all costs. But Kenai is her only hope in finding her missing sister. Together, Kenai and Marlie follow a trail of clues that leads them toward the truth and into each other s arms. As her trust in Kenai grows, so does their fierce connection. But will their desire turn deadly as they close in on a ruthless enemy who s watching their every move?
Is The Watcher back or is she just imagining it all…?
After reading Bella Jewels first foray into romantic suspense, called 72 Hours (my review), I was over the moon when asked to review The Watcher.  This standalone romantic suspense is heart pounding, spine tingling and gruesome.
Marlie is the only survivor of a serial killer who kidnapped, tortured and murdered his victims.  She may have gotten away but her whole world is utterly shattered as she struggles with the horrors she lived through and having a mother who's made it her sole mission to exploit her daughter's prolific experiences for money and fame.
Years later Marlie has found a certain level of peace in a small town far from her exploitative mother and strangers judging eyes.  But when she's told her sister's gone missing she has to put her issues aside and do everything she can to find her.  Is the Watcher back or is she being paranoid?  With nowhere to turn and no one willing to believe her she tracks down a private investigator who also happens to be a royal asshole.  But her sister is missing so she has no alternative but to suck it up.
Kenai is well-known for his ability to track people down.  A skill that has made him a highly sought after investigator.  But he's experienced his own version of hell as his life is turned upside down when something he treasures is tragically taken. At first he doesn't want anything to do with Marli and what he "thinks" she represents…someone who is willing to exploit herself for money and fame.  Regardless of his feeling there's still a girl missing and ultimately he agrees to take the case.
So starts a cross-country trip in a race against time as Marlie and Kenai try to find her missing sister.  As the search continues Marlie finds that she's stronger then she thought and Kenai starts the process of truly healing old wounds.
What bothered me:
I was put off by Kenai's character; he was just too harsh. Even though we get a glimpse of the real Kenai behind his wall of anger, pain and judgement I still couldn't connect.  As a result, I wasn't invested in Marlie and Kenai as a couple and felt the chemistry wasn't believable.
There were also moments where I felt the story was a little over the top when describing the more gory scenes.  Gore doesn't bother me in the least but I got the vague impression that a couple of the scenes were purely for shock value rather than building suspense.
What worked for me:
I think the pace is spot on and the overall story well-developed.  The characters had depth, in particular Marlie.  I think she was amazing!  She was so strong even in the face of her own vulnerability.  When faced with something horrifying she acknowledges her fears and tries to work through them.  I also loved the flashbacks.  I'm not particularly fond of continued use of flashbacks throughout a book but they're so well done here.  They kept dragging me deeper into the twisted mind of the Watcher and the horror Marlie went through.  So as we're experiencing Marlie's captivity through her eyes it drives the suspense and intrigue of the story.
While not the best book I've read by this author it's still highly enjoyable.  If you like serial killer stories this is definitely worth the read.  It'll keep your heart racing and eagerly flipping those pages.   I can't wait to read Bella Jewel's next romantic suspense!
I received an eARC  from St. Martin's Press in exchange for my honest and voluntary review.