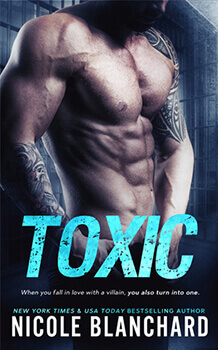 Toxic
by
Nicole Blanchard
Published by
EverAfter Romance
on August 22, 2017
Genres:
Adult Fiction
,
Dark
,
Romance
Format:
eARC
Pages:
275

Buy on Amazon
Goodreads
A new standalone dark romance coming from New York Times and USA Today bestselling author Nicole Blanchard.

"John Doe" was just another patient. A criminal.

As a prison nurse, I knew the rules: do my job, don't get involved, and never let a prisoner get under my skin.

I broke all three.

My passion, my obsession, my addiction. I risked my entire life so we could be together.

I thought helping him escape from prison would be the hard part.

It turns out when you fall in love with a villain, you also turn into one.
The title of Nicole Blanchard's newest release, Toxic, is the perfect description of the relationships in this book.  Told from the heroine Tessa's point of view, this story is intense, emotional and dark.
"What we have is dangerous and volatile, but it's also inevitable"
Tessa is a nurse at a prison and married to the warden who runs it.  He's abusive and controlling.  In her world of emotional and physical abuse Tessa feels totally trapped and isolated. Everyone around her is watching her every move and she knows that all it takes is a slight misstep for her husband to punish her.
As a result, she's starving for affection and love.  Then walks in a new prisoner she has to assess, ultimately starting into motion a trail of events that will lead to a drastic change in her life.
"It turns out when you fall in love with a villain, you also turn into one"
The old Tessa morphs from abused victim to a stronger woman on the run.  However, due to her connection with Gracin she's in more danger then she could possibly know. But she's about to find out…
Gracin is strong and BAD.  Make no mistake, he's likely not going to be put on the list of best book boyfriends.  But there's something about him that's intriguing despite his faults.
I've read a lot of dark romances, some much darker then this one.  One thing I've noticed is that the balance between hating to love him and loving to hate him can play a large factor in the success of pulling off an anti-hero you'd find in these types of books.  This author did a great job especially given that this level of dark isn't typical of her other works.
Unfortunately, I couldn't quite give a full five stars for two reasons, again keeping in mind that I love dark and edgy so have read a lot in this subgenre. Makes me a little picky?:
Though I liked their characters I couldn't quite connect to Gracin and Tessa as a couple.
What Tessa went through is awful and broke my heart. However, there was a point later in the book where I started to get the feeling I was being provided a list of awful rather then feeling it.
With that said, it was still a great read that I'd recommend to anyone! I also think this would be an excellent book for those romance addicts who haven't yet been touched by the dark side? Kudos to Nicole Blanchard!
An advanced review copy was generously provided by the author in exchange for an honest and voluntary review.