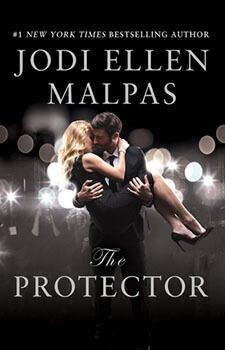 The Protector
by
Jodi Ellen Malpas
Published by
Forever
on September 6, 2016
Genres:
Contemporary
,
Romantic Suspense
Format:
eARC
Source:
NetGalley
Pages:
384

Buy on Amazon
Goodreads
People think they have Camille Logan nailed: daddy's girl; beautiful, spoiled young woman with her father's bank balance to fund her lifestyle. But Camille is determined to have a life free from his strings. Out on her own, she's made mistakes, including one that found her clawing her way back after a stint in rehab and plenty of bad press. Now, after fighting so hard to be independent and happy, she finds her life threatened as a result of her father's ruthless business dealings. Caught between resentment and fear, Camille prepares herself for the measures her father will take to protect her. But nothing could prepare her for the ex-SAS sniper who crashes into her life.

Jake Sharp resides in his own personal hell. He was distracted from duty once before, and the consequences were devastating--both personally and professionally. He vowed never to let that happen again. Accepting the job of bodyguard to Camille Logan isn't the kind of distraction from his demons he should take. Women and Jake don't mix well, yet protecting the heiress seems the lesser of two evils. But Jake soon discovers that she isn't the woman she's perceived to be. She's warm, compassionate, her presence settling, and his duty to protect her soon goes deeper than a well-paid job, no matter how hard he fights it. He needs absolution. He comes to need Camille. But he knows he can't have both.
The Protector by Jodi Ellen Malpas is a standalone novel told from alternate POVs.  This author has a real talent for creating the overbearing, growly alpha male we all love and a strong heroine that I adored. The plot kept me guessing and the love story was immensely satisfying.
Even though Camille (Cami) Logan comes from a rich family she is not your stereotypical rich girl.  She may be rich, work as a supermodel and have grown up privileged but she most definitely doesn't act like it.  She's down to earth, compassionate and fiercely independent.  Cami's determined to make her own way by distancing herself from her father, who's a powerful businessman with seriously questionable morals, and pursuing her dreams.  Her ultimate goal is starting her own fashion line with her best friend Heather.
I loved Cami's determination to stand up on her own two feet and make something of herself.  She confident and comfortable with who she is, both the good and the bad.  Even as she clawed her way back from a drug addiction and her abusive ex-boyfriend she's able to carry on and maintain empathy and optimism.  She'll need a lot of it too!!!
When Cami's father receives a threat against her, supposedly from one of his many enemies, he hires a bodyguard named Jake Sharpe to protect her.
Jake is an ex-SAS soldier who, after leaving the military, becomes a bodyguard in an attempt to maintain purpose in his life as he struggles desperately to cope with his disastrous past.  He's carrying a heavy burden and unbridled guilt as a result of what happened to him. There's a lot of mystery shrouded around what actually happened.  I won't go into too much detail because I don't want to ruin the mystery revolving around Jake's story.  Suffice it to say that the trauma he goes through and the resulting fallout makes your heart bleed for him.
Jake is expecting a spoiled, self-entitled rich girl but boy is he surprised! Women are just a means to an end.  So when Jake is introduced to Cami as her new bodyguard they're both stunned at the sparks that go flying! Cami suspects her father of hiring Jake as a way to control her and Jake suspects that not all is as it seems when it comes to daddy dearest and the supposed threat.
As Jake and Cami get to know each other it becomes clear to Jake that Cami is not what she appears to be. As the mystery unfolds and the suspense builds, emotions begin to run high.  One thing Jake does know for certain is that he's obsessed with Cami and will do anything he can to protect her!
"I've never felt a connection so intense that I can physically feel it.  It's no distraction.  It's no means to an end.  It's tangible.  It's pulling at every one of my muscles and stabbing at every inch of my naked skin.  I've never felt so absorbed by a woman that she makes me want to sacrifice my soul in her honor."
Cami watches Jake struggle as their relationship blossoms.  It breaks her heart that he's so broken but she wants to be there for him.  In typical Cami fashion, she's determined to be there for him and help pull him out of the darkness.
"I realize in this moment as I stare into his eyes that he won't pull me into his darkness.  He wants me to help him find his way out."
Seriously, the first love scene was absolutely beautiful!  The emotion pouring off the pages was tangible and gave me goosebumps!  He's so careful with her and desperately wants to convey his feelings for her in the only way he feels he can.  Through sex.  The author skillfully uses the physical to describe the intense emotions Jake's experiencing, that may have otherwise been difficult to express in words.
Cami's natural acceptance and understanding is just what Jake needs as he tries to overcome his demons and put the pieces of himself back together.
 "You're the missing piece I wasn't looking for, angel."
Cami's passion and obsession is equally as fierce.
"You're my home now," I tell him.  "Wherever you are that's my home." I don't care where that may be.
There were a few things that bothered me a bit which is why I only have 4 stars.  I felt that Jake's character wasn't always consistent.  I got that he was a bit unstable but the extreme outrageous violent thoughts seemed more psychotic then extremely possessive. It made some of his reactions seem a bit unbelievable.
I'm a hopeless romantic at heart but even for me there were a couple of scenes that skirted the edge of too sugar sweet.  I was definitely a bit worried once or twice that the story would veer off into a direction that would lack appeal. But I was WRONG!!!  Sorry for doubting you Ms.Malpas! LOL The romance was sweet and emotions felt real.  The ending was sooo heartwarming.  With the added suspense and action this was a great read I'd recommend to anyone.  I love this author and can't wait for her next book!
ARC kindly provided by NetGalley in exchange for an honest review
Other Books by this Author