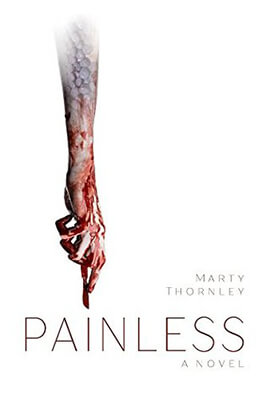 Painless
Marty Thornley
Publication date: January 12th 2018
Genres: Adult, Horror, Psychological Thriller
The debut psychological-horror novel from author Marty Thornley is a page-turning ride, a front row seat to a clinical trial gone horribly wrong.

For Greg Owens, this was supposed to be a chance to end years of back pain and escape his reliance on pain pills. If it all worked out, he could maybe even get back the life he left behind as the pills took control.

Instead, as the patients are cured of their physical pain, they encounter a different sort of pain building inside them – obsessive thoughts, depression, self-destruction. The side-effects grow worse, and the suspense ratchets tighter. The patients want answers and violent revenge, setting them on a collision course with a crazed doctor, determined to protect his life's obsession.

—

What readers are saying…

"…most definitely a recommended read, though it's probably not the best choice for those with a weak stomach."

"Gruesome and twisted. Awesome!!!"

"OMG this book. Holy heck the gruesome descriptions of blood and gore and guts was SO RAD. I found myself cringing and fidgeting and yes, even feeling a bit nauseous in some spots – but totally in a GOOD WAY! Painless was exactly what I wanted in a super-unique, creepy, shocking horror-thriller."
Excerpt from Painless
Streams of smoke and steam rise into the sky from the burnt underside of a car, wrecked and resting on its roof. The heat of the engine and exhaust distorts the air above, and the metal crackles as it cools in the breeze of early morning. 1965 Cadillac Coupe De Ville. Black. It still has that new-car shine. Even with the wreckage of the crash, it is evident the car was cleaned and cared for. The tires, still spinning, slowly come to a stop.
A small hand reaches from the broken back window. A boy drags himself carefully out of the twisted, broken door. Blood drips from his scalp, down his face and onto his suit—disheveled from the crash but cleaned and ironed just a couple of hours ago.
He stands and, though only seven-years-old, stumbles and braces himself against the car like a drunk who just pulled himself out of his own wreck. For a moment he looks out into the distance.
It is quiet here.
The pine trees lining this lonely stretch of road are swayed by an almost silent wind. Behind the seemingly endless forest, snow-capped mountains stand indifferently.
A woman moans in pain.
The boy moves forward, making his way around the back of the car, bracing himself on the tail light, the license plate, the bumper. He rounds the corner to the driver's side. A woman's head and arms hang out of the driver's window. A pool of blood spreads around her.
"Mama?"
She tries to smile. Blood drips from her lips.
"Does it hurt?"
She reaches for the back of her neck. "I can't… get it…" Her fingers grasp a shard of metal that has pierced her spine. "Agh!"
The boy moves aside her hair, exposing an angled fragment of chrome window trim—embedded deep in her neck, its bent and twisted length shooting through a ragged and bleeding gash of skin. As his fingers brush against the shiny protrusion, she closes her eyes and clamps her mouth shut—refusing the pain and stifling a scream.
"I… need… you to… pull it…"
The boy tugs. The metal moves.
"AHHHHHHHH!"
The boy hesitates.
"PULL IT!"
He tugs again. The chrome spike slides out of her neck. Blood splashes off the end and splatters his face.
A serene calm washes over Mama's face.
"Thank you, baby. It doesn't hurt anymore."
"It doesn't?"
Mama smiles. Her hand reaches up, wiping the blood from her son's face with her thumb.
The boy smiles back.
Mama's hand goes limp and drops away. Mama's eyes gloss over.
"Mama?"
Mama is dead.
A drop of crimson pools at the tip of the sharp and twisted chrome, still held tightly in his fingers, finally building the critical mass to drip down into the dirt between his feet.
The boy stares down. Cold and calculating.