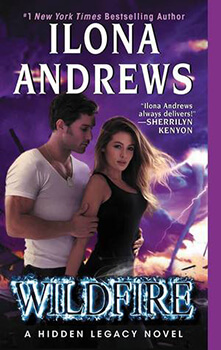 Wildfire
by
Ilona Andrews
Series:
Hidden Legacy #3
Published by
Avon
on July 25, 2017
Genres:
Paranormal
,
Romance
,
Urban Fantasy
Format:
eARC
Source:
Edelweiss
,
Publisher
Also in this series:
Burn For Me
Pages:
400

Goodreads
Just when Nevada Baylor has finally come to accept the depths of her magical powers, she also realizes she's fallen in love. Connor "Mad" Rogan is in many ways her equal when it comes to magic, but she's completely out of her elements when it comes to her feelings for him. To make matters more complicated, an old flame comes back into Rogan's life…

Rogan knows there's nothing between him and his ex-fiance, Rynda Sherwood. But as Nevada begins to learn more about her past, her power, and her potential future, he knows she will be faced with choices she never dreamed of and the promise of a life spent without him.

As Nevada and Rogan race to discover the whereabouts of Rynda's kidnapped husband and are forced to confront Nevada's grandmother, who may or may not have evil motives, these two people must decide if they can trust in each other or allow everything to go up in smoke.
Nevada and Rogan are back in Book 3 of the Hidden Legacy Series! Ilona Andrews has done a fantastic job developing the Hidden Legacy world and crafts a fabulous plot full of intrigue, action and an amazing cast of secondary characters. I won't get too much into the plot as you'll need to read the first two books Burn for Me & White Hot but suffice it to say, this book rocked!
The relationship between Nevada & Rogan is on more solid ground and even hotter!  They have such a deep connection.  These two ooze chemistry that I could almost cut with a knife.  But the world around them is beginning to spin out of control after Nevada takes on a new case; dragging them further into the conspiracy revolving around the powerful magical houses.
I loved the good-natured ribbing within the Baylor family and the sarcastic verbal spars between Rogan and Nevada. I was also impressed with Rogan's development.  He's respecting Nevada's boundaries and steadfastly shows absolute faith in Nevada's ability to manage her magic and make the right choices as she moves towards creating her new house.
I love how Nevada has grown.  She shows extraordinary strength as she proceeds with creating her own House Baylor to protect her family from someone who it out to control and take advantage of them.  She's facing threats from multiple sources while struggling to navigate the complex politics of becoming a house.  But through it all she refuses to compromise her morals and what her family stands for.
What really pulled this whole book together for me was the supporting characters.  They gave the story a humorous and heartwarming feel as they continually support the people they care about.  Nevada's family in particular made me feel more invested in the story overall.  I felt connected. The people who work for Rogan are also engaging.  Their faith and loyalty in him is absolute and that dynamic took the form of a type of extended family.
The ending was phenomenally well done!  I felt like I was in the middle of magical chaos and I loved it. This book is a fantastic addition to the series and my personal favorite.  Thank you again Ilona Andrews for treating us to your incredible talent and magical world.
Check out the first two books in the Hidden Legacy Series:
Book 1 – Burn For Me (my review)
Book 2 – White Hot (my review)
I received an eARC  from publisher via Edelweiss as part of this Blog Tour in exchange for my honest and voluntary review.
Excerpt from Wildfire
I opened my mouth. Nothing came out.
Mom made big eyes at me and nodded toward the table. I dropped my bag on the floor and sat.
"Drink your tea." Grandma Frida pushed a steaming mug toward Rynda.
Rynda picked up and drank it, but her gaze was fixed on me. Desperation in her eyes turned to near panic. Right.
I closed my eyes, took a deep breath from the stomach all the way up, held it, and let it out slowly. One . . . two . . . Calm . . . calm . . .
"Nevada?" Grandma Frida asked.
"She's an empath Prime," I said. "I'm upset, so it's affecting her."
Rynda gave a short laugh, and I heard Olivia Charles in her voice. "Oh, that's rich."
Five . . . six . . . Breathe in, breathe out . . . Ten. Good enough.
I opened my eyes and looked at Rynda. I had to keep my voice and my emotions under control. "Your mother killed an entire crew of Rogan's soldiers and four lawyers, including two women your age. It was an unprovoked slaughter. Their husbands are now widowers and their children are motherless because of her."
"A person is never just one thing," Rynda said, putting the mug down. "To you she might have been a monster, but to me she was my mother. She was a wonderful grandmother to my children. She loved them so much. My mother-in- law doesn't care for them. They have no grandparents now."
"I'm sorry for your and their loss. I regret that things went the way they did. But it was a justified kill." Dear God, I sounded like my mother.
"I don't even know how she died." Rynda clenched her hands into a single fist. "They only gave me back her bones. How did my mother die, Nevada?"
I took a deep breath. "It wasn't an easy or a quick death."
"I deserve to know." There was steel in her voice. "Tell me."
"No. You said you needed my help. Something terrible must've happened. Let's talk about that."
Her hand shook, and the mug danced a little as she brought it to her lips. She took another swallow of her tea. "My husband is missing."
Okay. Missing husband. Familiar territory. "When was the last time you saw . . ." Rogan had said his name one time, what was it? ". . . Brian?"
"Three days ago. He went to work on Thursday and didn't come back. He doesn't answer his phone. Brian likes his routine. He's always home by dinner. It's almost Christmas. He wouldn't miss it." A note of hysteria crept into her voice. "I know what you'll ask: does he have a mistress, did we have a good marriage, does he disappear on drunken binges? No. No, he doesn't. He takes care of me and the kids. He comes home!"
She must've spoken to the Houston PD. "Did you fill out a missing person report?"
"Yes. They're not going to look for him." Her voice turned bitter. She was getting more agitated by the minute. "He's a Prime. It's House business. Except House Sherwood is convinced that Brian is okay and
he's just taking a break. Nobody is looking for him, except me. Nobody is returning my calls. Even Rogan refuses to see me."
That didn't sound right. Rogan would never turn her away, even if I pitched a huge fit about it. I'd watched the two of them talking before. He liked her and he cared about her. "What did Rogan say exactly?"
"I came to him on Friday. His people told me he was out. He was out on Saturday. I asked to wait, and they told me it was a waste of time. They didn't know when he would be back. I may be naive, but I'm not an idiot. I know what that means. Two weeks ago, I had friends. I had my mother's friends, powerful, respected, and always so eager to do Olivia Charles a favor. Two weeks ago, one phone call and half of the city would be out looking for Brian. They would be putting pressure on the police, on the mayor, on the Texas Rangers. But now, everyone is out. Everyone is too busy to see me. There is an invisible wall around me. No matter how loud I scream, nobody can hear me. People just nod and offer platitudes."
"He didn't stonewall you," I said. "He was out of state. With me.
She stopped. "You're together?"
There was no point in lying. "Yes."
"The thing with my mother, it wasn't just a job for you?"
"No. She killed the wife of a man I consider a friend. He works here now."
Rynda put her hand over her mouth. Silence fell, heavy and tense.
"I shouldn't have come here," she said. "I'll get the children and go."
"That's right," Grandma Frida said.
"No," Mom said. I knew that voice. That was Sergeant Mom voice. Rynda knew that voice too, because she sat up straighter. Olivia Charles was never in the military, but three minutes of talking to her had told me that she had ruled her household with an iron fist and had very low tolerance for nonsense.
"You're here now," Mom said. "You came to us for help, because you had nowhere to turn and because you're scared for your husband and your children. You came to the right place. Nevada is very good at tracking missing people. Either she'll help you, or she will recommend someone who will."
Grandma Frida turned and looked at Mom as if she had sprouted a pineapple on her head.
"Right," I said. I may not have personally murdered Rynda's mother, but I made that death possible. And now she was a pariah, alone and scared. She had lost her mother, her husband, and all of the people she thought were her friends. I had to help her. I had to at least get her started in the right direction.