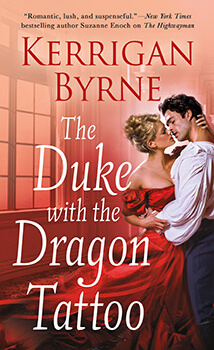 The Duke with the Dragon Tattoo
by
Kerrigan Byrne
Series:
Victorian Rebels #6
Published by
St. Martin's Press
on August 28, 2018
Genres:
Historical Romance
Format:
eARC
Source:
NetGalley
Pages:
384

Goodreads
The bravest of heroes. The brashest of rebels. The boldest of lovers. These are the men who risk their hearts and their souls—for the passionate women who dare to love them…

He is known only as The Rook. A man with no name, no past, no memories. He awakens in a mass grave, a magnificent dragon tattoo on his muscled forearm the sole clue to his mysterious origins. His only hope for survival—and salvation—lies in the deep, fiery eyes of the beautiful stranger who finds him. Who nurses him back to health. And who calms the restless demons in his soul…

A LEGENDARY LOVE

Lorelei will never forget the night she rescued the broken dark angel in the woods, a devilishly handsome man who haunts her dreams to this day. Crippled as a child, she devoted herself to healing the poor tortured man. And when he left, he took a piece of her heart with him. Now, after all these years, The Rook has returned. Like a phantom, he sweeps back into her life and avenges those who wronged her. But can she trust a man who's been branded a rebel, a thief, and a killer? And can she trust herself to resist him when he takes her in his arms?
Two imperfect people who are completely perfect for each other! She is light and innocence while he is dark and decidedly not. This is yet another amazing historical romance from Kerrigan Byrne. Though book 6 in the Victorian Rebels series, it can be read as standalone. Told from multiple points of view we are treated to some very interesting characters.
A young man is beaten and left to die. A beautiful crippled girl Lorelei and her family find him under a tree and she refuses to leave him to die. As Lorelei nurses him back to health she feels connected and in the boy's mind she is his savor. Someone he can reach out to when he thinks he can't take the pain anymore. But more than the pain he has no memories of who he is or how he got there.
Lorelei is a kind-hearted girl who is prone to helping and "fixing strays". The young man who she calls Ash is an enigma. She knows that his heart is hurting, and she can't help wanting to heal that too. As they get to know one another, and Ash heals they start feeling the stirrings of young love. After he heals, Lorelei's brother and father are helping him to get work in a trade. When he sets into town with Lorelei's brother she begs him to let her come but he can't. Instead he makes her a promise.
"Lorelai. There are only two indisputable facts in this world: The sun will set in the west, and I'll come for you. Always."
Only… he doesn't. Not for a very very long time. When they do meet again 20 years later the young man she knew and loved is no more. He is now known as the Rook and he is the epitome of dark, deadly and handsome.
The emotions between the two were intense and watching the Rook begin to find himself was a joy. Their banter brought grins to my face which counterbalanced the intense moments. There was no doubting the love they had for each other  even when they had some awful moments.
"Through everything that's been done to me, I've only ever believed in one thing." "What's that?" she whispered. "That the sun would set in the west, and that I would come for you."
They've come full circle. Happy sigh…
Of course, most importantly, the sparks flying off Lorelei and the Rook was outrageous! I had to go find my Victorian era fan to cool myself off. Loved it:)
There was mystery and intrigue that kept the story flying along.  In order to be with Lorelei he first has to find a treasure.  I just gobbled it up!  What that is and if he succeeds is anyone's guess.  At least until you read it 😉
The historical setting was wonderfully described, for which this author is uniquely talented. Kerrigan Byrne breathes life into the history surrounding the romance in a way I connect with.
I did have a tiny issue and that was at the beginning. It made me feel a little bit uncomfortable. I won't say more. Obviously, it didn't bug me that much since I didn't want to stop reading. I just felt that in the process of emphasizing how much darker he'd become over the last 20 years; the author went a tiny bit too far.
I also think Lorelei should have made him work harder to regain her trust. I mean, really?! Come on Lorelei! He gets up and leaves you for 20 years! Sure, there could be very valid reasons but still…. LOL
Overall, I thought this book was thoroughly entertaining with wonderful MC's and some great secondary characters. I'd recommend this to all historical romance lovers.
I received an eARC of this book from the publisher via Netgalley. This review is voluntary and all opinions and thoughts are my own.
If you'd like to learn more about Kerrigan Byrne check out my Interview!