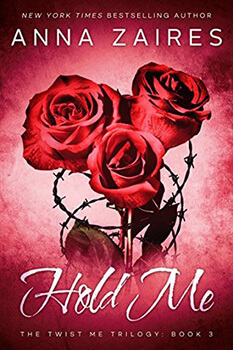 Hold Me
by
Anna Zaires
,
Dima Zales
Series:
Twist Me #3
Published by
Mozaika Publications
on June 9, 2015
Genres:
Contemporary
,
Dark
,
Erotica
Format:
eBook
Source:
Purchased
Pages:
330

Buy on Amazon
Goodreads
Captor and captive. Lovers. Soulmates.

We're all that and more.

We thought we were past the worst of it. We thought we finally had a chance.

We thought wrong.

We're Nora and Julian, and this is our story.

***Hold Me is the conclusion of the Twist Me trilogy, told from Nora & Julian's point of view.***
This is the third book in the Twist Me Series and concludes Nora and Julian's story. It is told in dual point of view. This is not a standalone.  The series MUST be read in order.
Essentially the series is about a girl, Nora who was kidnapped by our anti-hero Julian and how their relationship grows.  Includes lots of action, angst & a walk on the dark side! I'm not going to go into too much detail regarding the plot because I don't want to ruin the first two books for you.
With that said; what a fabulous ending in all its twisted glory! (uh…pun LOL)  This book is about discovery, acceptance, unconventional love and trying to find balance in a relationship that is anything but normal.
This story picks up right where Keep Me left off.  Julian and Nora make it home after Nora saved his life. She's having difficulty dealing with the trauma.  Bizarrely enough, a lot of that had to do with what happened to Julian; her captor. Then a shocking revelation forces them to really evaluate both themselves, how their relationship will progress into the future and where they stand in each other's lives.
"I owe my life to the girl I abducted, and I don't quite know how to deal with that." ~Julian
In a sense this comment, in my mind, highlights how the process of self-discovery really begins for Julian in this book.  We do see Julian start to soften by the end of Book 2 but I think his character developed by leaps and bounds in this book. He doesn't fully understand conventional love as he's never really been loved by anyone and has no true friends. Intellectually, he knows Nora loves him but I felt like he was struggling with the concept that her willingness to knowingly put herself in danger stemmed from that love.  It didn't matter that he was the captor. It was selfless.
Julian's obsession, possessiveness and extreme need to keep her safe and sheltered is his version of love, though he doesn't realize it a first, and in a way mirrors the reasons why Nora put herself in danger for him…he would have done the same thing for her.  Julian tries to control an emotion that can never fully be controlled but he's beginning to recognize the need to temper that extreme need within himself for Nora's sake. Julian is seeing Nora as a person that is his other half rather than just a possession.
"I want to be her hero, her savior. For just one night, I want to be the husband of her dreams." ~Julian
Don't get me wrong, Julian is still a controlling freak with next to no morals and let's face it that won't change but he is what he is and Nora has to come to terms with that.  He'll never be that normal, "good" guy and she can't expect him to be otherwise.
 "Is that what my pet expects? Some sort of grand gesture where I give her freedom?  Where I beg her for forgiveness and feign regret for having taken her in the first place? Fuck that." ~Julian
Nora also grows a great deal throughout but I don't think as much as Julian.  She's starting to realize that things aren't always black and white; she's growing up.  She does, however, find it disturbing how she's accepting the harsh reality of Julian's life and consequently questions her own morals.  Nora desperately wants to go home to her parents for a visit to "center" herself and begs Julian to take her and he reluctantly agrees. This is when everything goes to shit and leads to a devastating event leaving both Julian and Nora grief stricken.  Through that grief Nora finally realizes that though their relationship may be warped, how it all started no longer matters and questioning it is pointless. I think Julian said it best…
"If I didn't take her the way I did, would she have been mine?  It's foolish to wonder about that, of course.  I might as well speculate about time travel or what I'd do if the world came to an end" ~Julian
Now this book was slower than the previous two but I'm ok with that.  However, what dropped my rating down to 4 stars was partly due to Nora's constantly questioning both the validity of her feelings and Julian's feelings for her.  True it's strange but jeez it's blatantly clear in his actions. But mainly it was the action with the mob that occurred during the visit with Nora's parents.  During their stay Julian, Nora and her friend go to a bar and the girls are attacked which ultimately throws them into a dispute with the local mob.  It felt like it was just thrown in as a way to add drama near the end.  We did get to see Nora turn badass which was pretty cool! Hahaha
Anyhoo, that's my take on it and to me this story ultimately comes down to one thing…
"We may never be "normal," but that doesn't mean we can't be happy" ~Nora