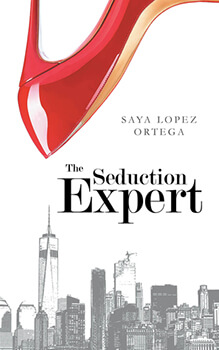 The Seduction Expert
by
Saya Lopez Ortega
Series:
The Seduction Expert #1
Published by
VSP Publishing
on June 26, 2019
Genres:
Adult Fiction
,
Contemporary
,
Romance
,
Womens Fiction
Format:
eARC
Source:
NetGalley
Pages:
174

Buy on Amazon
Goodreads
She's the seduction expert.

Women contact her to take over their love lives. She steps in when they're lost, she's supposed to succeed where they failed. She handles their single status, their relationship, their breakup, and very often their partner's affairs. Her job is a life priority, she spends most of her time at the office or between two flights in business class and the fact of having a sports car that can reach one hundred kilometers in less than six seconds often make her feel like a super-heroine in service to women.

Anyway, take her card.

You'll see, it's much better than spending holidays in St Barts.
Callous, manipulative, power hungry and narcissistic in the extreme! Someone to be loved and adored! At least that's what the Seduction Expert (aka Baroness) would expect you to think…  The Seduction Expert by debut author Saya Lopez Ortega is totally engaging and unexpected.
Set in Paris, Baroness is at the top of her game. She's a self-made high society business women who has those around her captivated.  Her business is to help women achieve their dreams of love OR revenge for woman with unfaithful husbands…no matter how unscrupulous. She then justifies some of her bad behavior by cloaking it in a mild mockery of feminism.
Indeed, her disdain for men and glee at destroying unworthy ones meets no bounds!
"Seeing him walk out the door, after crushing him with my domination, makes me come as much as copulation.  Since the orgasm is over, he's now dismissed."
Too funny!
Her ultimate goal is to manipulate and scheme her way to power and riches.  Her plan is simple. Make her business a success and marry into a ridiculously rich and influential family.  Now, with a wildly successful business and a rich finance, she's well on her way to achieving her goals.  However, what she didn't expect was to encounter someone almost as ruthless as her!  Baroness can be over the top but I hated her nemesis even more.
Truly, Baroness is the most likable anti-heroine I've come across in a long time. Her vanity and absolute conviction in her own superiority cracked me up. She was so outrageous that I couldn't help but like her. She has no shame.
"…how many more frightened virgins will I have to put up with before then?" Oh, so important existential question between two bites of lobster."
Baroness's perception of those around her is unerringly accurate; the reality of women scorned, the virgin eagerness to be loved or a simple need for connection is both cliché and oddly insightful.  Sometimes uncomfortably so.  I don't think many women could say that they haven't fit into one of those categories at some point in our lives.  It's easy to lose sight of ourselves by becoming lost in those feelings.  Though not meant to be entirely altruistic, she does empower the women she helps.
And since it's told from her POV I could really appreciate her view of the world; like her talent at dissecting and manipulating the emotions of those around her.  I had a huge grin on my face during her more narcissistic moments.   No doubt she is a b*tch but meh I've had my bad moments 😉 .
My only issue was that the story didn't grab my attention right away.  However, with that said, this was highly enjoyable and not what I expected. I look forward to the next book in the series.
I received an eARC of this book from the publisher via Netgalley. This review is voluntary and all opinions and thoughts are my own.