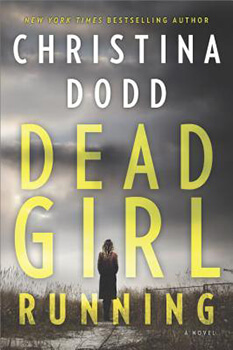 Dead Girl Running
by
Christina Dodd
Published by
Harlequin
on April 24, 2018
Genres:
Romantic Suspense
,
Suspense
,
Thriller
Format:
eARC
Source:
NetGalley
Pages:
365

Buy on Amazon
Goodreads
I have three confessions to make:
1. I've got the scar of gunshot on my forehead.
2. I don't remember an entire year of my life.
3. My name is Kellen Adams...and that's half a lie.

Girl running...from a year she can't remember, from a husband she prays is dead, from homelessness and fear. Tough, capable Kellen Adams takes a job as assistant manager of a remote vacation resort on the North Pacific Coast. There amid the towering storms and the lashing waves, she hopes to find sanctuary. But when she discovers a woman's dead and mutilated body, she's soon trying to keep her own secrets while investigating first one murder...then another.

Now every guest and employee is a suspect. Every friendly face a mask. Every kind word a lie. Kellen's driven to defend her job, her friends and the place she's come to call home. Yet she wonders--with the scar of a gunshot on her forehead and amnesia that leaves her unsure of her own past--could the killer be staring her in the face?
Dead Girl Running by Christina Dodd is definitely an enjoyable read. But I'm not wholly sure what to think of it.
Kellen Adams is an enigma.   A girl who's been on the run with 1 entire year of her life simply gone from her memory.
She ends up working at a vacation resort where she finds a sense of peace and belonging.  She brought some of her team members from her military days to work there; basically her "family". Things seem to be going really well.
Then a dead and mutilated body shows up on shore. Thus beginning a series of twists and turns in a suspense full of who "dunnits".  I was questioning everything!  At least for the most part.
So, while the suspense kept me reading and the romance was appealing, there were parts I struggled with.
The beginning totally sucked me in.  I'd say for the first portion of the book I was intrigued but then started to feel bogged down with a data dump.  There was a lot of information to absorb which detracted from the story line a bit.
Then just as the story started making my heart race it began to slow and level off. BUT don't worry it doesn't last long. The story started to gain traction again and in a big way;  it got me turning pages at lightening speed! So by the last page I felt better about the book.
I think Christina Dodd is an amazingly talented writer. Her books rock! So, while this may not be my favorite of her books, I have no doubt I'll be reading the next one.
I received an eARC of this book from the publisher via Netgalley. This review was voluntary and all opinions and thoughts are my own.