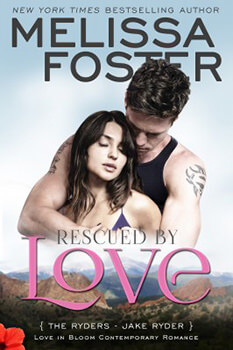 Rescued by Love
by
Melissa Foster
Series:
The Ryders #4
Published by
EverAfter Romance
on January 18, 2017
Genres:
Contemporary
,
Romance
Format:
eARC
Pages:
306

Goodreads
Addison Dahl is excited to return to Elpitha Island for her best friend Gabriella's wedding. A weekend of sun and fun is just what she needs before setting out on her newest adventure—roughing it in the wilderness. Addison is tough, she's independent, and she doesn't "do" feelings toward men. But lately her friend—and Gabriella's brother-in-law—sinfully sexy and ornery-as-hell Jake Ryder has been the star of her late-night fantasies, and she can't get him out of her mind. It doesn't help that the chemistry between them is scorching hot. With any luck, a few days in the wilderness will snap that craziness out of her head.

As a top search and rescue professional, Jake Ryder spends his days saving those in need and his nights in the arms of willing women who offer nothing more than a few hours of sexual enjoyment. But there's only one woman he wants, and he's spent the last several months trying to get beautiful, smart, and sassy Addison to give him one sinful night. He's sure one night will lead to more.

The night of the wedding the heat between Jake and Addy ignites, and they're powerless to resist their explosive passion. Wild kisses, sensual touches, and heartfelt conversations brings them closer together, and when the weekend ends, Jake is determined to keep Addy close and make her his. But Addy has other plans...
True to form Melissa Foster has created yet another story that is so full of sweet feels and scorching chemistry that you'll be left swooning from the happy high.  This is book 4 in the Ryder series but can be read as standalone.
The story opens at Addison's friends wedding and right away it's more than apparent she and Jake, one of the Ryder brothers, are dying to get their hands on each other.  I had a smile on my face right away.  They were flirty, the banter was amusing and their interactions were hot.
Jake is brazenly throwing all kinds of sexy innuendos Addison's way.  He THINKS he doesn't want to settle so it'd just be great sex right?  WRONG!  He knows in his gut that she's the one and like any good Ryder he won't let it go.
I thought Jake's character was sweet, protective, understanding and undoubtedly alpha.  He knew what he wanted and he was going to convince Addy he was it for her. There was simply no doubt on his part; though there were moments! 😉
Addy is typically non-emotional when it comes to men and is fiercely protective of her independence.  While she is attracted to Jake, he is part of a family and group of friends that she cares a great deal about.  What would happen if things turned bad all for a one night stand?
The author has a real talent for creating characters that have emotional depth and are very likeable.  You can't help but connect with them and root for their happy ever after.  So I was surprised to find myself a tiny bit put off by Addy's sheer level of stubbornness.  At times it bordered on immature.  But the minor annoyance is definitely not enough to really detract from the overall story or their connection. I understand where she was coming from.  She needs to prove something to herself and won't let anyone mess with that…including Jake.  They fit perfectly together and I was oh soooo happy with the ending.
Yet another great book from Melissa Foster.  If you're looking for a romance that will leave you feeling all warm and fuzzy inside look no further!!  Though I would definitely recommend not only this fab read but the other books in this series as well. They all rock!
This book was kindly provided in exchange for an honest review as part of this blog tour.
Purchase Links:      Amazon | B & N | Google | iTunes | Kobo
Click HERE to see the Tour Schedule