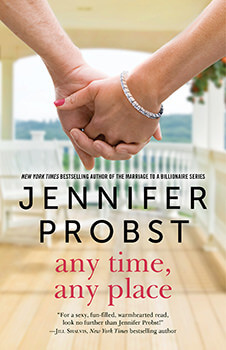 Any Time, Any Place
by
Jennifer Probst
Series:
Billionaire Builders #2
Published by
Gallery Books
on January 24, 2017
Genres:
Contemporary
,
Romance
Format:
eARC
Pages:
400

Goodreads
HGTV's Property Brothers meets The Marriage Bargain in this second volume in the Billionaire Builders series, an all-new heart-wrenching and sexy contemporary romance from New York Times bestselling author Jennifer Probst.

When she was a teen, Raven Bella Stratton's father was killed in a horrible car crash. The bigger shock was the discovery of a woman with him—Diana Pierce—and their two fully packed suitcases with airline tickets to Paris. Devastated by her father's betrayal, Raven went to live with her aunt, never truly overcoming the traumatic event. When she discovers that the mysterious woman had a family with a husband and three boys, Raven vows to leave the memory of her father behind.

Until Dalton Pierce visits one night and suddenly her past challenges her future...

Leaving his life in California behind to run Pierce Construction with his two older brothers, Dalton Pierce has enjoyed returning home and studying his passion of woodworking. But when he visits the local bar with his brothers one evening, he's immediately drawn to the smart-mouthed, badass, sexy bartender who sets his body on fire. Unfortunately, she doesn't seem as intrigued by him, and his multiple advances are met with rejection. When he offers to restore the bar back to its original glory, he begins to work with her on a daily basis, and falls harder. His plan of seduction slowly weaves a web around them both, until they are caught up in the spell. But Dalton doesn't know the secret that can either destroy them both...or finally mend two broken hearts.
The sexual tension was practically oozing off the pages! The chemistry was out of this world mixed with an incredibly sweet romance.
This is the second book in the Billionaire Builder Series revolving around the youngest brother Dalton and the sassy Raven. Two people whose lives are irrevocably changed at a young age when their parents died in a car crash.  Worse? It's a crash that happened as their parents (Daltons' mother and Raven's father) were leaving their families behind to run away to France together. Imagine the pain and anger you'd feel knowing your parents were willing to just leave you behind?
Raven has been self-destructive but now she's working hard to put the pieces of her life back together. She becomes the owner of an antique bar called "My Place" that's become wildly popular. Then one night, to her shock and dismay the Pierce brothers walk into her bar.  One of whom is the sexy lovable Dalton and sparks ignite!  I loved how feisty, stubborn and determined she was to move forward with her life.
Dalton is one of the owners of Pierce Construction and his passion is working with wood; particularly antiques.  He first sets eyes on Raven when he visits her bar and he becomes obsessed; both with her and the bar!  For months he tries to break down her wall even though she continually shoots him down.  In Raven's mind Dalton is the enemy by virtue of being the son of the women she feels took away her father and ruined his reputation.
Then Raven gets a call from a prominent magazine asking for an interview that could take her bar to the next level.  Now she's desparate to restore her bar before the interview.  But to her great irritation she's forced to approach Pierce Construction which means having to deal with Dalton in close quarters on a regular basis. Dalton is ecstatic when he finds out. He can't wait to get his hands on her bar and hopefully her.  LOVED. IT. Dalton's gentle good humored charm was constantly bringing a smile to my face… Raven too even though she didn't want to admit it! LOL
As the story unfolds it's impossible not to become wholly invested in their characters. Raven and Dalton are forced to face their own demons as they get to know each other.  By doing so they are helping each other push forward to a happier future simply by existing in the same space and finding love.  It was gradual and believable.
One of the things I love about Jennifer Probst is how much depth she's able to give her characters. Their relationships seamlessly flow and change to reflect each individual's growth throughout the story.  While I'll have to admit this book was a bit slower paced, I don't think the story could have been pulled off realistically any other way.  It was a pleasure to read and I'd recommend it to anyone:)
This book was kindly provided in exchange for an honest review.
Purchase in Paperback
PURCHASE MORE BOOKS IN THE SERIES
PURCHASE EVERYWHERE AND EVERY WAY NOW
Amazon | iBooks | B&N | Kobo | GooglePlay