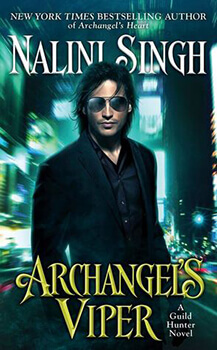 Archangel's Viper
by
Nalini Singh
Series:
Guild Hunter #10
Published by
Berkley
on September 26, 2017
Genres:
Paranormal
,
Romance
,
Urban Fantasy
Format:
eARC
Source:
NetGalley
Pages:
367

Buy on Amazon
Goodreads
Enter New York Times bestselling author Nalini Singh's breathtakingly passionate Guild Hunter world with the story of a woman who isn't a vampire or an angel…or human…

Once a broken girl known as Sorrow, Holly Chang now prowls the shadowy gray underground of the city for the angels. But it's not her winged allies who make her a wanted woman—it's the unknown power coursing through her veins. Brutalized by an insane archangel, she was left with the bloodlust of a vampire, the ability to mesmerize her prey, and a poisonous bite.

Now, someone has put a bounty on her head…

Venom is one of the Seven, Archangel Raphael's private guard, and he's as infuriating as he is seductive. A centuries-old vampire, his fangs dispense a poison deadlier than Holly's. But even if Venom can protect Holly from those hunting her, he might not be able to save himself—because the strange, violent power inside Holly is awakening…

No one is safe.
It's Venom's turn!  Archangels Viper is book 10 in the Guild Hunter Series by Nalini Singh featuring Holly and Venom.  This series is amazing and takes place in a world of intrigue where angels, vampires and humans live together.  There is a clear hierarchy where angels essentially rule. Vampires are created by angels and in exchange for the "gift" of near immortality must serve their creator over a contracted period.  The world building is spectacular and characters very well developed.
I've always had a soft spot for the deadly yet charming vampire. With eyes like a viper, characteristics of a snake and a bone-dry sense of humor Venom truly is one of a kind.  A perfect fit as one of the deadly "Seven" making up Archangel Raphael's guard.
The last time Venom saw our heroine Holly, she was a shattered victim of an archangel gone mad.  Turned against her will she becomes her own version of unique.  Neither full vampire nor human, she's an oddity stuck in her own personal hell.  However, when Venom returns two years later he's greeted with a Holly who's slowly taking her life back but hasn't lost her snarkiness and razor-sharp wit. But it's clear there's a fragile bond between they share some similar abilities making them alike yet not.
To the world, Venom was a vampire. And there were millions of vampires. But he was the only one with the eyes of a viper and the deeper, less visible changes that shoved him far outside that well-defined box. Like Naasir, he was and had always been alone among millions. Until Holly.
I loved how these two interacted.  Their snarky, sarcastic banter was constantly making me smile.
"Does it hurt to bite your tongue so hard?" he asked with faux concern.
Holly didn't miss a beat. "I'm in a car with you–I clearly have a high pain threshold,"
But what I really loved was Venom's absolute faith in Holly and her abilities.  He sees her for the strong woman she is.  Venom's constant support ultimately helps Holly accept her powers and in part come to terms with her "otherness".
With that said, while I liked Venom and Holly together I wasn't totally feeling the passion between them.  I felt a strong connection but not necessarily the hot and passionate kind described in the book.  Don't get me wrong there was some definite heat near the end but the deep abiding love didn't fully resonate with me. But it was minor and didn't take away from the overall story.
One of this authors' many talents is the ability to weave truly rich characters into a plot that snatches your attention from the first page to the last.  I don't think I've read anything by Nalini Singh that didn't have a great plot and some amazing characters!
This could be read as a stand alone.  However, I'd recommend starting the series from the beginning so you can get a good understanding of the world and connect with the characters that make this series so great.
I received an eARC from the publisher via NetGalley in exchange for my honest and voluntary review.