I'd like to give a big welcome to bestselling author Tess Thompson.  She's here to tell us about herself and her newest release Riversnow which is Book 4 in the River Valley Series.  Thank you for being here Tess!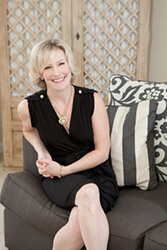 Bio: Tess Thompson is a bestselling novelist of romantic suspense. She's also a Zumba dancing queen, though the wearing of the crown is reserved for invitation-only appearances. Recently she's participated in obstacle course races, the hardest of which was the Spartan Beast in Sun Peaks, British Columbia. It was an awful experience that will soon be included in a novel. There was running. And climbing a mountain. And obstacles, like walls and crawling under barbed wire. She is not the running or obstacle queen.
Like her characters in the River Valley Collection, Tess hails from a small town in southern Oregon, and will always feel like a small town girl, despite the fact she's lived in Seattle for over twenty-five years. She loves music and dancing, books and bubble baths, cooking and wine, movies and snuggling. She cries at sappy commercials and thinks kissing in the rain should be done whenever possible. Although she tries to act like a lady, there may or may not have been a few times in the last several years when she's gotten slightly carried away watching the Seattle Seahawks play, but that could also just be a nasty rumor.
She currently lives in a suburb of Seattle, Washington with her brand new husband, the hero of her own love story, and their Brady Bunch clan of two sons, two daughters and five cats, all of whom keep her too busy, often confused, but always amazed. Yes, that's four kids, three of whom are teenagers, and five cats. Pray for her.
Tess loves to hear from you. Drop her a line, or visit her Facebook Fan Page, or follow her on Pinterest and Twitter.
Author Contacts
Goodreads / Amazon / Website / Facebook / Twitter / Pinterest / Instagram

Interview
AB: Sounds like you have a pretty hectic life! What would you say is a typical day in the life of Tess Thompson and how do you find time to write?
Tess:  It is a busy life with three teenagers and one preteen, not to mention our five cats! I manage to write by staying disciplined about my routine. After I get everyone off to school and work, I go to the gym. When I get home, I usually get right to work, spending the rest of the day writing or working on the business side of writing. Because the kids are all self-sufficient, other than a few interruptions, I can usually work until it's time to make dinner. This is very different from when my girls were little. My window of work time was much smaller then. Because I have the luxury of writing full time, I do not waste it or take it for granted. I think it spurs me to remain disciplined, knowing how many writers would kill for my schedule.
AB:  I love movies and snuggling too! What do you think is the most snuggle worthy movie of all time?
Tess:  I absolutely love the movie "Something's Gotta Give" with Diane Keaton and Jack Nicholson. The main character is a writer, which I love. She lives in my dream house by the beach and writes in the amazing office that makes me swoon. Her life if fine, or so she thinks, until Jack shows up and makes everything messy and chaotic, which is just what she needs. It's a love story about adults in their third act of life finding a second chance at love. It's funny and smart, but touching. Love, love, love.
AB:  What's your favorite under-appreciated novel?
Tess:  This will sound weird because the guy's a billionaire, but anything by Stephen King. Because he's so commercially successful and writes in a genre, literary snobs have not recognized how great he is. Writers do, but not necessarily the 'literary' critics. Anyone who reads his book on craft will have an even deeper appreciation for his skill. He tells the story and doesn't make a fuss about it.
AB:  Who and/or what are your biggest influences?
Tess:  As a writer, there are two books on craft that are like bibles to me. One is "The Making of a Story" by Alice LaPlante. The other is the classic, "Imaginative Writing, The Elements of Craft" by Janet Burroway. If anyone starting out wants to hone their craft, these are the books to start with.
As a person, my mother. She is the finest person I know. A remarkable mother, talented painter and an sharp intellect all wrapped up into one. Over twenty years ago she was in a car accident that left her paralyzed from the chest down. She's managed to endure terrible, chronic pain and remain positive when most people would have given up. I try to be half the mother and person she is—not that I get close.
AB:  Where do you do your best writing from?
Tess:  Because I write so much, my arms started having carpel tunnel issues, so now I only write at my desk using my ergonomic keyboard. I used to love to write in bed, but my arms couldn't take it. When I moved in with my now husband, he gave up his home office and granted me free reign to decorate it how I wanted. It's painted in a mariner blue with some of my favorite art pieces on the walls. My decorator found a girlie light, which I adore. I feel peaceful in here and I know it helps my writing.
AB:  What types of scenes do you find the most difficult to write and why?
Tess:  I have trouble writing the scenes where things really go bad for my hero or heroine. I force myself to make bad stuff happen to them, otherwise I'd have a boring story. But I don't enjoy it.
AB:  What inspired the River Valley Series?
Tess:  I grew up in a small town in Oregon. When I was young, my friends and I often talked about how we couldn't wait to leave and go have lives filled with adventure. However, as we look back, we realize what a privilege it was to grow up in a small, loving community. That said, small towns have changed since I was young, primarily because of drugs and a lack of jobs. I asked myself: what would revive a small town in Oregon? The answer is tourism. So, I created a series in which the primary plot is a love story, but almost as important is the group of people who band together to reinvent their town into a tourist destination. With each book, the town gains a new business or renovation of some kind. Yes, it's fantasy. My fantasy, I suppose, rooted in nostalgia for a simpler time where community, friendship and family were the most important aspects of a life.
AB:  How did publishing these books change your life?
Tess:  When Riversong came out in 2011 I had no idea it would do as well as it did. Because of that, it changed my perspective on my writing from thinking if as a farfetched dream to an actual career. I'd spent years learning the craft, but I dug even deeper to become a better writer. With each book, I've grown as a writer, which is the most important thing to me.
At the end of 2016 I decided to self-publish. This was the best decision I could make for my family and me. I decide what I write and when. I can react to the demands of the market. I don't have a publisher taking much of the profit, which makes it a much more viable career.
AB:  Can you tell us more about your upcoming release Riversnow?
Tess:  Riversnow is the fourth book in the River Valley Series. I've had it in my head for years, but the timing wasn't right to write it. It's the story of Gennie and Stefan, which fans of the series will remember from Riverstar. They're both famous actors and have fallen in love on location in River Valley. However, a trauma from Gennie's past is keeping her from moving forward with the relationship. The night before she's to leave River Valley and go back to her life in Los Angeles, a deep secret is revealed to the public. She has to decide whether to come clean about her past or risk her career and reputation.
AB:  Were the characters in Riversnow inspired by people in your life either present or past?
Tess:  The character of Gennie was inspired by several women in my life who've suffered sexual assault. My antagonist was inspired by several men in the public eye who've committed atrocious crimes against women and gotten away with it. I'll let you decide who those real men might be.
AB:  Overall, what does literary success look like to you?
Tess:  Literary success means I've conquered the craft of fiction writing. Readers turn pages because of compelling, well-paced plots, nuanced characters they care about, and description that paints pictures. If I can do this, I am successful. I also believe that creating good work will eventually bring the commercial success I hope for.
AB:  As far as your writing goes, what are your future plans?
Tess:  I'm writing the Blue Mountain Series and the River Valley Series until my fans get sick of them. My goal is to write two or three of those a year and one historical fiction. The historical fiction novels are not as easy to find an audience for, but they are my true love. I have sequels for my historical novels, Duet for Three Hands and Miller's Secret, ruminating as we speak.
AB:  What question do you wish someone would ask about you or your book? (then answer it 🙂 )
Tess:  Did it make you nervous to talk about the abortion controversy in a book that's essentially a contemporary romance? Did you think it might be too controversial for your readers?
I was nervous about it. I'm careful not to discuss my political views in interviews or on social media. I let my books demonstrate what I'm about: love instead hate; compassion instead of judgement; for those to whom much is given, much is expected. So, Gennie's controversial decision (I won't say what it is or it ruin the book) made me uncomfortable because I didn't want it to come across as doctrine. Her decision was a personal one and is not meant as a judgement on anyone or their individual choice.
 AB:  Thank you again Tess!
Riversnow
River Valley #4
By: Tess Thomspon
Genre: Contemporary Romance
Genevieve Banks is beautiful and successful – and one of Hollywood's highest paid actresses.

While filming opposite Hollywood's heartthrob Stefan Spencer in River Valley, Genevieve and Stefan form a deep friendship. He wants to take their relationship to the next level, but a violent incident from Genevieve's past has made her feel intimacy is an impossibility.

When her closely guarded secret is revealed, Genevieve is forced into a decision: Stay silent and let others suffer or bravely confront her violent past and the man who hurt her.

In this fourth installment of the bestselling River Valley Series, author Tess Thompson explores themes of community, friendship and love.