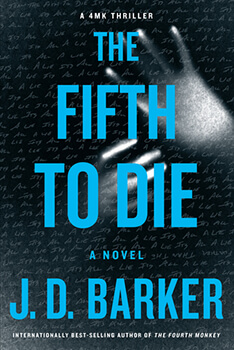 The Fifth to Die
by
J.D. Barker
Series:
4MK Thriller #2
Published by
Houghton Mifflin Harcourt
on July 10, 2018
Genres:
Crime
,
Mystery
,
Suspense
,
Thriller
Format:
eARC
Source:
NetGalley
Also in this series:
The Fourth Monkey
Pages:
416

Buy on Amazon
Goodreads
In the thrilling sequel to The Fourth Monkey, a new serial killer stalks the streets of Chicago, while Detective Porter delves deeper into the dark past of the Four Monkey Killer.

Detective Porter and the team have been pulled from the hunt for Anson Bishop, the Four Monkey Killer, by the feds. When the body of a young girl is found beneath the frozen waters of Jackson Park Lagoon, she is quickly identified as Ella Reynolds, missing three weeks. But how did she get there? The lagoon froze months earlier. More baffling? She's found wearing the clothes of another girl, missing less than two days. While the detectives of Chicago Metro try to make sense of the quickly developing case, Porter secretly continues his pursuit of 4MK, knowing the best way to find Bishop is to track down his mother. When the captain finds out about Porter's activities, he's suspended, leaving his partners Clair and Nash to continue the search for the new killer alone.

Obsessed with catching Bishop, Porter follows a single grainy photograph from Chicago to the streets of New Orleans and stumbles into a world darker than he could have possibly imagined, where he quickly realizes that the only place more frightening than the mind of a serial killer is the mind of the mother from which he came.
Another dark and terrifying thriller at it's best! J.D Barker has done it again with this second book in the 4MK Thriller Series, The Fifth to Die.
First…  If you haven't read the first book, The Fourth Monkey, then FULL STOP! You must read book 1 before The Fifth to Die. (check out my review of The Fourth Monkey).  So, while I know my review will be a bit vague; know it's for your own good  😉  Don't want to give too much away and ruin the fun!
This next installment, The Fifth to Die, is even more gory and horrifying. Detective Porter and team are back.  And of course, my favorite serial killer, Anson Bishop, who I both adore and hate in equal measure (sad but true LOL) is just as intriguing as ever.  With moments of charm and moments of holy shit crazy.
Porter is falling even further down the rabbit's hole; while another series of gruesome murder's are being investigated. Porter's on edge and obsessed with learning more about Bishop in the hopes of catching him. But that's not all…
There's a bigger picture and we learn a lot more about Anson Bishop and his past. I wanted to know the diary's relevance. Are some parts fact or fiction? Or was it all made up? OR worse was it all true?! I was dying to know.  Of course, so was Porter.  So, there was a great element of suspense I thoroughly enjoyed in this plot line of the overarching story.
As I neared the end I kept saying to myself "I don't get it" (of course that could have something to do with being up all night cuz I couldn't put the freakin' book down!! LOL) Then Pandora's box is blown open and BOOM, we're thrown for yet another loop.
We're introduced to some new characters and learn more about others. I thought it gave the investigative team more depth and personality. As a result, the 4MK world became more dynamic and I ended up becoming totally invested in a way I wasn't before.
There is more going on in this book then the last. There are multiple points of view with a story line that was at times just a tad too busy. However, that didn't diminish my enjoyment of the book.
Now, while J.D. Barker has crafted another masterpiece of horrifying thriller, I dropped my rating by a measly 1 star because there were times, in my opinion, that too much was going on.  I was also a little disappointed with how fast things seemed to come together at the end.  It felt a wee bit rushed.  I will say that the ending beautifully stages the scene for Book 3; which I can't wait to read!
I received an eARC of this book from the publisher via Netgalley. This review was voluntary and all opinions and thoughts are my own.
If you'd like to learn more about J.D. Barker, check out my interview with him by clicking HERE.