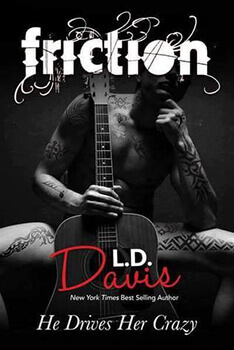 Friction
by
L.D. Davis
Published by
LD Davis Media
on December 22, 2014
Genres:
Adult Fiction
,
Contemporary
Format:
eBook
Source:
Purchased
Pages:
287

Buy on Amazon
Goodreads
Noa was trampled and nearly killed by hundreds of horny female fans at a concert for a band she didn't even like, but Alden, the bad boy lead singer of the band, saved her from the trampling tramps. Alden is used to getting what he wants, especially women, but Noa can't stand the cocky, pelvic thrusting rock star.

Some things should remain in the dark, but by grudgingly spending time with one of the biggest superstars in the world, every dark corner of Noa's life will be illuminated under the spotlight. Will she be able to survive it? Will Alden be able to survive the consequences of Noa's past? Will Noa be able to survive the sexy, brash, and talented Alden Breck?
This is a standalone Rocker Romance told primarily from Noa's POV. It's the first book I've read by L.D. Davis so I wasn't sure what to expect when I started this one. Basically this story starts as it says in the blurb when she's almost trampled to death. She's rescued by Alden who takes her back stage for help. When she regains consciousness and their eyes meet (her scowling and him grinning) the "friction" begins between these two. She can't stand him because he's a narcissistic manwhore. She blames him and his cocky pelvic thrusts for getting hurt and Alden can't believe how much Noa hates him; I mean who wouldn't love the super sexy egocentric rock star right?? Alden wants Noa in a bad way but Noa has had a rough life and her last relationship was abusive and she's still dealing with those demons and doesn't want to get hurt. She's an author who lives a quiet life so Aldens fame and over the top personality definitely cramps her style! Alden won't quit his pursuit so he starts to convince Noa to attend several charity galas with him as just "friends". Even though she's not keen on the idea she decides that the publicity would be good for her career so she agrees to go. As they travel across the country Noa starts "hating" Alden less and less and we start seeing the love-hate friendship slowly turn to love.
I'll be honest, when I started reading I was put off by how much Noa hated Alden at the start. I can understand really disliking someone who comes across the way Alden does but I didn't think the level of venom she spews was warranted. It was too extreme for the situation. I almost wanted to set the book aside as I quickly started to get annoyed with Noa's character. But I hate not finishing what I start! So I kept go and am so glad I did. As I got to know Alden and Noa I found myself becoming more and more invested in their relationship. Noa's snarky, sarcastic, and general firecracker. Her personality grew on me and I ended up loving her. Her self-image is warped and Alden helps her realize how beautiful she is. Alden is actually a sweet, protective warm hearted guy; though he can still be a huge conceited jackass (I love it lol). He is persistent and determined to win Noa's heart. There verbal banter was hilarious and they're interaction at times explosive and sweet. Though there isn't a lot of sex compared to other similar types of rocker romances, when they do turn up the heat it was HOT!!! The chemistry off the chart and steamy
There was some angst. The majority of which occurred nearing the end of book so it felt rushed with quick resolution. I loved the epilogue! It was so sweet and satisfying. This was an unexpected treat!!!! I'll definitely be checking out more of L.D. Davis's work.