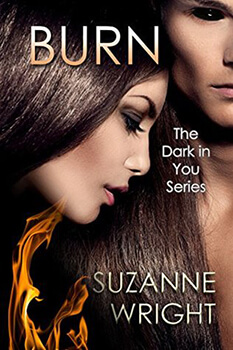 Burn
by
Suzanne Wright
Series:
Dark in You #1
Published by
Piatkus
on November 26, 2015
Genres:
Paranormal
Format:
eBook
Source:
Amazon
Also in this series:
Blaze
Pages:
301

Buy on Amazon
Goodreads
Part of a small demon lair in North Las Vegas, tattooist Harper Wallis lives a pretty simple life. That changes overnight when she discovers that her psychic mate, or 'anchor', is a guy who's rumored to be the most powerful demon in existence. Compelling, full of secrets and armed with raw sexuality, Knox Thorne is determined to claim her as his anchor, creating a psychic bond that will prevent their inner demons from ever turning rogue. The billionaire also wants Harper in his bed. She's not so sure she wants either of those things. No one seems to know what breed of demon Knox is, only that he's more dangerous than anything she's ever before encountered. But he refuses to walk away. And when an unknown danger starts closing in on Harper, it seems that Knox is the only one who can keep her safe.

As Prime of his Las Vegas lair and a successful businessman, Knox Thorne is used to being in control. He's also used to people fearing and obeying him. Harper does neither, which unexpectedly amuses him. Unpredictable, elusive, and complex, she draws Knox and his inner demon like nothing ever has. Knox is used to getting what he wants, and he wants Harper. He'll have her, and he'll keep her safe from the threat that looms over her. Because Knox protects what's his. He won't allow anyone to take her from him. Even if it will mean letting the demon inside him rise and wreak the havoc it was created to make.
HOT SEXY DEMONS!!!!  Can't go wrong there right?!?! Hahahaha  What a great start to yet another fab Suzanne Wright Series!  Burn is the first book in the new Dark in You series by Suzanne Wright.  It's alternate POV and while we are definitely left with loose ends to eagerly follow in the next book, I wouldn't consider this a real cliffhanger. It's not the first book I've read by this author and I just love her.  She writes strong characters and builds solid paranormal worlds that you can sink your teeth into.
I liked the world the author created.  Each demon shares their soul with an inner predator demon that they have to control and they have various types and levels of powers.  There are many different breeds and they co-exist in lairs with a Prime (leader) and there are various lairs across the U.S.
Tattoo artist, Harper Wallis is part of a big lair and family of primarily imps. They are so hilarious.  They steal, cheat, are plain crazy and are totally unrepentant about it.  I just loved them!
Her scowl deepened at the shifty expression on her cousin's face.  "You bet on Levi, didn't you?"

He gave her a sheepish look.  "Hey, I like Franklin, he's my friend…but I also happen to be fond of money.  That meant backing Levi."

"Where's the loyalty toward your friend?"

He pointed to himself.  "Duh.  Imp.  You know…selfish, sneaky, fickle, not to be trusted under any circumstances."
But Harper had a rough start in life. She was abandoned by her mother and left in the care of her grandmother Jolene, who is Prime of Harper's lair.  Her father who also had a hand in Harper's upbringing was more of a kid himself so she acted more the parent then the child.  She's spent a long time taking care of herself and she is tough as nails with take no shit attitude!
"I don't believe I asked for a glass of your unimportant opinion."
She rocks!  However, underneath that she's got a soft heart and is loyal to everyone she cares about. You really can't help but love her and respect her
Knox Thorne, is an extremely powerful Prime of a large lair who keeps a very tight lid on who and what he is…  He's also VERY alpha, possessive and controlling. Everyone fears him and he's used to getting what he wants, when he wants it.  But over the course of his life, he's becoming numb to his surroundings and his demon is becoming increasingly bored.  So imagine his shock the first time he meets feisty Harper when she's brought to him after he witnessed a fight between her and a member of his lair.
"I'm assuming Mona did something I need to know about. Tell me." Be a tattletale who whined to people's Primes? "No." "No?" Knox echoed with disbelief. Evidently, he wasn't denied things often. Well, Harper did like to introduce people to new experiences. It was more of a calling, really."
I was snickering A LOT! Suddenly his demon takes interest, Knox is perplexed and intrigued and both of them think she's one sexy she-demon.  Even more shocking is they realize they're each other's anchors!  Anchors are meant to help strengthen one another's psyche to help them have better control over their inner demons and… "keep them anchored".:)  While Anchors are psychic mates that doesn't necessarily mean the relationship needs to be romantic or sexual so this isn't quite an insta-love story.
Now that Knox has found his anchor he's not walking away!  She is his!  I love a good hot growly alpha LOL I also loved how patient Knox is with Harper.  Knox realizes that she's mistrusting and doesn't believe people will stick around because of her past so he tries to get to know her instead of pushing the anchor bond right away.  While the sexual tension is off the charts and Knox definitely wants to ravish her, it's almost secondary to his need to make her trust him first.
As Knox and Harper become closer and the chemistry between them becomes too much to ignore.  The inevitable happens and holy cow are they amazing together!
"You're a quirky, complex, fierce blaze of fire in my otherwise numb, predictable world." ~Knox
The banter between them was too funny.  Knox was a wonderful blend of controlling, possessive, thoughtful and sweet that was just shy of perfection for the fiercely independent Harper.
"Why are you still smiling? You're supposed to fear my mighty wrath." His shoulders shook with silent laughter. "In case you can't tell, I'm petrified." "You will be if my mighty wrath is ever unleashed. Stop laughing!"
Hahahaha! However, between the political games the Primes play, danger stalking Harper and constant wondering as to what Knox actually is there's lots of guessing and intrigue weaved throughout the story. And the secondary characters were so colorful and at times almost outrageous!  Loved it! Especially Jolene!  I adored her!  Lucifer cracked me up!!!
"You have a shrink?" ~Harper

"Apparently, I have some repressed anger and unresolved abandonment issues after my experiences with God" ~Lucifer
While overall I loved the book I did feel there were moments that were a bit predictable.  There were some twists that I didn't see coming but at times the story seemed a bit slow, which is why I gave a rating of 4.  But knowing this author and her propensity to one up each book in her series I can't wait for the next one and this definitely set the stage for a great new series!!!  By the way for those of you who liked the authors Deep in Your Veins Series you'll probably love this book!