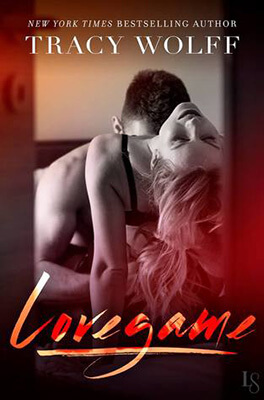 Lovegame
by
Tracy Wolff
Published by
Loveswept
on June 7, 2016
Genres:
Adult Fiction
,
Romantic Suspense
Format:
eBook
Source:
Amazon
Pages:
359

Buy on Amazon
Goodreads
In this darkly addictive novel of seduction and psychological obsession, a movie star with a shattered past meets a man who can either break her or make her whole.

True Crime novelist Ian Sharpe has spent his career writing about serial killers for very personal reasons. For his latest exposé, he is taking on the sadistic madman known as the Red Ribbon Strangler, and when his research leads him to Hollywood's most private and provocative actress, he will break every rule to uncover her truth.

The daughter of one of Hollywood's golden couples, chased by paparazzi and treated as a commodity her entire life, Veronica Romero wields her sex appeal like a weapon. She expects Ian to be as easy to control as every other man she's ever known. But from the beginning, he refuses to fall into line. Mysterious and cool, challenging and just a little bit dangerous, Ian somehow makes her feel safe—even as he digs into the deepest secrets of her life and pushes her to the breaking point.

As raw ecstasy gives way to agonized truths, their dark obsession exposes secrets that have been buried for far too long. Ian wants to tear down her walls and heal the sensual woman underneath. But if Veronica's learned anything, it's that the line between pleasure and pain is a narrow one—and when caught between them the only thing that matters is how you play the game.
Lovegame by Tracy Wolff is fantastic!  Suspense, obsession, heartache and crazy hot smexy times!  Pulled me in from the first page. The story revolves around the cat and mouse game between author Ian Sharpe and actress Veronica Romero. It's told from alternate POV.  I do want to warn that there may be triggers. There is a HEA of course!
Ian is a former FBI agent turned true crime writer.  He's understand the psychology behind the depraved criminals he's investigated and writes about.  His life has, in a sense, been guided by the violent acts of others including that of someone he was close to – I'm not telling!!! 😉
He's currently investigating a serial killer he's basing his next book on and wants to interview Veronica about the killer he believes was in the employ of Veronica's parents as her bodyguard when she was a young girl.  He uses an opportunity to interview her about her role as the Belladonna, a murderess from one of Ian's books, for Vanity Fair to further his agenda. The intent of which is getting the interview he really needs for his book. But when they meet fireworks go off! What begins as a single minded pursuit for information becomes an all-consuming passion for the women he's become obsessed with.
"She does it so easily.  Makes me crave her like a junkie with an open, aching vein. Like an addict lost forever to the soul-searing pleasure of her sensuality"
Veronica Romero is Hollywood royalty.  Daughter of award winning parents with the drop dead gorgeous looks of her famous mother and with an amazing talent all her own; she seems to have it all…  But there are dark demons that plague Veronica due to horrific events from her past.  She's erected huge walls around herself.  To the world she presents the well-constructed sexy man-eating vixen and isn't afraid to use her sex appeal to manipulate the men around her to get what she wants. But on the inside she struggles with her dark past and issues resulting from a lifetime spent in the limelight with neglectful parents.  To make matters worse mysterious events are occurring that leaves Veronica believing that she may be losing her grip on reality.
My heart broke for Veronica when I found out what happened to her.  Her strength, fire, and determination to live her life on her terms is inspiring. She has a big heart with a vulnerability that brought a certain depth to her character that I found appealing.  How Ian saw through her defenses to what lay beneath made their connection that much more beautiful.
She still looks beautiful, of course she does, but it's a broken kind of beauty.
Haunted.
Fragile.
Shattered.
And still I want her. Still I want to bury myself so deeply inside of her that she'll never get me out.
The chemistry between the two is off the charts!
"She might be pale, but the look she gives me is pure, unadulterated Veronica. Part Disney villain and part Jessica Rabbit, it's sultry and defiant and a little bit of f**k you all wrapped up in a solid punch to the dick."
The sex is hot but there's more to it.  In a way, it's somewhat of a self-discovery of what that means for them individually and as a couple.  Ian in particular, had a difficult time wrestling with his demons as he tries to come to terms with his emerging dominance and extreme possessiveness.  Veronica on the other hand finds their physical connection to be an eye opener as it's different than any other experience she's had before.
I don't know what's going on between us – or even if there is an us. All I know if that I can breathe when Ian's touching me, really breathe, in a way I haven't been able to for far too long.
The angst was up there and these two did not have an easy relationship. Let me tell you that at the end the sheer tension between them could be cut with a knife. The torture these two go through is gut wrenching but there is no doubt about their love!
"You sure you want me to be your happy ending?"
"You're already my happy ending, Veronica. I want you to be my everything."
While I was totally drawn in to the connection between Ian and Veronica, I didn't feel the "mystery" itself was wholly unique and found the big villain reveal a bit anticlimactic. I also felt that the ending was a bit rushed BUT the epilogue was AWESOME!  So sweet and romance intense.  Overall, I loved it and would recommend to anyone looking for an intense romance and some suspense to keep that heart pumping!