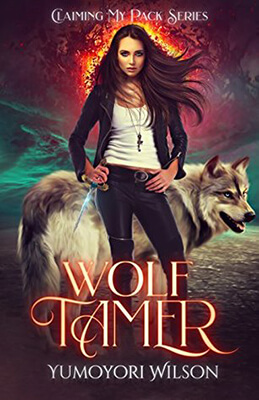 Wolf Tamer
by
Yumoyori Wilson
Series:
Claiming My Pack #1
on October 6, 2018
Genres:
Adult Fiction
,
Paranormal
,
Paranormal Romance
Pages:
310

Buy on Amazon
Goodreads
An Orphan Girl. A Group of Wolves. A Destined Fate for War.

Don't you ever wish to find where you belong? A place where you can rest your head without worrying about being jumped or your possessions being taken from you? Not like I had much, to say the least.

A pendant, an ancient blade, and a picture of my murdered family were all I had left when I was five years old. Foster homes to homeless shelters, I never found a place of refuge. I simply didn't belong, and everyone made it their duty to remind me of my predicament. Until I finally came across a place that felt like home.

Sacred Moon Shelter for Endangered Wolves. I'd stumbled upon the sanctuary when I was near death, but I was miraculously saved.

Since then, I've become a Wolf Tamer; the only one who can get close to touching the six rare breeds. When I'm with them, I feel safe and sometimes wish I could be like one of them and escape this cruel world.

But such inhumanity strikes home, a group of hunters shows up, ready to take my wolves to an unknown place or murder them in cold blood. I won't allow them to kill the only true family I'd ever known.

My name is Harper Blake, and I vow to claim and protect my own.

Wolf Tamer is a new Wolf Shifter Reverse Harem Romance. Recommended for 18+ Audiences.
This is a sweet and exciting story of childhood friendship and a pack of wolves whose destinies will intertwine to become something amazing!
Orphaned at the age of 5, Harper Blake is a mystery.  Found in the woods and saved by our MC Ian, she ends up floating from foster home to foster home.  Until she's taken in by the Sacred Moon Shelter for Endangered Wolves, where Ian also lives. With no clear memories, all she has left to connect her to her past is a pendant, ancient blade and a picture of her dead family. So she settles in to care for her "wolves", earning her the name of Wolf Tamer, and growing up alongside her best friend Ian. Of course, it won't be a while until she finds out who and what those "wolves" are 😉
From the time their worlds collide as young children, Ian and Harper know they have a unique connection.  They grow up as best friends which leads to a profound love as they get older. Just when they start building a life together a series of murders will put them in the cross hairs of some crazy killers. Intrigue abounds, and I got a peek into what her destiny may hold! Super fun! But there were a couple of minor issues I had.
I really enjoyed getting to know Harper and Ian during the first half of the book.  But once the later part of the story begins and the action started to really suck me in, it became a flood of information and ended feeling a bit rushed.  Don't get me wrong I liked it but felt like maybe too much time was spent on the first part of the book and not enough on the later.
I've found that authors have to be very careful letting readers "grow up" with their MC's.  I felt like this author did a great job but there were some awkward moments that didn't quite jive with the age.  But that's minor.
I will say that while sold as a reverse harem I wouldn't actually call it that. Not yet anyway.  I spent so much time invested in just Ian and Harper that I wasn't feeling anything for her "wolves". In particular the alpha Carter, who is quickly introduced near the end.
Overall I thoroughly enjoyed this book! With some interesting plot lines and multiple characters I'm anxious to meet, I'm excited to read the next installment.
I received an a copy of this book from the author via Xpresso Book Tours. This review is voluntary and all opinions and thoughts are my own.