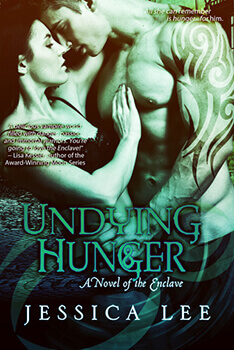 Undying Hunger
by
Jessica Lee
Series:
The Enclave #4
Published by
Entangled Publishing
on June 30, 2015
Genres:
Adult Fiction
,
Paranormal
Format:
eARC
Source:
NetGalley
Pages:
266

Buy on Amazon
Goodreads
All she can remember is hunger...for him.

A year ago, Alexandria Stevens strode through the doors of Wicked Ways and into the arms of a man—a monster, really—who stole everything from her. Her memory. Her life. Now she's a creature of darkness with only hazy images in her mind of that night and a confusing jumble of emotions. A fierce hate...and an even fiercer desire for Markus Santini.

Markus has walked through this world for more than a hundred years, knowing exactly who and what he was, until Alexandria undid it all. Undid him. When a former vampire colleague threatens one of the Enclave's own, Markus is needed—but only as the dark, powerful creature he once was. And in order to become that, he must find redemption...in the arms of a woman who despises him with every breath she can no longer take.
I couldn't wait to read this one! This is Book 4 of the Enclave Series and is Markus and Alex's story. It's from alternate POV's. Though it  can be read as a standalone I'd recommend reading the previous books just to understand some of the history and get to know the evil badass Markus a bit better. Either way you won't be lost with the storyline. BUT…in my opinion, enemies to lover type stories get better the more I detest the MC. We've had 3 whole books of pent-up anger towards Markus! He's a backstabbing, cold-hearted bastard who betrayed his friends and the Enclave that had accepted him. To say I had an intense dislike for Markus was an understatement. So I was freakin' excited to finally read Markus and Alex's story!
For those of you who haven't read the previous books…In summary, the series is about a group of vampire warriors and the women that complete them; so expect to see some insta-love action. The warriors are part of an Enclave dedicated to protecting humanity from vampires who'd cause them harm; in particular, vampires who get high off death (DEADS).
Markus is currently being held by the Enclave in a cell below the compound after being captured and is seriously feeling sorry for himself.  While the Enclave in general despises Markus, the Master of the Enclave, Kenric,  still sees something good in him that no one, Markus included, sees. So Kenric tries to help rehabilitate him after the time he spent with his former evil mistress who made him addicted to her blood and messed with his mind.
Then there's Alex, the girl he kept captive, changed against her will and controlled her mind. She is enraged at having her humanity ripped from her and hates Markus with everything she is…or at least tries to 😉 That was fun to watch LOL
She's  struggling to come to terms with her new existence and fit into a world she wasn't prepared to face. What's worse is Alex finds herself battling with confusion over her attraction to Markus and can't understand why she's so drawn to someone who she should despise without question. Coupled with the fact she can't remember what happened during her captivity she's going nuts and desperate for answers! So she asks to see Markus with the intent of demanding he give her memories back. When Markus sees her again the arrogant sneaky man I know and love starts to surface. Okay so maybe I did have a bit of a crush on him but that doesn't mean I liked him…much. hahaha The charm oozing off Markus in this book was amazing! He's an arrogant ass, rude, obnoxious, SUPER possessive alpha, and is way too sexy for Alex's own good! The chemistry between them is off the charts HOT! I had to fan myself more than once 😉
When someone from Markus's past shows up threatening the safety of the Enclave and more importantly Alex, compromises have to be made and Markus has to learn to work with and rely on his fellow warriors once again. Through it all Markus learns to open up to Alex and expose himself in a way he never has before.
"She was everything his life was missing. The light at the far end of the dark tunnel he'd been wading through for longer than he could remember."
He also wants to be there for her like he wasn't there before and is willing to do anything to make her happy. Even if that means letting her go. She is his everything. So now, of course, I start to shift from my extreme dislike to wanting to wrap myself around him and give him a squeeze (ok maybe a bit over the top but meh…). hahaha
"I've got you, kitten. You say the word, whatever you need, wherever you need to go, and I'll do my damnedest to make it happen." ~Markus
I'm swooning here! Really the author did an excellent job introducing us to a softer Markus, giving us a peek into how he changes from selfish and angry to someone who now truly considers his choices and the impacts they have on others even if he doesn't like it.  Lastly he recognized that sometimes sacrifices need to be made and he was willing to do that.  Lets not forget Alex who learns that maybe sometimes both can be victims to their own environment just in different ways. It was nice watching her come to terms with her trauma and learn forgiveness.
Though what brought my rating down marginally was  the emergence of the kick ass Alex because for me it was a tiny bit unbelievable even though we know she'd been training for a while etc. I can't quite put my finger on it but that's just how I felt.
The book ends on a great note. Whether the author decides to continue with another book or not this pulls the entire series together. Not to say I wouldn't be disappointed with another book!!! Christian needs a HEA too! I think anyone who loves paranormal romances featuring vampires and soul mates will enjoy this book! Thanks to the author for another great book 🙂
ARC kindly provided by publisher via Netgalley in exchange for an honest review.