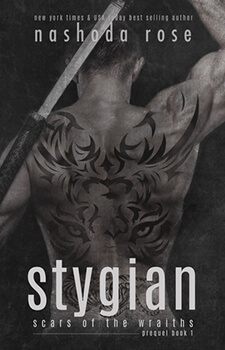 Stygian
by
Nashoda Rose
Series:
Scars of the Wraiths
Published by
Self Published
on March 29, 2015
Genres:
Dark
,
Paranormal
Format:
eBook
Source:
Amazon
Also in this series:
Take
Pages:
277

Buy on Amazon
Goodreads
Danni: Mortal

I remember nothing of my abduction two years ago. Sounds and scents trigger horrific flashes, but it's all a blur except for one man with brilliant green eyes. When the tatted six foot two Adonis shows up at my door, my knowledge of the world is shattered.

Bound to the immortal Scar by an ancient spell, we are on the run. Because Balen is the hunted.

And if he dies, so do I.

Balen: Scar Tracker

My code of honor was respected without question … until I consumed the blood of a vampire in exchange for a mortal woman's freedom.

The Scars want me imprisoned. The Wraiths want me dead.

But the woman I can't forget needs me. And I'll risk everything to protect her.

Even if it means killing her.

Because in order for her to live—first she must die.

Full-length novel. Come meet the Scars.

Scars: Immortal warriors with capabilities derived from the senses: Trackers, Sounders, Healers, Tasters, Visionaries, and the rare Reflectors. They each have what is known as an Ink, a tattoo that can be called to life.

*Stygian was originally titled JUMP.
This is the first book in the Scars of the Wraiths series by Nashoda Rose. It's multiple character POV with emphasis on the MC's, Danni and Balen, story.  This book lays the foundation for the history of the Scars and provides a general framework of what to expect coming up.  Though this is shown as the "first book", I read Take previously which was standalone in this series.  The previous books were are revamped and are prequels to Take.
Just a bit of background…  The series revolves around immortal beings called Scars who generally act as warriors/assassins and have ink (tattoos) that help protect them. Similar to personal guardians, if they call to their ink then their guardian comes to life. They are a very important part of whom and what they are. Their powers are loosely based around the senses (i.e. Scars who can see very well are visionary, those who can feel others emotions are reflectors) and they live in groups called Talde's.
Our heroine Danni is a human artist who owns a gallery.  She had lived a relatively normal life until one night changed all that when she was kidnapped and tortured. The things done to her were horrific.  However, when rescued by the Scars her memory is erased.  But she has brief flashback and is left with emotional scarring.  While she's struggling to overcome her ordeal she's plagued by a vision of our hero Balen who plagues her dreams.  She continues to paint portrait after portrait of him even though she can't remember meeting him. One thing she does know is that the man she paints was a part of what happened to her so who is he?  The not remembering is slowly driving her mad!
"Inside, I was a tornado of emotions – tearing, pushing and pulling in every direction. I couldn't figure out what the hell was wrong with me."
Balen was kept in captivity with Danni after they were both taken by a vampire.  He is a Scar tracker who has the unique ability to track people.  Balen is a sweet, possessive, extremely honorable and smokin' HOT!  He feels an incredible pull to this brave and strong women who is caged by his as they experience the horror together. As he watches Danni loose her strength, will to fight and on the precipice of becoming a vampire slave he can't let her suffer anymore.
He's dedicated his life to protecting humans and his brethren so it comes as no surprise the devastation he feels for the choice he's about to make… Stuck in an impossible situation he violates the laws of his people and sacrifices himself by making a deal with the evil he's sworn to fight.
After two years on the run he comes back and just can't stay away from the woman he feels so connected to.  When they reunite the sparks fly and that connection between them is visceral!  I felt so much for Danni.  After two years of trying to cope, her world is torn apart again. She now needs to understand and wrap her head around this new world she's been forced into; but one thing she knows for sure is that Balen is her anchor.
"My life was quickly crumbling into a mess of broken puzzle pieces and I felt as if I was jamming them together and they wouldn't fit. Except Balen. He fit."
Unfortunately, because Balen broke their laws, he'll need to go before the Deaconry (ruling body consisting of Wraiths, Scar and Witch) to receive his sentence.  But then it's discovered that Balen and Danni are bound by a spell and if the two become separated, Danni will die!  Then BAM! Here's where the action really picks up!  A race against time, battles and introduction of various other Scars that fleshes out the cast of secondary supporting characters.  The author effortlessly slips them into the melee!!  It was awesome! But intermingled between it all was the knowledge that when it's over Balen would still have to face his sentence. It left me with a lingering sense of dread to the end…which sucked!  Thanks Nashoda Rose…grrrr (that's would be sarcasm btw) LOLJ
Even so, Balen wants to fight for Danni for the time he has left with her.  Danni on the other hand is uncertain.  She's having difficulty overcoming the past along with her fear of having her heart broken. Balen is sooo sweet and supportive.
"What you endured is a small part of us. Let it be a small part of us. Not all of us. We survived it. And we've grown into different people because of it."
Their desperation for things to turn out differently made my heart soar and break over and over again.  The clear love they have for each other is powerful!
"You'll never lose me.  No matter what happens, I'll always be here, whether as I am now or as a breeze in the fuckin' wind.  I won't ever leave you."
It was amazing seeing how forgiving and supportive his Talde and friends were even though Balen feels unbelievable guilt.  One of whom was Delara who argues on his behalf to the Deaconry and opened Balen's eyes to the fact that maybe things aren't as cut and dry as he thinks; a revelation and moment of healing for him.
 "But what if we're given no option but to decide who to protect? An ultimatum.  One or the other.  Who decides? Who is more worthy?…"
While overall I really enjoyed the story, I felt it was a bit slow at first and the ending a bit rushed.  I also felt that the multiple character POV resulted in the story becoming a tiny bit choppy at times which is why I gave 4 stars.  But DAMN can this author make me feel.  I love her prose!  Truly…I'd highly recommend not just this series but her other series Tear Asunder and Unyielding.
Other Series by Nashoda Rose: