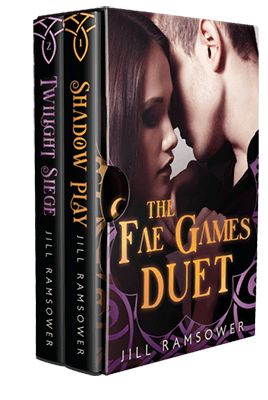 The Fae Games Duet
Jill Ramsower
(The Fae Games #1 & 2)
Genres: Adult, Fantasy, Romance
When Rebecca Peterson walks away from everything she knows to follow her dreams in Ireland, she never expects to be thrown into a world of vicious Fae and deadly secrets. On the dreary streets of Belfast, her terrifying nightmares are rekindled, and this time they aren't confined to her imagination. Complicating her life further, Becca crosses paths with two mysterious strangers—both alluring in different ways, but are either of them to be trusted?

Her journey takes her deep into the treacherous Shadow Lands, where both her knowledge and courage will be tested. Navigating this new landscape of deceit and manipulation is paramount if she is to stop hordes of blood-thirsty Faeries from invading Earth. With time running out, will her limited training be enough to take on a centuries old enemy hell-bent on death and destruction? To keep those she loves safe, Becca is willing to risk it all.

In this captivating duet, Jill Ramsower takes her readers from the streets of Belfast on a harrowing journey to the most dangerous corners of Faery, where fear is a lethal enemy and trust is a luxury few can afford.
For the Love of Twisted Fae
What is it about the Fae that makes them so intriguing? Aside from the obvious magical abilities and mischievous tendencies, I believe the Fae capture our interest because they are firmly rooted in the history of Western European culture. Throughout the histories of the UK, Germany, France, Scandinavia and even back to Greco-Roman culture, legends about 'the fair folk' have been well documented. These characters are not simply the product of one author's imagination, they are a well-defined race of beings we have grown up hearing about—they feel familiar, even real.
Even those people who may be limited to images of Tinker Bell when they think of Faeries are still at least familiar with the concept. For those of us who enjoy the fantasy genre, the knowledge of these beings becomes even more concrete and diverse. As a lover of fantasy, I was well-versed with Fae lore, such as their penchant for devious behavior or that the Fae aren't necessarily sprite-like creatures scattering faery dust. From the elven race in Tolkien's Lord of the Rings, to the Lost Girl television series, and even our Tooth Fairy traditions, stories about the illusive Fae are everywhere.
While the Fae in each story may have unique elements, the overarching constructs generally remain the same. I think this established place in our history and culture gives the Fae a validity, similar to people's belief in ghosts—with so many accounts about them and a solid foundational knowledge of their basic qualities, it starts to feel plausible that Faeries could exist. We could imagine ourselves in a world where the Fae walk among us and that unlocks our imaginations. Our adult barriers that demand logic and reasoning come crumbling down and suddenly we are open to a world of possibilities.
Adding even further to our intrigue is the mischievous and mysterious nature of the Fae. A magical race of beings who shroud themselves in secrecy and act in unexpected ways as they indulge in their scheming tendencies—and one of them just might be the guy next to you on the subway or that pretty girl walking in the park. What's not to love?!