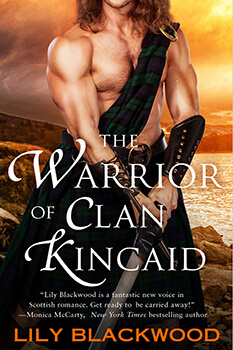 The Warrior of Clan Kincaid
by
Lily Blackwood
Series:
Highland Warrior #3
Published by
St. Martin's Press
on July 31, 2018
Genres:
Historical Romance
Format:
eBook
Source:
Publisher
Pages:
320

Buy on Amazon
Goodreads
LOVE TAKES NO PRISONERS

Derryth MacClaren is on the run. Traveling under heavy guard, she has been sent from her castle home to avoid capture by the vicious nobleman known as the Wolf, who has vowed revenge against the Clan Kincaid, and any who support them. When a surprise attack leaves her vulnerable, Derryth ends up in the hands of an enemy warrior who claims her, with the Wolf's blessing, as his prize. But her captor's gentle words and touch seduce her heart—and body—completely...and when she discovers the tattoo on his arm that proves him to be the legendary, long-believed dead son of the murdered Laird of Kincaid, Derryth knows she must find a way to alter his fate—and her own.

Cull has no memory of his family or past—all he knows is the life of a warrior, trained to fight on behalf of the Scottish king. If he can help the king's law officer of the North, the Wolf of Badenoch, defeat a rebellious faction of Highlanders, Cull will be met with untold riches beyond possessing beautiful, innocent Derryth. But now that she has informed him of who he really is—Cullen Braewick, the youngest son of the slain laird—he is torn. If Cull exacts revenge against the Wolf, who executed his father, he stands to lose the precious lass who he has come to love. What is he willing to sacrifice for Derryth to keep her safe...and in his arms?
Lily Blackwood is one of the queens of historical highland romance! She crafts a historically immersive world you can almost reach out and touch. You can clearly visualize what it was like to live in that period. She makes it that much better by throwing in a couple of fabulous MCs' in a plot that keeps those pages turning!
This is the third and final book in the Highland Warrior series.  Each book tells the individual story of the sons of Clan Kincaid. Their father, the Laird of Kincaid was murdered, leaving his sons scattered.  This installment tells the story of Cull, the youngest Kincaid and can be read as standalone.
Derryth is the younger sister of Elspeth; the wife of Niall Braewick, head of the Kincaid clan.  Derryth is living with Elspeth and brother-in-law.  She's been happy and is loved by many. But trouble is brewing and when it's suspected they'll soon be under siege, plans are made to send Derryth away to keep her safe.  So, she sets of with a group of protectors chosen by Niall.
Unfortunately, during their journey a group of mercenaries, hired to fight for the king's army, attack them!
Sir Cull the Nameless leads the division of the king's army on a mission to defeat the highlanders seen as enemies to the king.  Especially, the Clan Kincaid. As the army approaches their enemy, Cull gives strict orders that travelers are not to be attacked so as not to raise the alarm.
When he finds his mercenaries attacking a group of "peasants" with a young "peasant" girl in danger of getting raped he's furious. Not knowing the group is from the clan Kincaid, Cull takes them all into custody; and to protect Derryth from the soldiers he brings her to his tent.
And so, starts the dance between captive-captor and the inevitable attraction that burns between them!
Derryth is a slightly spoiled, charming young woman.  She's kind, smart and has a strong will.  At first, she's unsure of herself but she adapts to her captivity and becomes resolved to help those she loves.  I loved her fierce loyalty and determination.  I found her to be courageous and I truly enjoyed her character.  She was the perfect match for Cull.
Cull is an honorable man indebted to the man who bought him out of slavery as a young boy.  He has no memory of his life before that.  As a result, he has no clue who he is other than Sir Cull the Nameless, a soldier trained to fight in the King's army.  But he's desperate for an identity. He wants a name, land and children of his own.  His sole focus is to move through the ranks to achieve that goal. Little does he know that his supposed savior isn't who he thinks he is…
When Derryth finds a telling tattoo under Culls arm his world is turned upside down.  Suddenly Cull the nameless most definitely has a name! What will he do? Will he exact his own revenge? What will that mean for him and Derryth?
This is a great story full of intrigue with twists and turns that I found thoroughly enjoying.  The romance was sweet (though a bit fast for those who aren't fans of insta-love).  The plot's well-developed and told at a perfect pace.  The main characters were fabulous; however, while enjoyable, the secondary characters tended to be a bit bland at times. That's the only reason I dropped the review by a star.
Thank you, Lily Blackstone for another amazing highland romance 😉 I'd recommend to anyone who loves big sexy highlanders!
I received an eARC of this book from the publisher via Netgalley. This review is voluntary and all opinions and thoughts are my own.