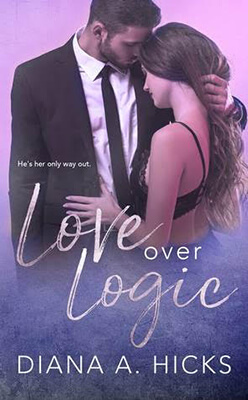 Love Over Logic
Diana A. Hicks
(Desert Monsoon #2)
Publication date: November 15th 2018
Genres: Adult, Contemporary, Romance
Attorney, Emilia Prado has been living in hiding, ever since the local cartel killed her dad and left her and her mom for dead. But when her long lost cousin needs help leaving her drug lord husband, Emilia knows her time for justice has come.

Hot shot lawyer, Dom Moretti never met a case he couldn't win. Each win puts distance between him and an old life he wants to forget. But when Emilia, a crush from law school, asks for his help, the life he worked so hard for hangs in the balance.

Out to even the score, Emilia is ready to enact revenge on her father's killer. But will she risk losing Dom to a side of himself he thought was dead and buried?
Goodreads / Amazon / Barnes & Noble / iBooks / Kobo
Author Interview with Diana A. Hicks
Can you tell us about yourself and what inspires you?
Diana: Hi, thank you so much for having me. I'm so thrilled to be here to celebrate my latest release, Love Over Logic. For those of you who don't know me, I'm Diana A. Hicks. I love to write super steamy books with swoony heroes and strong and self-motivated heroines. I find inspiration everywhere, but mostly from songs and old movies.
Who and/or what are your biggest influences?
Diana: JK Rowling. I know I'm a romance writer and she isn't, but she's the master of writing well-motivated main characters and memorable secondary characters. I try to do that in my books.
What do you like to read in your free time?
Diana: For the most part, I read contemporary and romantic suspense books. Though lately, I've delved into the world of dark romance and ménage. I also like to read fantasy YA and light sci-fi romances.
What do you think most characterizes your writing?
Diana: I like fast reads, so I write books that have easy and crisp prose. I tend to mostly focus on what the scene means to the characters to add depth. My editor always makes me go back to add visceral emotions, like a spiked pulse or weak knees. 🙂
What's the most difficult part of your writing process?
Diana: Editing for sure. I love sending my inner editor away on vacation while I write my first draft. It's great to just let go and write whatever I want. But when it comes time to turn my manuscript into a book and edit, it feels like it drags on forever.
Can you tell us more about your upcoming release Love Over Logic, book 2 in your Desert Monsoon Series?
Diana: Love Over Logic is a romantic suspense about an alpha hero with a heart of gold, and a heroine set on revenge. When Emilia and Dom meet again, after spending three years in Law School hating each other, they can't hide their feelings for each other anymore. Emilia needs Dom's help but helping her will come at a great price for him.
What do you think readers will love most about the main characters Emilia Prado and Dom Moretti?
Diana: Emilia is a strong heroine who would do anything for her family. I love that even though she wants Dom in the worst way, she's still willing to let him go to do what she thinks is best for her family. I love how Dom is a total alpha hero with a heart of gold. He was practically raised by mobsters, and has a dark past, but he wants to be better. He values simple things like family and love.
As far as your writing goes, what are your future plans?
Diana: The last book in my Desert Monsoon series is Love Over Time and it's scheduled to release Spring 2019. I have a second series that I'm working on, but that's still in its early stages so I don't have a release date yet.
What question do you wish someone would ask about you or your book? (then answer it 😉 )
Diana: Are there any hidden themes in your book cover?
The cover was designed by the super talented Cassy Roop. One of the things I wanted to make sure was conveyed in the cover were the themes of forgiveness and redemption. Since this is a romance, we also wanted to keep the focus on our couple, Dom and Emilia. So we went with an image that showcased a couple and added a background in different shades of purple to represent the various book themes of penance, redemption, power and wealth.