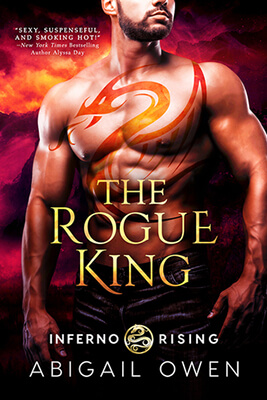 The Rogue King
by
Abigail Owen
Series:
Inferno Rising #1
Published by
Entangled: Amara
on July 30, 2019
Genres:
Paranormal Romance
Format:
eBook
Source:
Amazon
Pages:
400

Buy on Amazon
Goodreads
Kasia Amon is a master at hiding. Who—and what—she is makes her a mark for the entire supernatural world. Especially dragon shifters. To them, she's treasure to be taken and claimed. A golden ticket to their highest throne. But she can't stop bursting into flames, and there's a sexy dragon shifter in town hunting for her...

As a rogue dragon, Brand Astarot has spent his life in the dark, shunned by his own kind, concealing his true identity. Only his dangerous reputation ensures his survival. Delivering a phoenix to the feared Blood King will bring him one step closer to the revenge he's waited centuries to take. No way is he letting the feisty beauty get away.

But when Kasia sparks a white-hot need in him that's impossible to ignore, Brand begins to form a new plan: claim her for himself…and take back his birthright.
To dragon romance lovers everywhere, this one's for you! Full of uber alpha dragons, romance, action, and a feisty Pheonix; The Rouge King is a fabulous start to Abigail Owen's new Inferno Rising Series!
Those who control a phoenix are thought to gain luck and fortune.  To a dragon king, Phoenix's are a one-way track to becoming High King.
Kasia's mother was a phoenix betrayed by a dragon.  That betrayal left her mother with a broken heart and four daughters to protect. After 500 years of running Kasia watches their mother die at the hands of the Red Clan's Dragon King.   A year later, Kasia ends up in a clinic to learn why she can't control her fire.  Every time she has a vision, she explodes into a massive wave of heat and flames.  What she didn't expect was to meet the man she'd been seeing in her visions.
Brand is a broody rogue dragon living life as a mercenary. His past has left him alone and shunned, with a burning need for vengeance against the dragon who ruined his life.  It's that obsession with revenge that will ultimately bring him face to face with the beautiful and spunky phoenix Kasia.
When the King of the Blue Clan hires Brand to investigate and retrieve a girl from some clinic, he isn't expecting his life to be upended. What he thought would be a simple job turns into something so much more. He'll protect her with his life, but could it be more?
The banter between these two is grin-inducing.  Kasia is laid back, thoughtful and loves to tease our broody and much too serious dragon.  Trying to get to know the man she's been envisioning for months is driving Brand insane, much to her delight!
"Do you have a thing against knights?"
"Pretty boys who run around slaying dragons to save the fair maiden?" He let the sarcasm dangle for a moment. "Nah. I'm just not one."
 "Nervous? He grinned.
"A little. I have my virtue to consider." She gave a little wiggle."
The romance is sweet and the chemistry sizzling, but the world is what kept me truly invested. The dragon clans, intertwined with the backstory of the phoenixes made for an imaginative and well-developed world.  Thus, creating a story arch that will allow for growth as the series progresses, which means interesting future romances to keep the heart pitter-pattering 😉
Abigail Owen sticks to her promise of a HEA while setting the stage for what looks to be a strong new series.  Only time will tell.  Keep your eyes peeled for Book 2: The Blood King.
Click HERE for more reviews