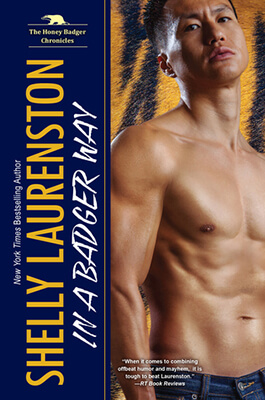 In a Badger Way
by
Shelly Laurenston
Series:
Honey Badger Chronicles #2
Published by
Kensington
on March 26, 2019
Genres:
Paranormal
,
Paranormal Romance
Format:
eARC
Source:
NetGalley
Pages:
400

Buy on Amazon
Goodreads
Petite, kind, brilliant, and young, Stevie is nothing like the usual women bodyguard Shen Li is interested in. Even more surprising, the youngest of the lethal, ball-busting, and beautiful MacKilligan sisters is terrified of bears. But she's not terrified of pandas. She loves pandas.

Which means that whether Shen wants her to or not, she simply won't stop cuddling him. He isn't some stuffed Giant Panda, ya know! He is a Giant Panda shifter. He deserves respect and personal space. Something that little hybrid is completely ignoring.

But Stevie has a way of finding trouble. Like going undercover to take down a scientist experimenting on other shifters. For what, Shen doesn't want to know, but they'd better find out. And fast. Stevie might be the least violent of the honey badger sisters, but she's the most dangerous to Shen's peace of mind. Because she has absolutely no idea how much trouble they're in . . . or just how damn adorable she is.
True to form Laurenston infuses her wacky, sarcastic humor into her highly engaging shapeshifter world. In a Badger Way is book 2 in the Honey Badger Chronicles following the playful, bamboo loving panda shifter Shen Li and the youngest of the hybrid MacKilligan sisters Stevie. While this can be read as standalone, I would recommend reading the first book.
Stevie is a former child prodigy whose brilliance in the fields of science and music is well-known and respected. Like her other two sisters, she has her own unique brand of crazy. With a panic disorder and irrational fear of bears she can barely hold herself together. But Stevie can't resist her best friend's bodyguard Shen; a giant panda shifter. Shen soothes Stevie's anxieties. His sense of calm and dry humor leaves him utterly endearing.
"I'm not going to let you make me feel bad because I'm super cute. The survival of my species relies on our super cuteness. Do you think the Chinese government would be fighting to protect us if we weren't so damn cute?" – Shen
Stevie has decided that Shen will be her one and only! He just doesn't know it yet. I mean how could he possibly not want her?! Shen, however, is doubtful of Stevie's feelings. Even so, her kind, neurotic and slightly narcissistic personality make Stevie completely lovable. Shen's unsure he can resist.
There's a lot going on in this transitional book. Stevie's determined to take down a scientist intent on experimenting on hybrids. The MacKilligan sisters are bracing themselves for the seeming incursion of their criminal family and there's a hint of mystery surrounding one of the sisters, Max. Through it all Shen must keep Stevie safe.
The only slight issue I had was that the build up was a tiny bit slow, but after that I couldn't pull myself away.  With a fantastic cast of characters, both old and new, and over the top hilarity this second book in the Honey Badger Chronicles is sure to delight!
I received an eARC of this book from the publisher via Netgalley. This review is voluntary and all opinions and thoughts are my own.