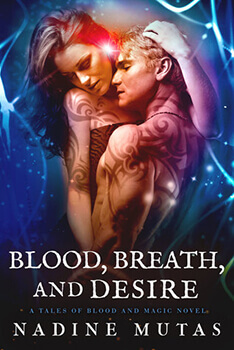 Blood, Breath, and Desire
by
Nadine Mutas
Series:
Tales of Blood and Magic #2
Published by
Nadine Mutas
on June 6, 2016
Genres:
Paranormal
Format:
eBook
Source:
Goodreads
Also in this series:
Blood, Pain and Pleasure
Pages:
262

Buy on Amazon
Goodreads
He'll show her that the dark side has more to offer than just cookies…

An attack with mysterious dark magic turns young witch Lily Murray into the very being she's been fighting all her life – a demon. While struggling with her new dark instincts – and desperately trying not to kill her loved ones – she unwittingly earns the protection of a male of her demon species. He's more than happy to help her out and show her the ropes. He's also decidedly too gorgeous to handle.

Alek Kuznetsov has finally found the perfect mate: beautiful, smart, funny, and of course a pranagraha demon like him. The only problem: She wants to become a witch again, and if she does, they can't mate. Solution: While he offers her help in finding the reversion spell, he in fact sets out to convince her that staying on the dark side has more perks than just cookies.

Warning: Includes a kick-ass heroine who loves to snark and curse, a demon hero who is as stubbornly determined to win his female as he is heart-stoppingly hot, and lots of laugh-out-loud moments and sexy action. Proceed with caution and a cold drink at hand.
AND….drum roll…..she's done it again! This is the second book in the Tales of Blood and Magic Series by Nadine Mutas. The characters are fun and unique and just like the previous book this one had just enough humor to offset some of the darker overtones to the story.  While technically I'd say you could read this as a standalone, I would highly recommend starting with the first book – Blood, Pain and Pleasure.  It provides the foundation for the amazing world Mutas has built which would enrich your experience.  There's also the fact that Book 1 is simply awesome and hilarious LOL; I order you to just read it!  Or if you're not into orders, maybe a pretty please??? I swear you'll love it.  Anyhoo, I was saying…
Whereas the first book was centered on the witches and their community, this one gave us more insight into demons while still giving us glimpses into how the witch community views are beginning to shift from the first book.
As the author takes us deeper into the world of witches, demons and otherworldly beings we begin to get a peek into the life of a demon. In particular, the hot, sexy, sweet and very alpha Alek.  He's a pranagraha demon who sucks the life out of others.  He's been watching our heroine Lily from afar and is obsessed with her.  He knows one thing for certain and that being he wants Lily….forever.  He's possessive, devoted and loyal to his family and wants one of his own.
Mutas does an amazing job humanizing demons, as she introduces us to Alek's dog (yes he has a dog LOL) and his family.  While he may need to kill to survive, his dreams and wish for a family of his own is real and you root for him!  The tricky part is that he can only mate with another pranagraha!  But know that she is one all bets are off.  He wants her BAD and has no qualms about telling her!
"I know enough to know I want you.  You're funny, clever, a fighter, loyal to a fault, passionate, and beautiful.  Not to mention hot enough to make a demon forget his name.  I want you in my life, by my side."  He lowered his voice to a murmur.  "In my bed."
Lily is a spitfire!  She's one tough badass witch who is fearless and meets challenges head on. And boy does she need that strength as her whole world changes from a demon fighting witch to a demon herself after being attacked by another demon using dark magic. Alek sees it happen and becomes her protector.  Lily desperately wants to become a witch again and is determined to find out who did this to her and how to change back.
With the help of Alek and as they investigate what happened, Lily begins to learn about her new demon self.  I literally felt her fear and sadness at the thought of losing her identity.  Being a witch has defined her whole life.  Without that, who is she and due to her past, the idea of love is terrifying! Needless to say Alek has a lot to overcome.  As part of his attempt to sway her "to the dark side" so to speak he takes her to meet his family.  It was funny and heartwarming. (I was grinning from ear to ear!).  Lily is introduced to what real love and family could look like.
Then to make things more complicated, her own witch community has turned against her!  With the exception of her best friend Merle, Rhun and her family, of course.  I was soooo excited when I found out I was going to get to see Merle and Rhun again! Yes, Rhun is still his snarky, sarcastic self. Teehee…
Rhun snapped his fingers.  "I almost forgot."  He walked over to Lily, pulled a small bag from his jacket pocket and handed it to her.  "Welcome to the Dark Side.  Here are the cookies."
Jackass!  Bahahahaha
Throughout the story there was intrigue, witch politics, demon lovin', giggles and a lot of self-discovery as Lily redefines who she is and begins to learn how to open her heart.
Love, Liliy thought, is a magic all its own.
Lily and Alek are perfect together. I loved the new characters, plot, suspense and continuation of a paranormal world I think is awesome!
As an aside:  The author did surprise me though…  I didn't think it could happen but she made me sort of soften a bit towards the demon lord, Arawn, whom we meet in the first book and who Alek works for.  You'll need to read the first book to understand who Arawn is and why he's significant.  He only makes a short appearance in this book but I can't begin to tell you how much I seriously hated him.  But at the end of this book Mutas makes me like him just a tiny bit. Makes me wonder if there may be something to that…future Arawn story maybe?   I'd loooove that!