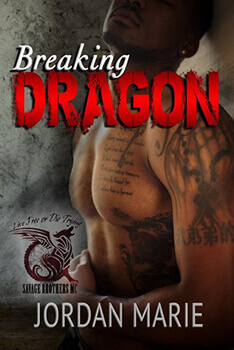 Breaking Dragon
by
Jordan Marie
Published by
Self Publishing
on January 7, 2015
Genres:
Contemporary
,
Erotica
Format:
eBook
Source:
Purchased
Pages:
280

Buy on Amazon
Goodreads
Nicole

At one time, I had everything I wanted in life. Or I thought I did, but I lived in black and white. Then, he exploded into my world. Dragon.

He's hot-blooded, cocky, stubborn as hell, and he drives me crazy. With him everything is more...It's more vibrant, more exciting, more...real.

Suddenly I have everything to lose. In fact, I'm terrified that I might not be strong enough to hold on to it all. Because I'm learning with life, there are no hearts and flowers. Sometimes, there is just darkness.
---
Dragon

There's one thing I know about life. You have to grab it by the throat and go at it full throttle.

Thrown away with the garbage on the day I was born, hooked on crack before I even take my first breath and doing what I had to do just to survive—

That's who I am.
I'm the filth your mother warned you about.

The Savage MC is the only family I've ever had, the only ones I can depend on.
Then she walks into my life. Nicole.
Nothing like what I expected, sassy, smart and sexy as hell. She's everything I could want and more.

Our worlds don't mix. I'm only going to drag her down.
She should have never let me touch her…

Life can tear you into shreds, make you bend until you break.
Sometimes, you have to face death, so you can live.
This book is part of the new Savage Brothers MC Series by Jordan Marie. It's from multiple POVs. There is no cliffhanger.
My expectations always tend to be a little bit lower for first books in a series. Not in a bad way though! But wow this book is fun, witty and sexy. A great MC story. We have two great characters from totally different backgrounds that seem to find middle ground and are crazy about each other. I'm more open to insta-lust/love in the paranormal genre but here I didn't mind it AT ALL. I just couldn't stop laughing at their constant banter and yes shed a tear or two at the end.
Dragon is your typical alpha-male badass. I LOVE alpha-male badasses!!! He's sexy, loyal, protective and actually sweet in his own alpha biker way LOL. But best of all……he is DIRTY and definitely learned some mad skills during his manwhore days. I was fanning myself more than once!
Nicole was a wonderful blend of sassy, spunk and sweet. Her personality was the perfect complement to Dragon's. At the end I was thinking aaaaaw so sweet! Great finish. For those MC Book virgins out there this is good starter for sure. Not too intense but lots of biker fun… I look forward to the next book.