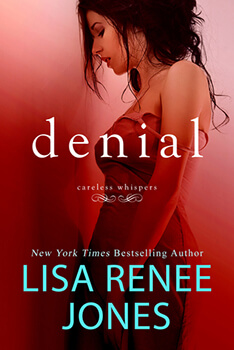 Denial
by
Lisa Renee Jones
Published by
Gallery Books
on November 24, 2015
Genres:
Contemporary
,
Romantic Suspense
Format:
eBook
Pages:
337

Buy on Amazon
Goodreads
Book one in the CARELESS WHISPERS series. This is a standalone spin-off of the INSIDE OUT series (soon to be a TV show) that follows Ella Ferguson, Sara McMillan's best friend.

Ella Ferguson awakes alone in Italy, unsure of who she is, and a gorgeous man has claimed her as his own. He's tall, dark, and sexy, with money and power, the kind of man who makes a girl want to be possessed. And he does possess her, whispering wicked wonderful promises to her, stealing her trust and her heart. Soon though, the past finds her, yanking her from a cocoon of passion and safety. Everything is not how it seems. The truth will shatter her world, but it can set her free, if it doesn't destroy her first.
Denial is the first book in the Careless Whispers Series.  It's told through the eyes of Ella, best friend to Sara from the Inside Out Series.  In classic Lisa Renee Jones fashion we're treated with some twists and turns!  I was constantly waiting for the proverbial bomb to drop!
Ella wakes up to find herself in an Italian hospital with no memory of who she is, staring into the blue eyes of a sexy stranger claiming to have saved her from a mugger.  Kayden is controlling and protective of her from the start and she has a sense of familiarity with him leaving her to wonder about their potential connection.  Did they know each other from the past or do similar souls just recognize one another?  One thing for certain is that the chemistry is immediate.
"He just stands before me, power and sex wafting off him like a seductive drug that if tried once would surely become a dangerous addiction."
But it doesn't take long before it's clear that this was not a simple mugging.  There are much larger and more dangerous secrets lurking in Ella's mind that could cost both her and Kayden their lives. Ella has upset some dangerous people.  To add to the intrigue, Kayden himself has secrets that he is keeping from Ella.  Regardless of motives; Kayden gets her a new identity and takes Ella to his castle in an attempt to keep her safe while she heals and tries to recover her memories.
With limited options, Ella has no choice but to accept his help even as she's fully aware that she needs to be careful who to trust.  That includes Kayden…
Kayden has experienced devastating loss and to protect himself has erected walls around his broken, guilt ridden heart.  At least, that is, until he meets Ella.  The two feel a pull that's undeniable but Kayden insists on fighting it.  In the beginning Kayden's off and on attitude toward Ella was starting to get a tiny bit annoying.  First he's flirting with her and in the next breath he's rejecting her and after brooding a bit he'd make declarations about how much he wants her.  It was starting to give me some serious emotional whiplash. I could understand where he was coming from though 😉
As they spend more time with each other trying to piece Ella's past together, it's evident they won't be able to fight the attraction.  Kayden FINALLY pulls his head out of his ass realizing he can't and won't fight their connection anymore.
"I want more." "More what?" "Everything," he says, his lips nuzzling my ear as he repeats, "Everything, Ella.  Can I have it?"
When these two come together in explosive passion it is HOT!  Seriously smokin' mixture of tender and sweet with dirty rolled into one. LOL
As Ella's memories start to return it becomes even more apparent that not only is the danger more pressing than originally thought but things are turning out to be much more complicated.  As layers to the mystery are slowly peeled away we're seemingly left with even more questions and doubts.  But just when things seem to be moving forward Ella makes a discovery that could destroy all trust she had!  Darn you Lisa Renee Jones! hahaha
With betrayals, secret agendas, lies, obsession and a willingness to do anything for a price, the author intricately weaves together a story that kept me questioning the motives of everyone around Ella.  I did find this particular book to be a tiny (I mean tiny) bit slow but that makes sense considering this is the first book in the series.  The stage is being set.  But trust me when I say you'll be in for a hell of a ride 😀 Highly recommended!
This book were provided in exchange for honest review