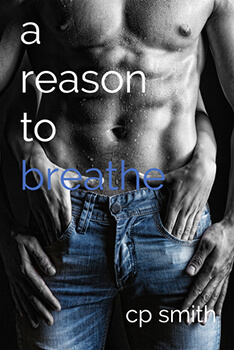 A Reason to Breathe
by
C.P. Smith
Series:
Reason #1
Published by
CreateSpace Publishing
on January 21, 2014
Genres:
Contemporary
,
Romantic Suspense
Format:
eBook
Source:
Purchased
Also in this series:
A Reason to Live
Pages:
388

Buy on Amazon
Goodreads
WARNING: Author believes in soul mates and insta-love, proceed with caution if you're not a romantic at heart.

Love at first sight never was so dangerous.

Jack Gunnison has a problem, well, two, actually, one is 5'5" and the other...A killer.

Jennifer Stewart needs a change after losing her husband and sending her daughter off to college.

Moving to the high country of Colorado to restart her life and, follow her dreams, Jenn gets more than she bargained for when she attracts the eye of a killer.

Together, Jack and Jenn must figure out his identity, before he strikes again.

Mature readers only due to erotic content and language.
This is a fun story about a 39 year old widowed mother of a daughter who left for college. She's left to determine what she wants to do with her life. She's always wanted to live in the mountains and make use of her degree so she moves to a small town called Gunninson County and gets a job as a journalist writing articles on local events. Not exactly what she's always dreamed of so after 4 months of settling into her new home she hears that a woman has been murdered. She decided to take her career into her own hands and sees it as an opportunity to investigate. It's at the crime scene where she meets our super sexy alpha Jack, who is Sheriff of Gunninson.
"He should have a warning label on his back, "Proceed with caution; smile will dazzle you."
Once he gets past the journalist façade he sees Jenn as the person she is. Funny, smart, stubborn, sweet and a fighter! There is insta-love, but meh, it was all good! We were warned hahaha. When Jack starts to pursue Jenn he will NOT take no for an answer. He just takes what he wants. And the sexual chemistry between the two is off the charts!
"Share? I'm not sure I'm ready for any type of relationship, Jack." "Babe, you may not be ready, but that's not going to stop me from changing your mind."
Ahhh Jack….why can't I have my own Jack teehee. He's everything I could dream of in a sexy Alpha. He's cocky, protective, controlling with the tough law man thing going for him and oh ya…he is BOSSY with a healthy dose of sweet! Loved it
Jenn, with the help of her town friends, continues to investigate the murder much to Jacks annoyance. He keeps telling her to stop and leave it to him which she, of course, ignores. Though this story is part mystery and suspense…I mean it does have a serial killer, obsession and a little bit of mayhem…it's quite funny. The relationship with her group of friends is too funny and the cat and mouse game Jenn and Jack play is hilarious. Their relationship and their back and forth bickering put a huge smile on my face.
"Jesus, I fell for a woman who can admit when she's wrong, swear to Christ I didn't know they existed."
Rolling my eyes at him, he glared back at me.
"Whatever, I snipped.
"Smartass"
"Bossy," I smiled
"That's my girl."
I did like how the heroine has a sense of humor and while she absolutely stands up for herself and is a strong character it was nice to see her not taking herself too seriously and has fun messing with Jack more than anything hahaha.
There were a couple of spots that bordered on cheesy but whatever it was funny, romantic and the sex scenes were hot! Thank you CP Smith! I look forward to reading your future work.