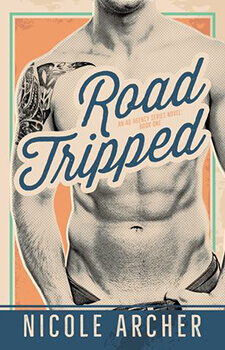 Road-Tripped
by
Nicole Archer
Series:
Ad Agency #1
Published by
Twist Idea Lab LLC
on August 1, 2016
Genres:
Adult Fiction
,
Romantic Comedy
Format:
eBook
Source:
Purchased
Also in this series:
Head-Tripped
Pages:
336

Buy on Amazon
Goodreads
What's worse than losing everything? Try driving a phallic-shaped RV across the country with a vile womanizing coworker.

Copywriter Callie Murphy has a bad attitude, a vicious tongue, and a serious aversion to Shimura Advertising's resident manwhore, Walker Rhodes. Know where he can stick his good looks and Southern charm? She can think of a few creative places. Avoiding him wouldn't be a problem, except her boss threatens to fire her if she doesn't go along with him on their RV client's cross-country tour.

Burnt-out art director, Walker, is sick of his job, tired of women, and in a big old creative rut. The upcoming client road trip is just what he needs to shake things up and rediscover his lost passion. But his plans go south when his partner drops out at the last minute, and Callie, the foul-mouthed tiny terror, takes her place. Unless he can find a way to thaw his icy coworker, he's looking at two month's of pure hell.

On the road, they experience one hilarious misadventure after another and soon find themselves on a life-changing journey. But when their paths veer off in different directions, will they hit a dead end?

Road-Tripped is a stand-alone novel and the first book in the Ad Agency Series.
Adult language and situations.
This is the first book in the Ad Series by new author Nicole Archer. It's alternate POVs and wow this debut novel is amazing.  Fabulous blend of over the top sarcasm with a large dose of exaggeration that come together leaving me freakin' laughing my ass off from the start.
We have our hero Walker Rhodes and heroine Callie Murphy.  Walker is a funny guy oozing southern charm while Callie tells it like it is.  She's crass, in your face and her sarcasm is seriously funny. These two together are fantastic!
The book opens with Callie, a copywriter at an ad agency, sitting bored and annoyed at her desk attempting to be "creative".  By that I mean creating a list of ways she can murder her co-workers; fondly described as "Her list of Murder Methods for Merrymaking Coworkers" Her friend and boss, Skip, has a unique approach to team building which includes lots of drinks and loads of fun.  A veritable in-office party and it's driving Callie crazy!
But what tips her over the edge is watching her hot and sexy manwhoring co-worker, Walker, use his southern charm to flirt with the office women who are practically salivating over him! Even more of a piss-off is deep down she wants him too!  The way the author describes the scene was truly comedic and my face literally (very serious word to Callie LOL) started to hurt from the huge grin I had on my face!
Callie's been through a lot.  She came to work for Skip to escape her past and to slowly pull the pieces of her life back together after her world is shattered.  She has nothing but this job, small apartment and with the exception of her sister and Skip, no one. Needless to say she's embittered, angry and deeply unhappy.  But because of her jaded view she doesn't realize that she may be judging Walker unfairly.
They meet face to face for the first time in a club where the staff has been invited to celebrate Walkers birthday; or in the case of Callie, forced by her party crazed boss.   When Walker goes to chat with her he's put in his place and essentially told off. You'll LOVE how Callie does it. Oddly enough, Walker kinda liked it!
"Her look warned him to say one more thing, just one more thing, and she'd tear off his nuts and feed them to the wolves.  Kind of disturbing.  Even More disturbing, it turned him on"
Walker hates his job.  He's always wanted to be a photographer but let that dream go to the wayside when he fell into advertising.  He wants to regain that part of himself again and pursue his dreams. So when the opportunity arises for him to go on a two month trip across country in an RV as part of a campaign he jumps at it.  Walker is the photographer and the person who was supposed to go with him was the campaign writer Avery.  Unfortunately she gets really sick and is unable to go.  That means Skip needs a replacement and he's making Callie do it!
Of course, Walker and Callie are both horrified.  How the heck is he supposed to essentially live with a foul tempered, mouthy woman who he knows hates him?  How is Callie supposed to put up with being around the mega sexy manwhore 24/7!  And the real fun begins!  The sexual tension was off the charts!  I was almost breaking a sweat so when they finally got down and dirty it was explosive!!  hahahaha
As they experience each adventure together and push themselves outside their comfort zones, Callie and Walker start learning more about each other and themselves. What starts out as a potentially disastrous campaign turns into a trip of self-discovery and profound healing.  And yes a very tangible love.  I thought it was so heartwarming when we see Callie finally begins to allow herself to feel for him.
"And in that rainy, dreary, black swamp, her affection for him bloomed like a rose"
One of the things I loved about Callie was her quirkiness and her resilience. The author did an astounding job creating a rich character that was tough as nails but at the same time so very vulnerable.  Her character was believable and let's face it Walker was just awesome.  The only thing that kind of drove me nuts were her constant running away and both their pigheadedness.
There was also an amazing cast of characters that'll just crack you up.  Walker's grandmother being at the top of my list.  She was a riot with a huge personality and I loved her!  Again great start to the series and I can't wait for the next installment 🙂
Congratulations to the author on her debut novel!