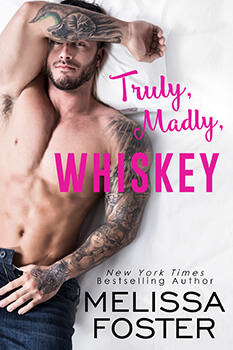 Truly, Madly, Whiskey
by
Melissa Foster
Published by
World Literary Press
on April 10, 2017
Genres:
Contemporary
,
Romance
Format:
eARC
Pages:
345

Goodreads
A new sexy standalone romance by New York Times bestselling author Melissa Foster.

Eight months is a long damn time to have the hots for a woman who keeps a guy at arm's length. But Crystal Moon is no ordinary woman. She's a sinfully sexy, sass-mouthed badass, and the subject of Bear Whiskey's midnight fantasies. She's also one of his closest friends.

Just when Crystal thinks she has her life under control, scorching-hot, possessive, aggressive, and fiercely loyal Bear pushes all her sexual buttons, relentless in his pursuit to make her his.

The more Bear pushes, the hotter their passion burns, unearthing memories for Crystal that are best kept buried. But there's no stopping the collision of her past and present, catapulting the two lovers down an emotional and sexually charged road that has them questioning all they thought they knew about themselves.
Melissa Foster has a true talent for bringing a cast of characters to life who are flawed, dynamic and completely endearing.  This is one of many reasons I love her books.  Truly, Madly, Whiskey is about family, love and healing.  This is a standalone book told from alternate POV.
Crystal and Bear have been circling each other for months and are about to combust from the heat.  The sexual tension is seriously HOT!   While Crystal continues to ignore the attraction and her developing feelings for Bear, he won't give up.  He persistently pursues her with gentle determination, good humor and a healthy dose of sexual innuendos. LOL
"You asked if I was this way with everyone.  I'm this way because it's you." ~Bear
So sweet! Bear is now one of my favorite best book boyfriends!  He's so loyal and committed to everyone in his life.  But he has some tough personal choices to make that will impact both his future and that of his families.
Crystal is damaged as a result of a loss when she was young and a traumatic event that devastates her.  She hides behind a mask to protect herself from further hurt.  She's created this façade of who she wants people to see vs what's truly in her heart.  One thing she knows for sure is that she wants Bear, however, will she be able to face her past and learn trust?  It's clear that Crystal and Bear both have to overcome issues and obstacles before they can fully be together and build a future.
The only thing that bugged me a bit was Crystal constantly changing her mind.  One minute she wanted Bear the next she was mean and unfair to him.  I was suffering a little bit from emotional whiplash by the time they actually got hot and bothered the first time! 🙂  That said this was a great book full of love awesome secondary characters that made me smile! I can't wait for their stories.
I voluntarily read and gave honest review of an advanced copy of this book.
Buy Links:  AMAZON | B & N | GOOGLE | ITUNES | KOBO
BOOK TRAILER