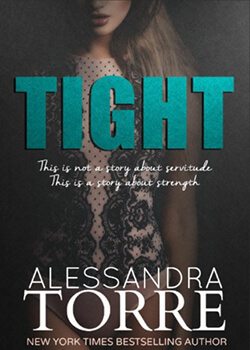 Tight
by
Alessandra Torre
Published by
Self Published
on February 7, 2015
Genres:
Adult Fiction
,
Contemporary
,
Dark
,
Erotica
Format:
eBook
Source:
Purchased
Pages:
286

Buy on Amazon
Goodreads
I was happy in my small town. In my life as a single, thirty-two year old woman. I had a good job, wonderful friends, my independence.

I also hadn't got laid in three years. Hadn't been on a date in two. Had stopped counting calories and wearing makeup... a while ago.

Then Brett Jacobs waltzed in. Caressed my thigh, dug rough fingers into my hair, lowered his soft mouth to my skin, took sexual control of my mind and stirred it all around with what he packed in his pants. He flipped my quiet life upside down and crawled into a place in my heart I thought was dead.

The issue is his secret.
The issue is her.
The issue is that I don't even know she exists, and he thinks she's dead.
The issue is that shit is about to hit the fan and I can't hold on to him tight enough.
This is a standalone novel by Alessandra Torre. We do hear from our hero Brett but the story is told primarily through the heroine, Riley's POV. This is a dark novel so I do warn that there is some content that may be offensive and/or disturbing to some, but with that said it isn't as dark as I'd expected. It was a blend of sweet romance, mystery, darkness, fantastic erotic scenes and a definite twist at the end:)
The story starts off with Riley, a small town financial advisor, in the Bahamas for a weekend bachelorette party. Riley is walking back to her room and needs to take a rest due to her aching feet caused by too small stilettos. She's approached by Brett, our sweet hero, who offers her a pair of slippers for her feet. I felt the chemistry immediately and when Brett walks her to her room they share a passionate kiss before Riley stops him and he walks away. Neither thinking they'd see the other again.
Riley is a sweet, intelligent, somewhat naïve and prudish 32 year old. She's a bit insecure and somewhat disenchanted with the concept of love in general and is scared her heart will be broken. But the next evening when she and Brett cross paths again they decide to take a chance and do something completely out of character by spending an unforgettable night of passion together.
"…years since I've felt a man's skin beneath my touch, much less his hands on my body."
Thus begins the romance between the two lovers.
I loved Brett. He didn't believe in random sex with random women so this was unexpected for him as well. He understood the value in the emotional connection between two people rather than just the physical release of sex. So there is deviation from the typical hot damaged hero who becomes a manwhore to mask his demons before committing to "the one". I found that refreshing.
He is, however, a truly tortured soul who has suffered great loss. He is mysterious, sweet and gentlemanly. But that's not all he is. Things are not as they seem and Riley starts to become suspicious of Brett.
"But I didn't know him. And I didn't trust him. The man I had fallen for hid something. I could feel it, slipping into bed with us at night, slithering up my bare legs, looking for a vulnerable place to bite" ~Riley
I'm going to stop here because I don't want to ruin the mystery of the story and the twist at the end. I highly recommend just picking this book up and reading it blind. I know it can be sooooooo tempting to try digging up spoilers or information. Trust me, I had to hold myself in check multiple times! Sort of like opening your birthday present before the big day… LOL. But I guarantee you'll enjoy the ride so much more if you don't:)
One of the things I really love about this author's writing style is her ability to convey emotions in such a unique way that is both raw and gritty.
"Let my heart turn back to black, crush the weakness that had threatened. But I didn't. I allowed the weakness to fester, to rot at the bones of my ribcage until my chest was cracked wide open and she had crawled inside and feasted on my heart. Inhaled it until there was no longer her and I but only us."
I love it!
The only reason I didn't give 5 starts was because I felt it was a bit slow in parts and then the ending felt a bit rushed and almost too easy given the circumstances. But it was a great read that I'd recommend to anyone.
"The word 'tight' has twenty-two definitions, but my favorite is Webster's fifth – "a bond which cannot be broken."