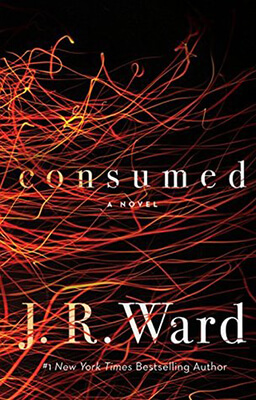 Consumed
by
J.R. Ward
Series:
Firefighters #1
Published by
Gallery Books
on October 2, 2018
Genres:
Contemporary
,
Romance
Format:
eARC
Source:
NetGalley
Pages:
416

Buy on Amazon
Goodreads
From the #1 New York Times bestselling author of the popular Black Dagger Brotherhood series comes a brand-new novel about arson investigator, Anne Ashburn, who is consumed by her troubled past, her family's scorched legacy, and her current case: chasing a deadly killer.

Anne Ashburn is a woman consumed...

By her bitter family legacy, by her scorched career as a firefighter, by her obsession with department bad-boy Danny McGuire, and by a new case that pits her against a fiery killer.

Strong-willed Anne was fearless and loved the thrill of fighting fires, pushing herself to be the best. But when one risky decision at a warehouse fire changes her life forever, Anne must reinvent not only her job, but her whole self.

Shattered and demoralized, Anne finds her new career as an arson investigator a pale substitute for the adrenaline-fueled life she left behind. She doesn't believe she will ever feel that same all-consuming passion for her job again--until she encounters a string of suspicious fires setting her beloved city ablaze.

Danny McGuire is a premiere fireman, best in the county, but in the midst of a personal meltdown. Danny is taking risks like never before and seems to have a death wish until he teams up with Anne to find the fire starter. But Danny may be more than a distraction, and as Anne narrows in on her target, the arsonist begins to target her.

From the creator of the bestselling Black Dagger Brotherhood, get ready for a new band of brothers. And a firestorm.
Best known for her paranormal romance series the Black Dagger Brotherhood, J.R. Ward has set the stage for a promising new contemporary series revolving around the world of firefighters.  Book 1 follows the story of Anne Ashburn and bad boy Danny McGuire.
Coming from a dysfunctional family of firefighters, Anne has worked hard to become the first female firefighter in the New Brunswick Fire Station 499.  She's committed, independent and not afraid to take risks.  She's also hiding an intense attraction for former fling and fellow firefighter Danny.
Danny is the best of the best.  He's equally obsessed with Anne and intends to do something about it.  Then they're called to fight a fire that ends in tragedy leaving Anne with a devastating injury ending her career while Danny is left spiraling down into PTSD.
Months later, Anne begins the process of reinventing herself by becoming an arson investigator.  The only option left to a woman whose firefighting dreams are crushed. It doesn't take long for Anne to become embroiled in an arson investigation that will put her in the cross hairs of a killer.
Danny is struggling with PTSD. He turns to alcohol and extreme risk taking that threatens to end his life. He's completely consumed with self loathing. However, his friends aren't giving up on him and are intent to throw Danny and Anne back together.  When they see each other again the heat is still sizzling.  But Anne has an investigation to solve and not much time to do it!
I had difficultly warming up to Anne.  While I admired her strength, I found her somewhat cold and self-centered. I loved Danny but there were moments where his extreme self-pity was down right exhausting. Wow, now I sound harsh, right!? Don't worry. It gets better.
As the primary characters go through the process of healing, I really began to care for them. Though the story was a bit slow in the middle, the plot was very engaging and well done.  After all, this is the first book with lots of characters to introduce and a killer to catch! Super fun, suspenseful and hot!
While there were a few meh moment, I enjoyed the overall story and am eagerly awaiting Book 2!
I received an eARC of this book from the publisher via Netgalley. This review is voluntary and all opinions and thoughts are my own.